Other
Georgetown Pre-college Summer (GPS) Program Strengthens High School to College Preparation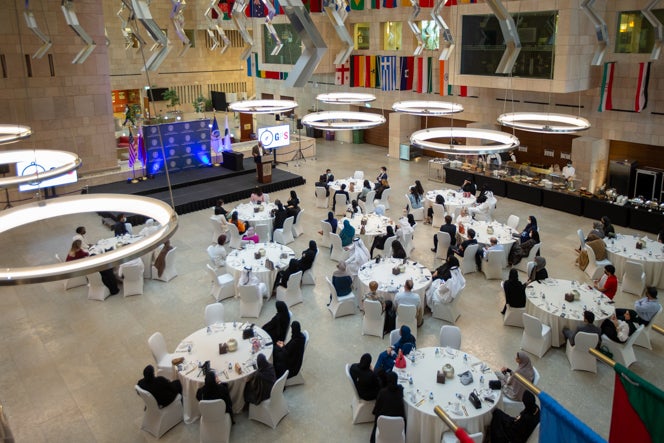 With the aim of strengthening the high school to college pipeline in Qatar, GU-Q held a college preparation intensive for 30 talented 11th and 12th graders representing nine different nationalities through the Georgetown Pre-College Summer (GPS) program.
Held during two weeks at GU-Q's campus in Education City, classes in Critical Reading and Writing, International Relations, Global Politics Mini-seminar and World Geography offered future scholars the opportunity to experience life as a university student while gaining the foundational skills necessary for completing university applications and the rigorous coursework of college academics.
GPS is led by Jibin Koshy, Educational Enrichment Manager at GU-Q, with classes taught by GU-Q alumni and mentorship offered by current GU-Q students. Peer to peer engagement presents an invaluable networking opportunity for young people preparing for one of the most important transitions in their personal and professional lives, explained Koshy.
"The college enrollment process is often more complicated than simply filling out an application form. Student and alumni mentors share their academic knowledge as well as insights from their own experiences and guidance on ways to make an application stand out from the crowd."
World geography instructor Aiza Khan, a 2020 GU-Q graduate in Culture and Politics noted, "it is the perfect opportunity to return to my alma mater and give back to my community." Khan also volunteered at GPS as an undergrad. "It's such a wonderful way to connect with people who might be joining Georgetown in the future, and show them what it is all about," she said.
Qatar's global reputation as a top destination for higher education and research has made the enrollment process increasingly competitive, explained Koshy, with this year's GPS reflecting increased teacher training around lesson planning, behavioral management, and assessment.
"The strategic vision of QF's multiversity environment offers students a unique and incomparable opportunity to attend a world class university while benefiting from interactions with students and programming from partner institutions. So whether participants decide to apply to GU-Q or another school, we want to make sure they have the best chances for success."
The program also included preparation for college entrance exams taught by experienced SAT instructors from ScorePlus Princeton Review, and access to resources after the course, including an optional refresher workshop before the exam date. The kickoff orientation also invited families to learn more about the program, which concluded with a closing ceremony and the awarding of the GPS 2022 Certificate for successful completion of the rigorous program.
GU-Q offers the internationally recognized Bachelor of Science in Foreign Service degree program in four majors, three minors, and three concentrations of study taught in a supportive, holistic learning environment.