Research, Students
Georgetown Student EdTech Startup Offers Deeper Learning and Academic Success in STEM and English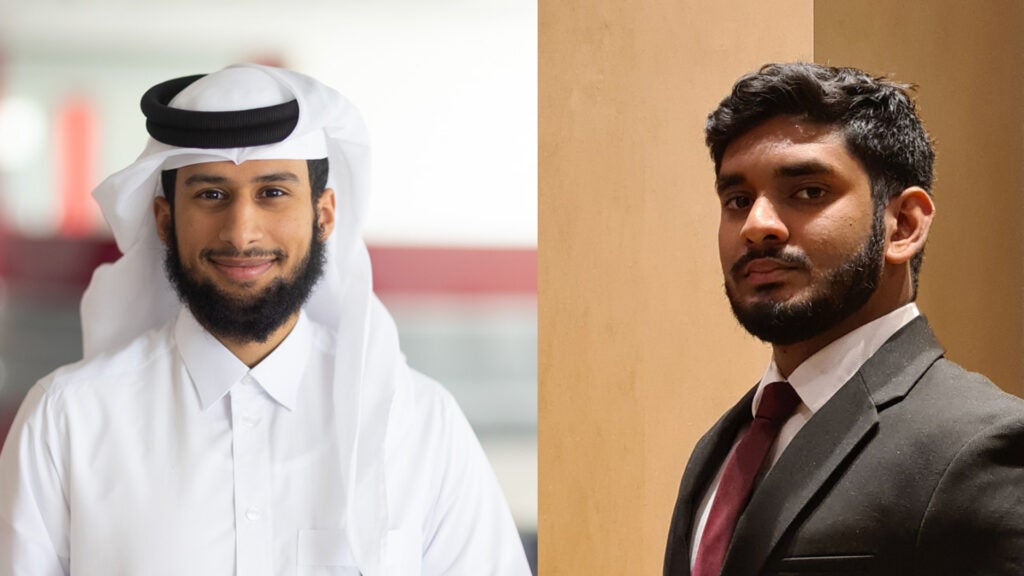 A new educational startup supported by Qatar Foundation's Qatar Science and Technology Park and founded by two Georgetown University in Qatar (GU-Q) students called Muallemi recently concluded its first pilot program for two international schools in Doha, providing 54 primary school students with 612 hours of academic support in mathematics and bringing the promise of the multi-billion dollar e-learning industry to Qatar schools.
The startup was launched by Abdulrahman Al Thani, now a GU-Q graduate, and Abdullah Nazeer, an International Economics major at GU-Q, a QF partner university. Their educational program works in conjunction with schools, parents, and students to devise a tailored curriculum taught through 1-on-1 online sessions with Muallemi's internationally based teachers. Through academic interventions, the duo aim to boost learning outcomes and close knowledge gaps in mathematics for students in grades 2-12 in Qatar.
Dubbed "mathemagicians," Muallemi's instructors are trained in pedagogical learning, and boast years of experience teaching Math and STEM related subjects. With affordable lessons that cost far less than traditional tutoring in Qatar, Muallemi aims to revolutionize out-of-classroom learning options and offer a path to improving Qatar's global mathematics education rankings by offering accessible supplemental electronic learning initiatives at scale, explained Abdurahman Al-Thani.
"According to a 2018 OECD assessment that measures 15-year-olds' ability to use their reading, mathematics and science knowledge and skills to meet real-life challenges, Qatar ranks below average globally, and fares worse than countries with far smaller GDPs, said Abdurahman. "While classroom learning remains key to success, we thought that a solution that leverages the increasing impact of digital education and works directly with educators would offer the option of an effective and accessible path to improved math outcomes for students in Qatar, and in time, for students across the region."
The initial idea for the startup was inspired by cofounder Abdullah Nazeer. experiences as a mathematics tutor, where he gained experience in fostering deep understanding of course materials for a sustained impact. "At Muallemi, we take a concept-based learning approach to studying mathematics. We want our students to understand how to solve an equation, but they also need to understand key concepts on a fundamental level, he said. "We do that by integrating students' own experiences and teaching them to construct and solve their own word problems. Students are the most important stakeholders in their own learning journey."
Muallemi has already partnered with other schools for additional pilot programs, and the co-founders said they have hopes to expand academic offerings to include reading and writing skills. In addition to their collaboration with QF schools Tariq bin Ziad school, following a recently signed MoU, and Qatar Academy Sidra, the educational startup will also be expanding their education footprint with an agreement to conduct in-person lessons for 50 students twice a week at Brighton International Academy.
Muallemi is also collaborating with the Royal Commission for AlUla, a Saudi government body, in creating new approaches to learning. In an upcoming demo as part of that collaboration, Muallemi will teach students grades 3-8 in class as part of an innovative learning program.
So far, the response to their startup has been phenomenal, driven in part by the program's points-based system that rewards students for participation, not just for achievement. "Kids are smart, that's not the reason they are struggling in mathematics," said Abdulrahman. "They just need to be inspired."