Public Panel on Humanitarian Intervention Stresses Need for Collaboration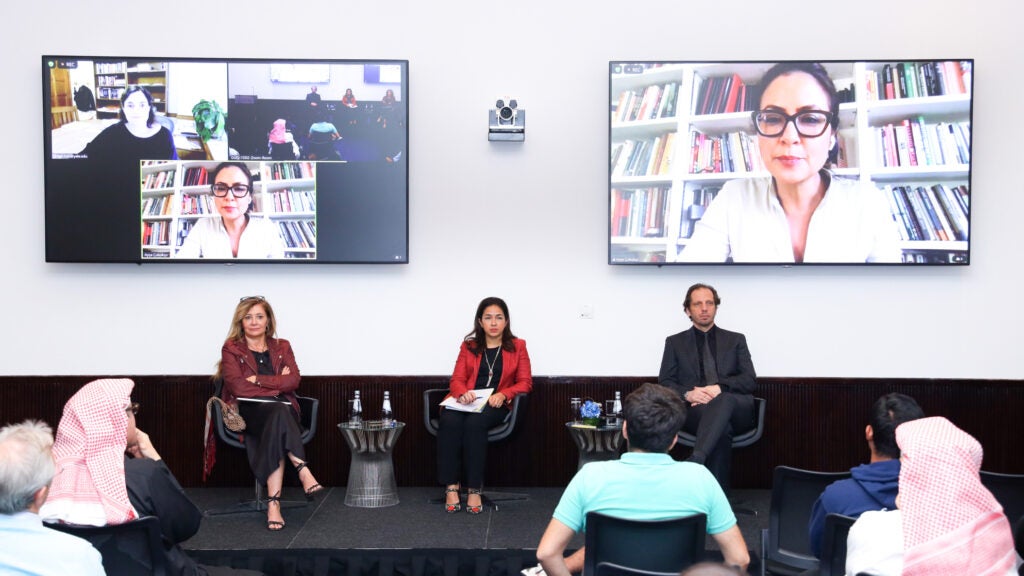 Contributing to the urgent discussion surrounding the perils and potential of humanitarian aid, Georgetown University in Qatar (GU-Q), hosted a public panel on humanitarian intervention that gathered experts and scholars of international law and regional politics for an in-depth discussion of the complex issues involved.
The event was co-hosted by GU-Q's Center for International and Regional Studies and the American Society of International Law (ASIL), an NGO which holds Special Consultative Status to the Economic and Social Council of the United Nations.
Event convener and Assistant Professor at GU-Q, Dr. Noha Aboueldahab, is also the chair of the Transitional Justice and Rule of Law Interest Group at ASIL. "The question of when and under what circumstances humanitarian intervention is justified raises so many moral, political, and legal questions," she said, adding: "When the act of humanitarian intervention itself leads to mass atrocities, how can we continue to invoke it? On the other hand, what is the alternative? These are critical questions that scholars and policymakers must address in conversation with each other."
The dean of GU-Q joined the panel discussion, and offered his gratitude for the collective efforts of all participants. "A big thanks to the panelists, for sharing their expertise on the serious ethical and legal questions that arise in the context of humanitarian intervention, and for highlighting the need for further study and stakeholder engagement on an issue with serious long-term consequences."
Attended by an audience that included heads of missions in Qatar and members of Qatar's government establishment, the scholarly gathering explored the highly contested issue of humanitarian intervention using both historical and contemporary examples, including Iraq, Libya, Kosovo, Syria, and Russia-Ukraine.
Centering the arguments made by Sarah Leah Whitson, Executive Director of DAWN and a speaker at the event, in her recent article titled "Human Rights Organizations Should Not Be in the Business of Calling for War," three discussants presented their insights and feedback from the unique perspectives of their fields of advocacy and study.
Whitson provided an overview of her article on the need to reassess the criteria and frameworks used by international human rights groups and advocacy organizations to call for military intervention on humanitarian grounds. Fadel Abdul Ghany, chair of the Syrian Network for Human Rights, highlighted the cost of non-engagement in Syria. Ayça Çubukçu, LSE Professor and co-director of LSE Human Rights, shared lessons gleaned from her research on the social, legal, and political impact of humanitarian intervention in Libya and the 2003 invasion of Iraq. Aslı Ü. Bâli, Professor of Law at Yale, provided socio-political context for the drivers of humanitarian intervention, including the historical role of race and empire in international law.
The event was the latest effort in support of the university's commitment to providing a public platform for thoughtful dialogue and debate on the diverse social, cultural, economic, and political challenges facing communities globally. As part of the degree program in international affairs, students also engage in the issues of transitional justice and international law through course offerings, class visits to local courts, service learning trips to recent conflict zones, and internships with embassies and NGOs based in Doha.