Students
Qatar National Day at Georgetown Celebrates Heritage and Multiculturalism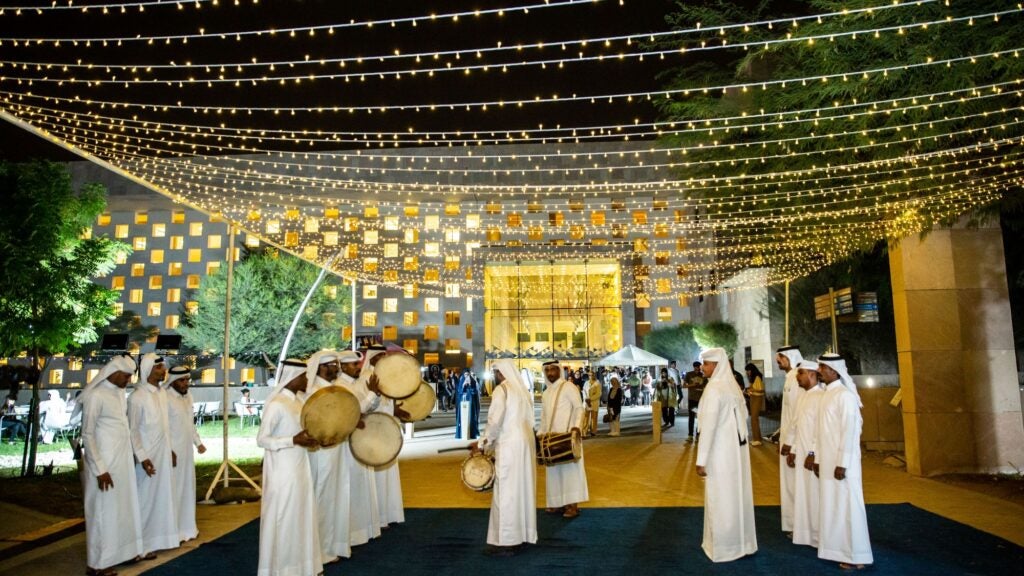 One aspect of Qatar's successful World Cup tournament that caught the imagination of global audiences was the sight of Qatari citizens outside stadiums and fan zones warmly greeting visitors with a welcoming smile and something to eat and drink. That renowned hospitality was on full display at the Qatar National Day event hosted by students at QF partner Georgetown University in Qatar (GU-Q), an event organized each year by GU-Q's Al Liwan Qatari Student Association.
Held at the GU-Q building and spilling out into Education City's Oxygen Park, Al Liwan's QND celebrations included an exciting schedule of activities, performances, and cultural experiences. Al Liwan club president Asma Al-Kuwari, who is pursuing a major in International Economics and minor in Government at GU-Q, said the event was as much a celebration of heritage as it was a recognition of the university's rich multicultural diversity.
"We wanted to showcase the very best of our people and culture because these connections build bridges between people and communities. They also contribute to a beautiful exchange of cultures, bringing our diverse multinational school community even closer together."
Students, faculty, and staff came together to delight in "shopping" at a traditional "dukan" or vintage candy store, receive a henna design, and challenge their working knowledge of Qatar history and culture with a competitive trivia game. Visitors were also treated to delicious foods from established food venues as well as local Qatari kitchens. "Our club members worked so hard and contributed in so many ways to make the event successful. They also brought traditional food from their houses to provide students with a taste of authentic Qatari cuisine," said Asma.
A merchant from Souq Waqif demonstrated the making of cultural handicrafts that have been passed down from generation to generation, and an art gallery featured the work of GU-Q graduate Saoud Al Ahmed, whose mixed media pieces reflect themes of culture and change. And no QND would be complete without a riveting sword dance, as well as a oud performance, offered this year by musician Mejdoub Zakaryae.
A photobooth offering visitors the option of donning traditional Qatari clothing, now made globally famous by the images of a victorious, bisht-clad Messi, ensured that the wonderful memories made at the event would be remembered for years to come.
The World Cup may be over, but the academic year isn't. Al Liwan, which is also led by club vice president and International Politics major Ghanim Alnaimi, took part in World Cup activities and has plans for even more cultural exchange in the coming semester. "We're planning on organizing various trips to unique places in Qatar, such as national museums, farms, and a sambuk trip," said Asma, referring to the traditional dhow boats moored along the Corniche. "We want to make sure each student's educational journey in Qatar is truly unforgettable."