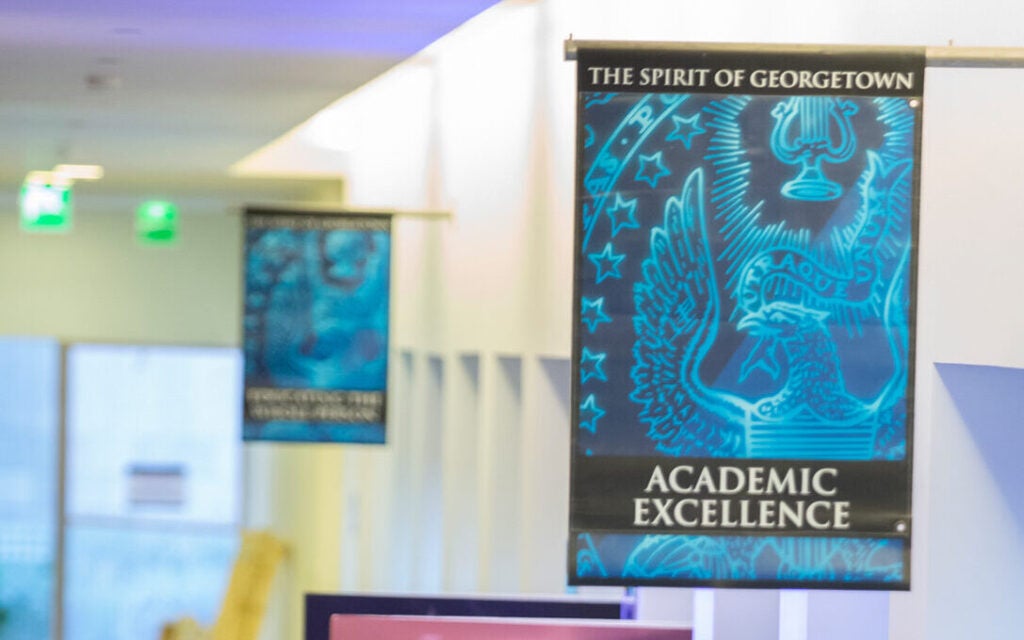 As a Jesuit, Catholic university, committed to the education of the whole person, Georgetown expects all members of the academic community, students and faculty, to strive for excellence in scholarship and in character and uphold the honor system. Students are required to sign a pledge certifying that they understand the provisions of the Honor System and will abide by it. Students reaffirm this pledge at New Student Convocation, just before fall classes begin.
The Honor Council is the principal administrative body of this system. The Honor Council has two primary responsibilities: to administer the procedures of the Honor System and to educate the faculty and undergraduate student body about the standards of conduct and procedures of the System.
Every student is required to complete the online Scholarly Research & Academic Integrity Tutorial during the first semester. In first year courses such as the Proseminar, students also receive instruction on proper forms of citation and how to avoid plagiarism. Click on the links to jump to the relevant section.
---
Georgetown Honor System – Mission, Policies and Practice
The Honor Council is the administrative body that encourages academic honesty amongst students and addresses student academic conduct which violates the Honor Code. It is important that all Georgetown students understand and abide by the Honor Pledge, taken during New Student Convocation, and know the Standards of Conduct governed by the Honor Council. All student rights with respect to the Honor Code and all Honor Council procedures are detailed online, and students are encouraged to be familiar with these.
Honor Council Members – Spring 2023
Students: 29 (1 on leave)
Rodolfo Muñoz Cárdenas, U4 (Student Chair)
Shifa Nouman, U4 (Faculty Outreach Chair)
Muhammad Carter, U4 (Student Outreach Chair)
M. Saad Ullah, U4 (Sanction Reduction Chair)
Aashish Karn, U4 (Consultants Chair)
Santiago Rubio Henao, U2 (Training Chair)
Lina Darwish, U4
Anjali Singh, U4  
Nada Elgohini, U3  
Pragyan Acharya, U3   
Haboon Jibril, U3
Anam Fatima, U3
Frances Joy Balani, U2
Qianwei Ma, U2
Gaebriel Olsen, U2 (on leave)
Lulwa Al-Kaabi, U2
Samantha Isabel N. Facun, U2
Andrew Hartwell, U2
Zahra Saboorzadeh, U2
Rusell Niglo Adzedu, U2
Jaelene Iyman, U1
Levan Baidashvili, U1
Aras Karlidag, U1
Minahil Mahmud, U1
Tashafee Masoodi, U1
Brian Cody Wibowo, U1
Dung Tran, U1
Maya Al-Mahmoud, U1
Iqra Nadeem, U1
Faculty: 19 (1 on leave)
Jeremy Koons (Faculty Chair, on leave)
Hana Zabarah (Interim Faculty Chair)
Akin Akinade
Abdullah Al-Arian
Alexis Antoniades
Abdul Rahman Chamseddine
Amira El-Zein
Santiago Garcia-Couto
Lamis Kattan
Omar Khalifah
Phoebe Musandu
Gerd Nonneman
Firat Oruc
Anne-Sophie Pratte
Danyel Reiche
Ayman Shabana
Damien Tissot
Karine Walther
Karl Widerquist
Writing Consultant
Kerry Sauer (Writing Center)
Advisory Board:
Sanskriti Tandon
Fiza Shahzad
Wesley Chen
Alisha Kamran
Taimur Ali Ahmad
Eman Thowfeek
Dana Qarout
Indee Thotawattage
Maryam Al-Sada
Jibin Koshy
Deans: 6
Vicky Kynourgiopoulou
Brendan Hill
Christine Schiwietz
Anne Nebel
Julien Moutte
Morgan Fisher
Executive Director
Resources
Resources for Students
Writing Center – meet with a writing tutor to learn skills that will make you a successful writer.
Personal Librarian – email your set a meeting with your personal librarian to learn skills that will make you a successful researcher.
Library Writing Guides – including resource management tools and citation style guides
Resources for Faculty