The GU-Q Faculty Seminars is a regular series in which GU-Q faculty and guests present research in progress and receive feedback from other faculty members.
2022-2023 Seminars
2022-2023 was an academic year full of different kinds of seminars. Our faculty invited guests from all over the world to give talks on various topics. We had Faculty Seminar Series, Palestine Speaker Series and Economic Seminar Series.
Faculty Seminar Series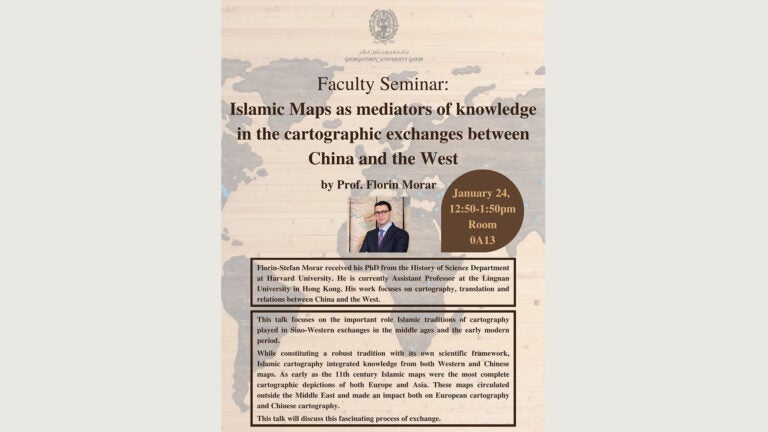 Professor Anne-Sophie Pratte invited Professor Florin-Stefan Morar, an Assistant Professor from Lignan University in Hong Kong to give a talk on Islamic Maps.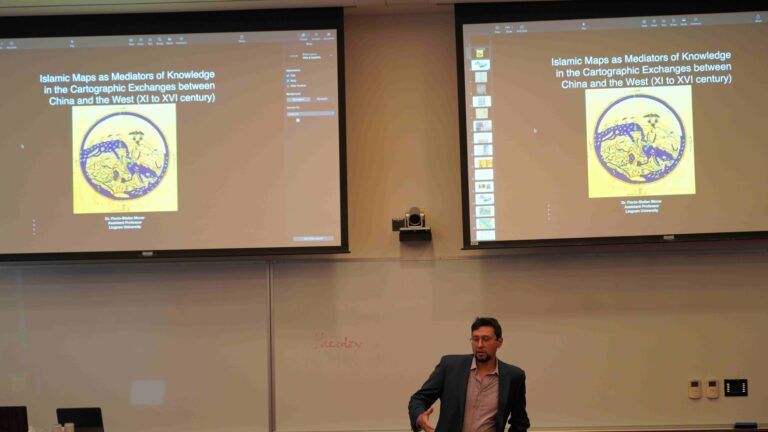 His talk focused on the important role Islamic traditions of cartography played in Sino-Western exchanges in the middle ages and the early modern period. While constituting a robust tradition with its own scientific framework, Islamic cartography integrated knowledge from both Western and Chinese maps.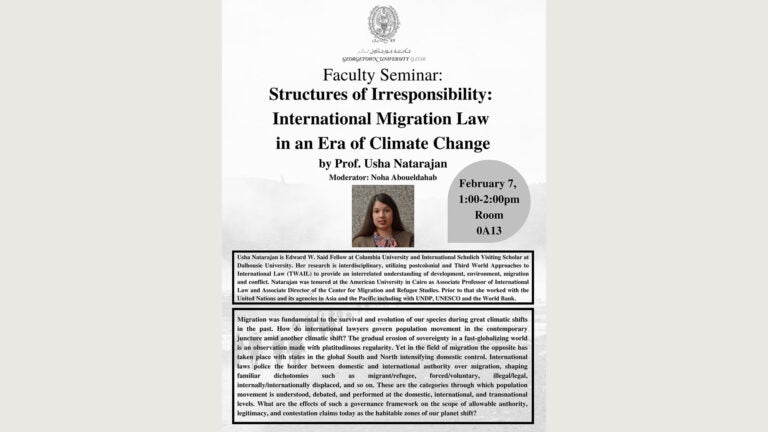 Professor Usha Natarajan, who is Edward W. Said Fellow at Columbia University, was invited by our International Law Professor Noha Aboueldahab.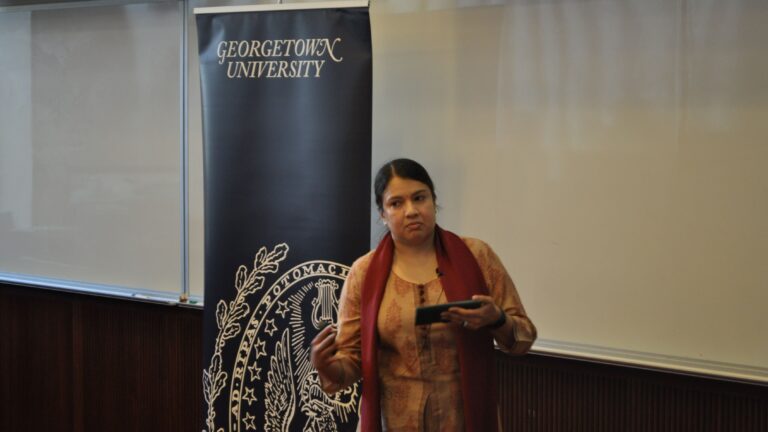 How do international lawyers govern population movement in the contemporary juncture amid another climatic shift? Professor Natarajan's talk tried to answer to "How do international lawyers govern population movement in the contemporary juncture amid another climatic shift?"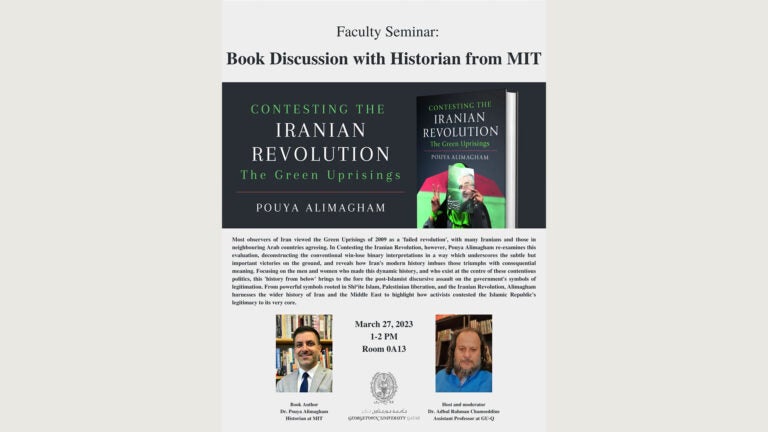 A guest of Professor Abdul Rahman Chamseddine, Dr. Pouya Alimagham, Historian in MIT, gave a book talk on his book "Contesting the Iranian Revolution".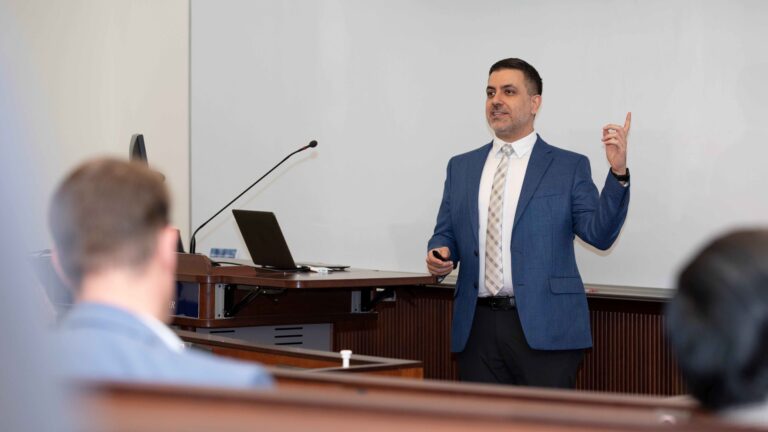 In the book he re-examines the evaluation, deconstructing the conventional win-lose binary interpretations in a way which underscores the subtle but important victories on the ground, and reveals how Iran's modern history imbues those triumphs with consequential meaning.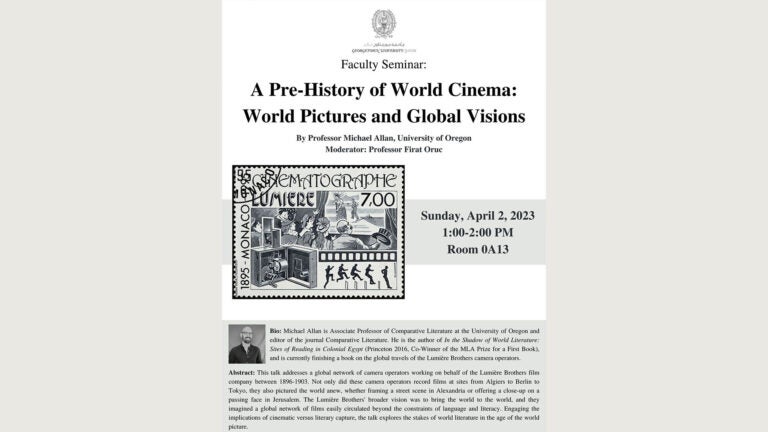 Professor Firat Oruc invited Professor Michael Allan from University of Oregon to talk about the Pre-History of World Cinema.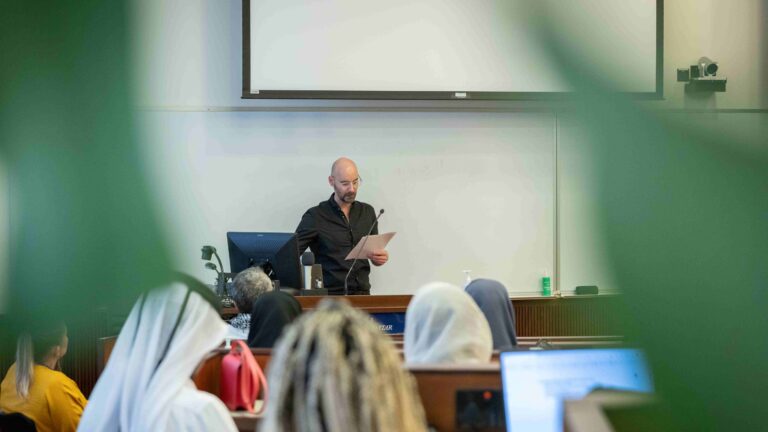 The talk addressed a global network of camera operators working on behalf of the Lumière Brothers film company between 1896-1903. Engaging the implications of cinematic versus literary capture, the talk explored the stakes of world literature in the age of the world picture.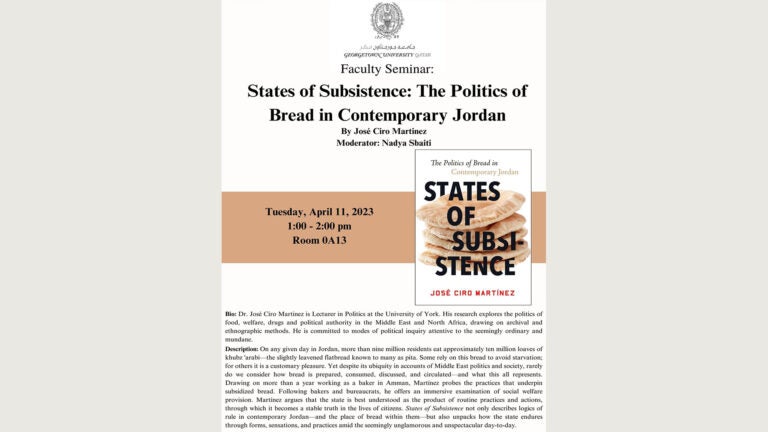 Dr. José Ciro Martinez, the author of "States of Sunsistence" was a guest of Professor Nadya Sbaiti.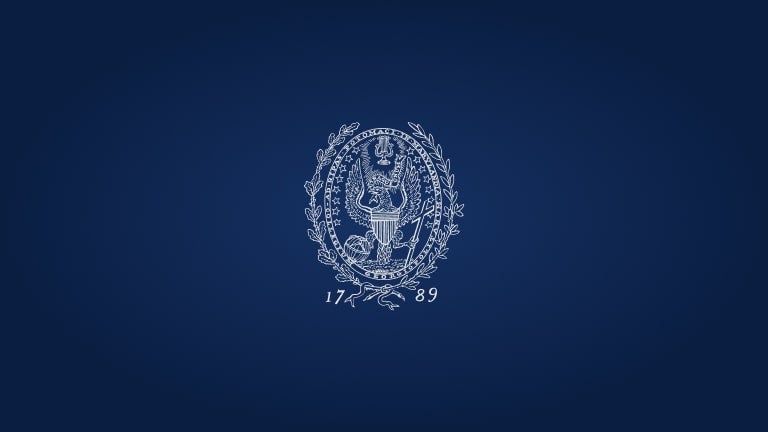 States of Subsistence not only describes logics of rule in contemporary Jordan—and the place of bread within them—but also unpacks how the state endures through forms, sensations, and practices amid the seemingly unglamorous and unspectacular day-to-day.
Palestine Speaker Series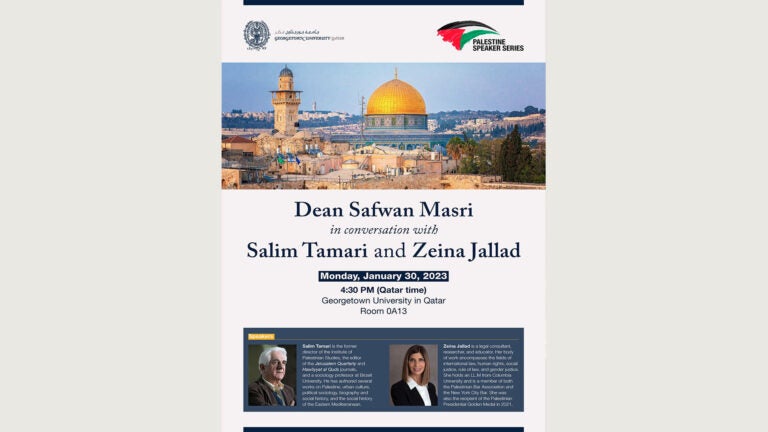 Dean Safwan Masri had a conversation with Dr. Salim Tamari and Dr. Zeina Jallad.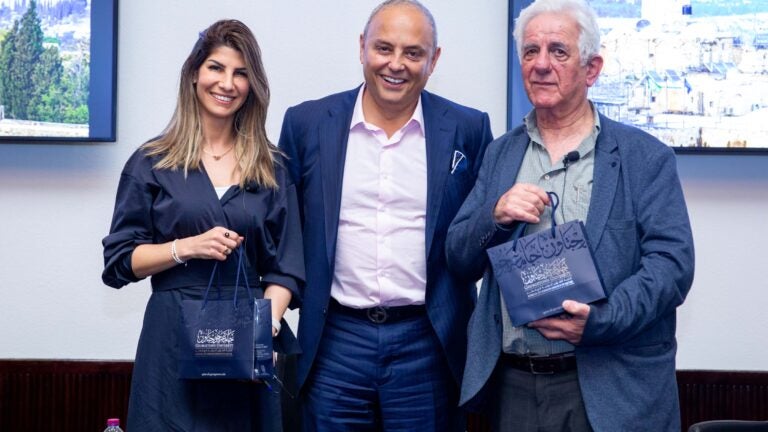 During the conversation Dr. Tamari spoke about his book Camera Palaestina, Photography and Displaced Histories of Palestine, and Dr. Jallad discussed her work titled Israel's non-Territorial and Psychic Annexation of the West Bank Samaritans in the Occupied Palestinian Territories.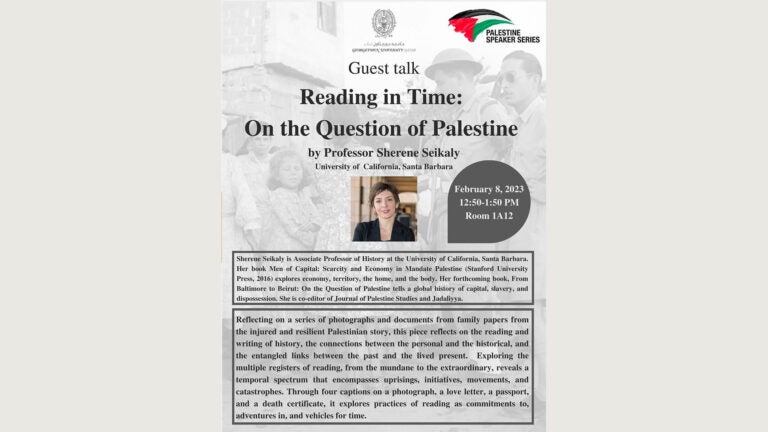 Professor Nadya Sbaiti moderated a talk by Professor Sherene Seikaly from University of California, Santa Barbara.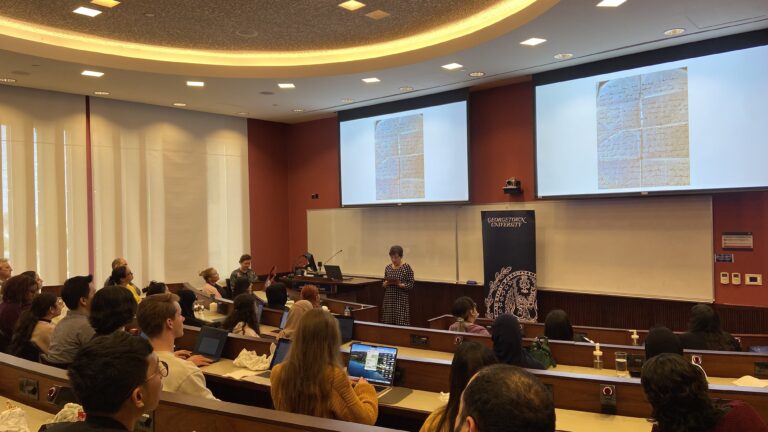 Reflecting on a series of photographs and documents from family papers from the injured and resilient Palestinian story, this talk reflected on the reading and writing of history, the connections between the personal and the historical, and the entangled links between the past and the lived present.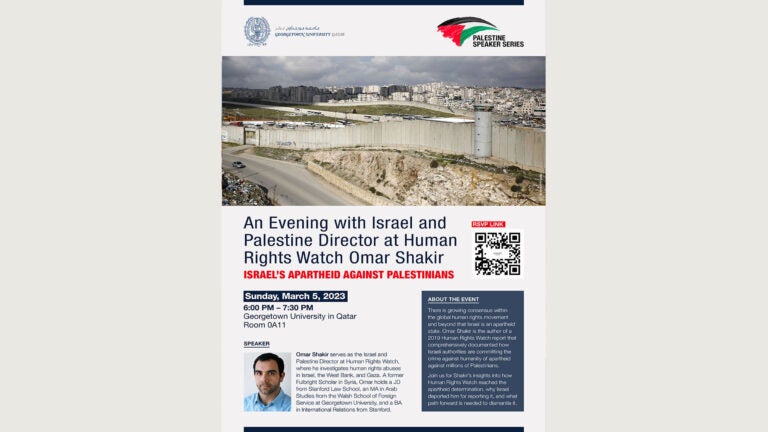 Omar Shakir, the Israel and Palestine Director at Human Rights Watch, was invited by Professors Karine Walther and Abdullah Al-Arian.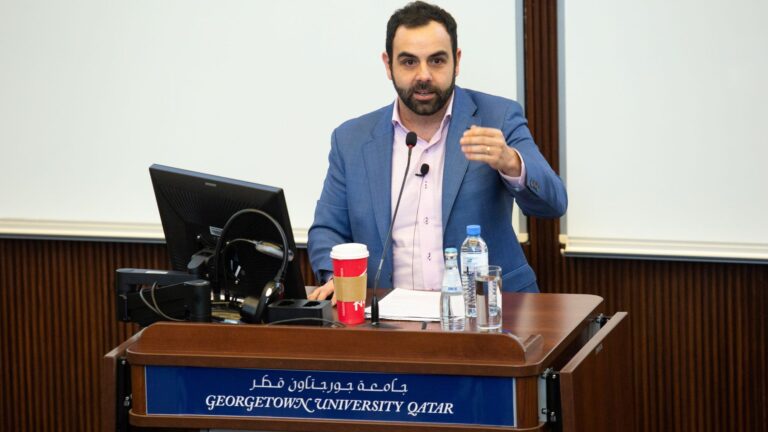 The talk was about the growing consensus within the global human rights movement and beyond that Israel is an apartheid state and about Shakir's insights into how Human Rights Watch reached the apartheid determination, why Israel deported him for reporting it, and what path forward is needed to dismantle it.
Economic Speaker Series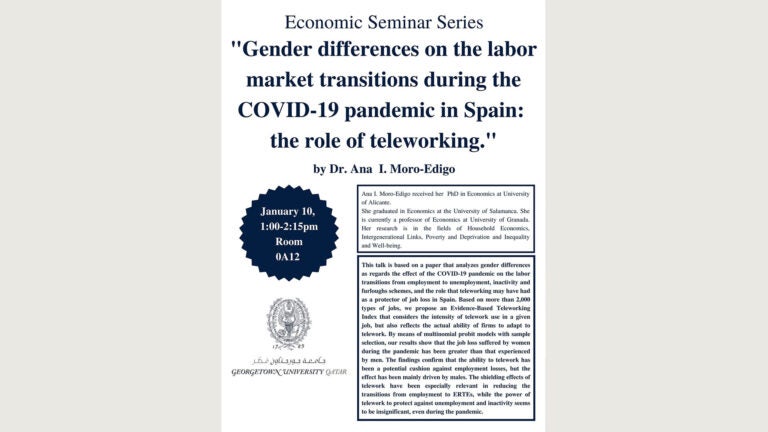 Dr. Ana I. Moro-Edigo from the University of Alicante, was a guest of Professor Ramon Cobo-Reyes Cano.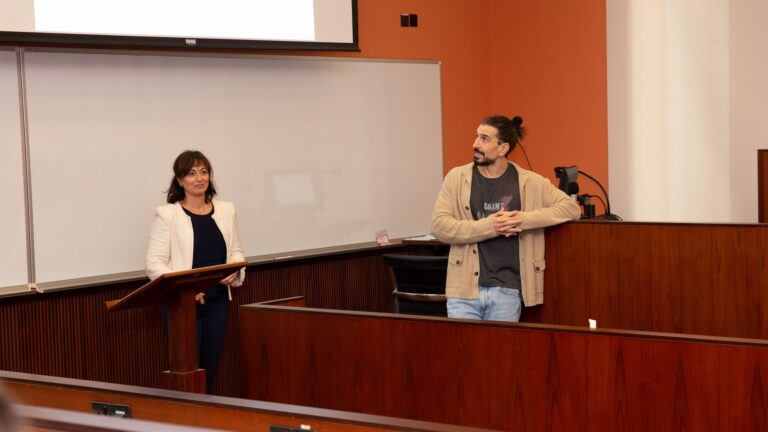 The talk was based on a paper that analyzes gender differences as regards the effect of the COVID-19 pandemic on the labor transitions from employment to unemployment, inactivity and furloughs schemes, and the role that teleworking may have had as a protector of job loss in Spain.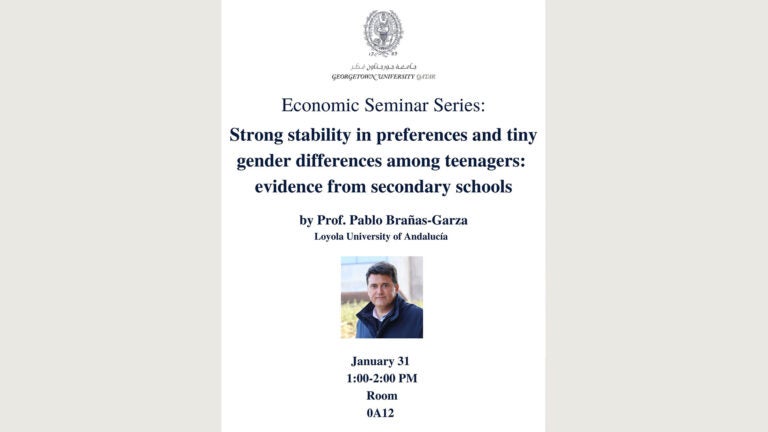 Professor Pablo Brañas-Garza was a invited by Professor Ramon Cobo-Reyes Cano.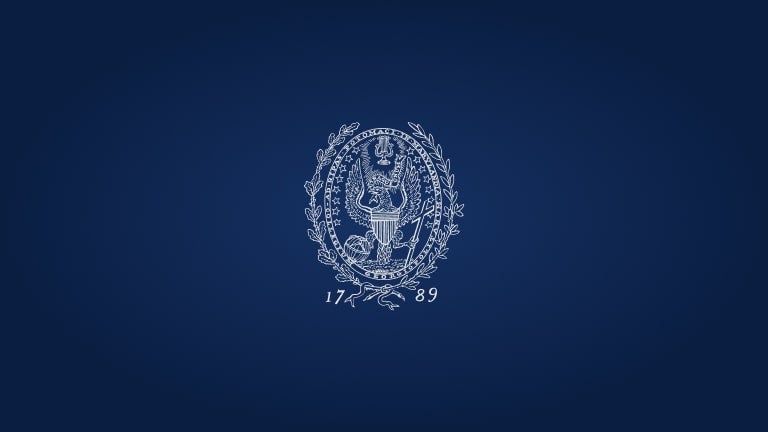 The second talk of the Economic Seminar Series was about strong stability in preferences and tiny gender gifferences among teenagers: evidence from secondary schools. Pablo Brañas-Garza is a Behavioural Economics Professor and the Director of the Loyola Behavioral Lab at Loyola University of Andalucía.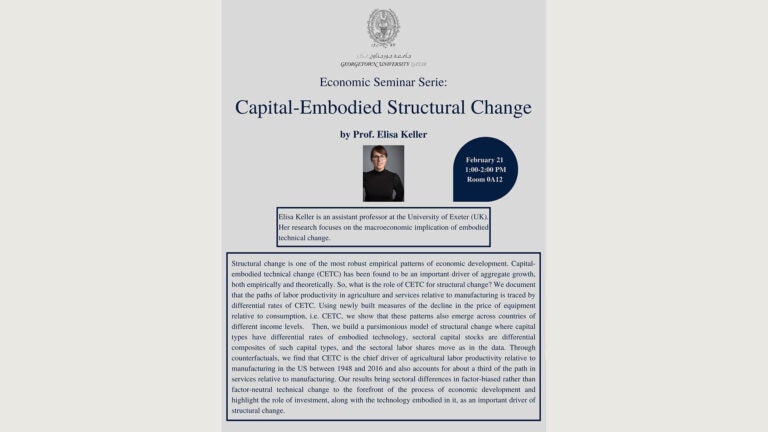 Professor Elisa Keller from the University of Exeter (UK), was a guest of Professor Ramon Cobo-Reyes Cano.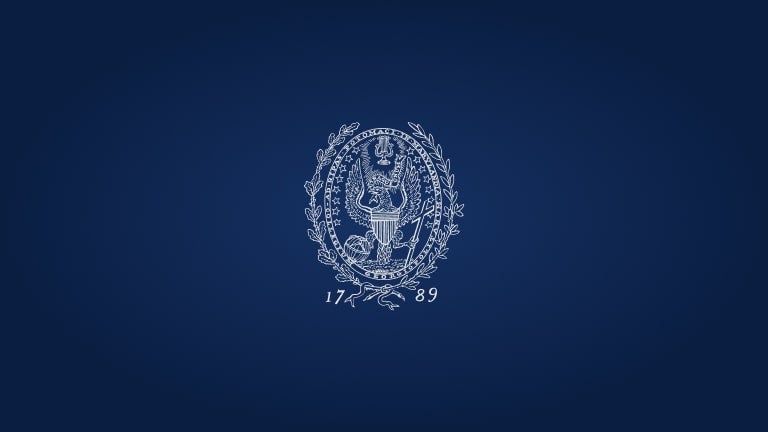 Structural change is one of the most robust empirical patterns of economic development. Capital-embodied technical change (CETC) has been found to be an important driver of aggregate growth, both empirically and theoretically. This talk tried to answer to what is the role of CETC for structural change.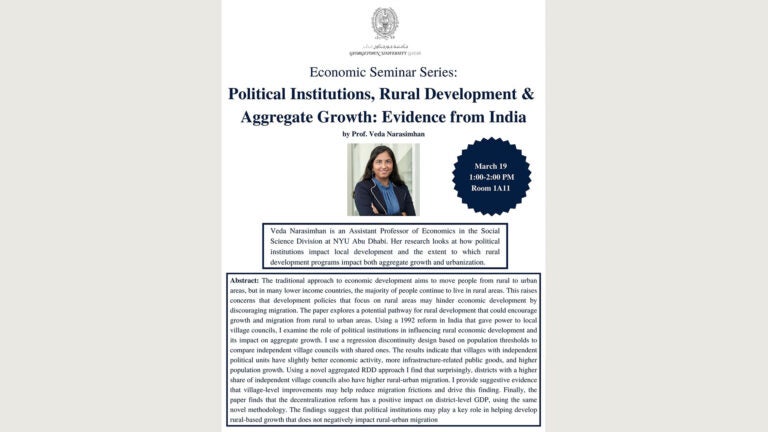 Professor Lamis Kattan invited Professor Veda Narasimhan from NYU Abu Dhabi to give the 4th talk of the series.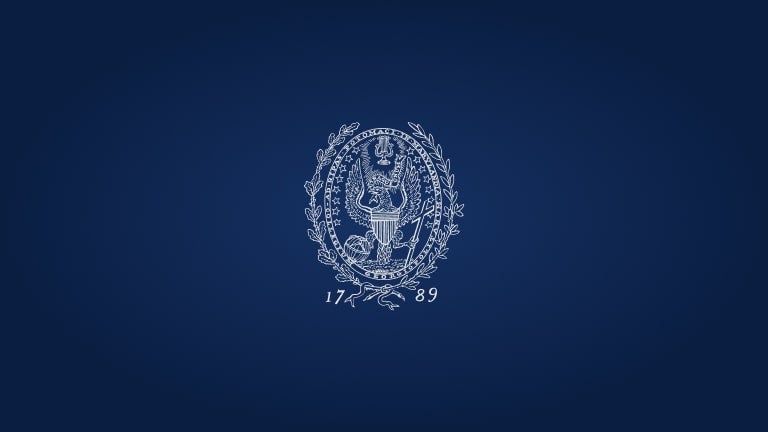 The talk explored a potential pathway for rural development that could encourage growth and migration from rural to urban areas. The findings suggest that political institutions may play a key role in helping develop rural-based growth that does not negatively impact rural-urban migration.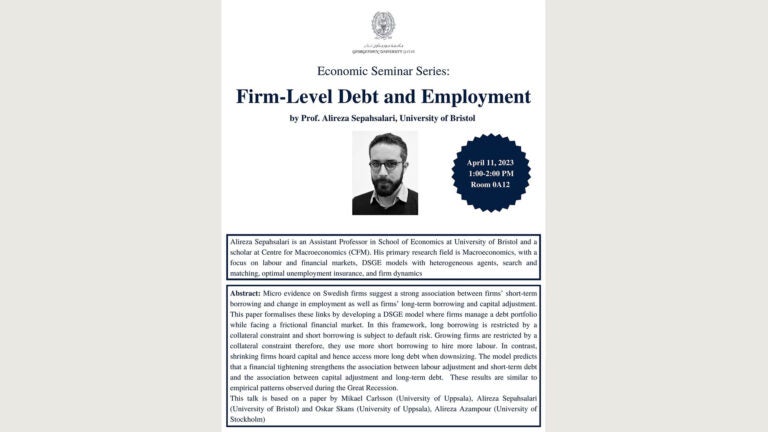 Professor Alireza Sepahsalari from the University of Bristol was a guest of Professor Emmanouil Chatzikonstantinou.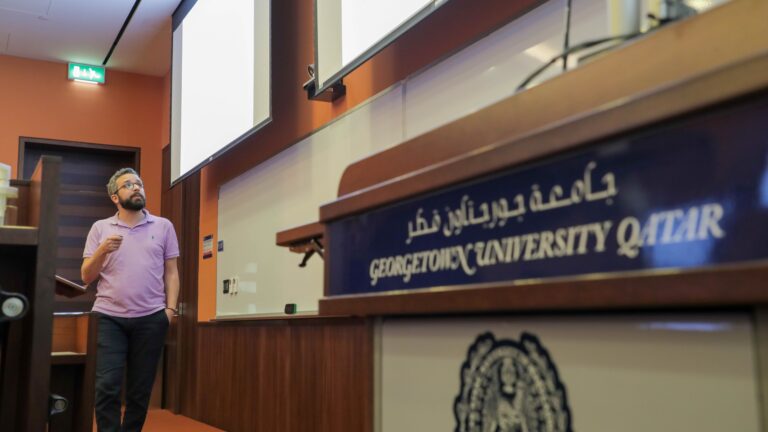 Micro evidence suggest a strong association between firms' short-term borrowing and change in employment as well as firms' long-term borrowing and capital adjustment. This paper formalizes these links by developing a DSGE model where firms manage a debt portfolio while facing a frictional financial market.
2021-2022 Faculty Seminar Series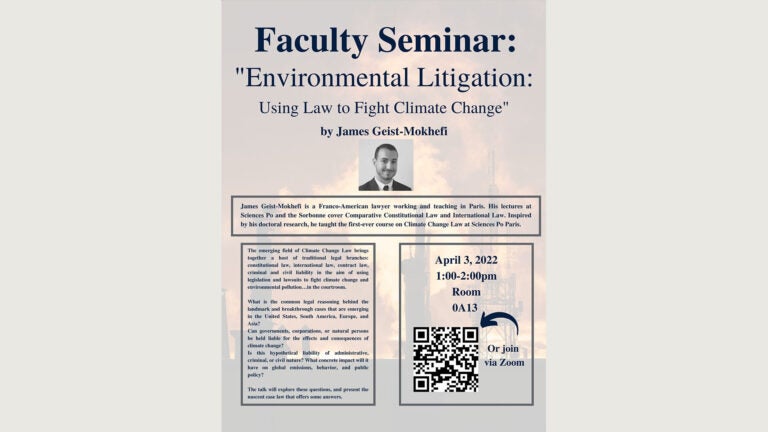 Professor Edward Kolla invited Lawyer James Geist Mokehfi to give talk about law around Climate Change, and the kinds of effects law can have on emissions, behavior, and public policy.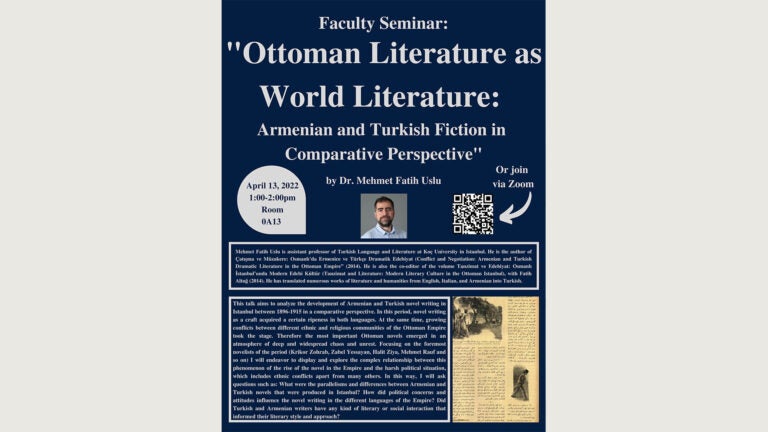 Moderated by Ian Almond and featuring Mehmet Fatih Uslu of Koç University, this talk analyzed the development of Armenian and Turkish novel writing in Istanbul between 1896-1915 from a comparative perspective with a focus on the foremost novelists of the period.
Past Year Programs