Taxi
Karwa: +974 4458 8888
Fox: +974 4462 2777
Pick Quick: +974 4418 2225
Al Watan Limousine: +974 44477999
Car Booking Apps
A lot more popular, easier, and affordable option to get around is the use of car booking apps.
Doha Metro
Doha Metro, the mostly underground state-of-the-art automated rail, is the most affordable option to get around in Qatar. It has three lines: Red, Green, and Gold. The nearest station to GU-Q is Qatar National Library station located in the Green line, which is only a 5-minute walk.
The following map covers the three lines and their different stops: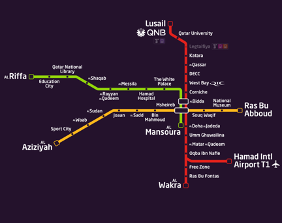 The rates:
Single journey (Standard and Family): 3 QAR
Day Pass: 9 QAR (unlimited rides for a day)
Gold Club – 15 QAR single journey / 45 QAR day-pass
Children below five years – free (accompanied by a fare-paying adult)
Reusable travel cards (topped online or at any Travel Card Vending Machine)
Standard Travel Card – 10 QAR
Rate per trip: 2 QAR
Daily pass (automated after 3 trips): 6 QAR
Gold Club Travel Card – 100 QAR
Rate per trip: 10 QAR
Daily pass (automated after 3 trips): 30 QAR
Metrolink Busses
Qatar Rail App
App available on IOS and Android, you can keep up to date about Qatar Rail services.
Register your travel cards and easily top them up through the app.
Plan My Journey – feature in the app that will tell you the route to take to reach the desired destination.
Education City Tram
QF has launched a tram transportation service with stations stopping at several Education City. Only the Blue and Yellow Lines are currently operating. The Yellow Line, which takes students to different university campuses, run from 6:00am to 10:00pm on Sundays to Thursdays and from 6:00am to 4:00pm on Fridays and Saturdays. You can access the map here. When the tram is not running, you can request an Education City Shuttle Bus (more information below).
Temporary Shuttle Bus (Summer Months Only)
The Education City Shuttle Bus services will only operate during the summer months until further notice. The only time the Shuttle Bus service runs is when the tram is not operating. To request a ride, call +974 4454 1105.
Additional services are provided to QF Housing residents year-round:
From Southnest and Northnest to Lulu Express: 4:00pm to 10:00pm (shuttles rotate hourly) from Sunday to Thursday (20 minutes of waiting time at Lulu Express for immediate returns to Housing).