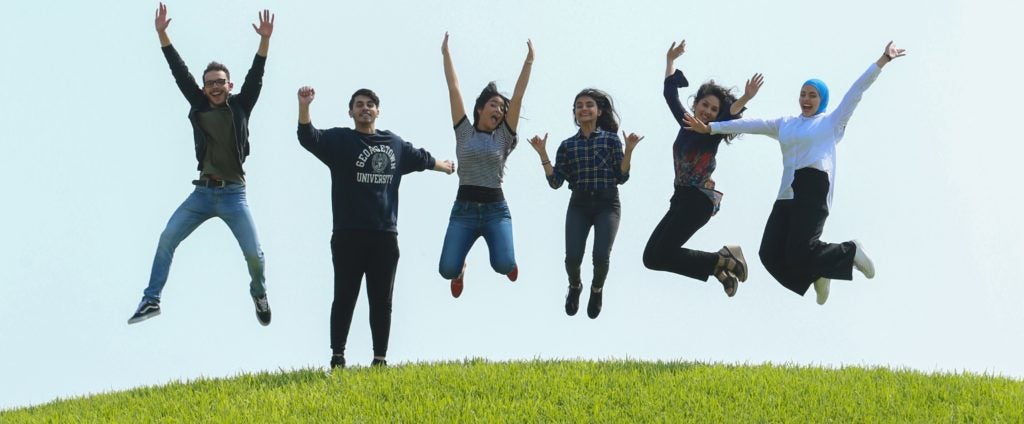 Let us know what have you been up to this year. Share the news if you have taken an internship, an industry placement, or a shadowing opportunity. Fill in MY INTERNSHIP FORM.
Your Next Move
Finding a job or an internship takes considerable research, preparation, and networking. Start early, don't be discouraged by setbacks, and utilize all of your connections including personal, professional, and online contacts. Make sure your CV is perfect, your interview skills are practiced and genuine, and that you are able to explain your major/degree to someone not familiar with GU-Q.
Current Students
On-campus jobs:  Open to all registered students.  Vacancies will be sent to you via email.  For more information, visit the Student Employment Site
Off-campus jobs:  Occasionally paid jobs become available off campus.  Notifications will be sent to you via email.
Internships:  GU-Q offers academic (for credit) and non-academic internships throughout the year.  Please click here for more information about credit-bearing internships.  You can find non-credit internships in several ways:  1) watch for vacancies sent to your email, 2) contact Career Services if you have a specific company you're interested in, or 3) find an internship on your own. 
Tips For Finding Jobs/Internships
Use the Hoya Gateway to network with fellow Hoyas, students and alumni, and explore their career paths
Check local sites individually, e.g. Qatar Museums, QF, etc. Vacancies may not show up in large databases like Bayt.com and Indeed
Create a LinkedIn profile and set it to send you job ads
Watch for weekly Career Services Newsletters sent directly to your email (Alumni, not getting emails? Click here)
Utilize Georgetown specific portals like Handshake and iNet
Conduct Information Gathering Interviews with Georgetown Alumni
"Like" the Georgetown Alumni Association of Doha Facebook Page
Attend the annual Career Fair and other networking events
Academic Internships
Georgetown University's School of Foreign Service in Qatar is pleased to partner with organizations in Doha to provide academic internship programs for our students. These internships greatly enhance Georgetown's commitment to applied and experiential learning. These experiences provide students with additional context for their classroom learning, and thus a deeper understanding of key academic concepts. It also helps them develop important professional skills and explore ways in which they can meaningfully apply their academic skills after leaving Georgetown. Click here to view eligibility criteria.
Only degree-seeking students studying at GU-Q are eligible. Students apply to work at one of the partner organizations for the fall or spring semester. Students work 10-15 hours per week at a partner organization doing substantive work under the guidance of a mentor at the organization. In addition, students will be registered for INAF-335 International Affairs Internship for one credit, graded on a pass/fail basis. As part of this course, students complete 10.5 total hours of Georgetown classroom instruction over the semester, which is designed to complement the internship and connect academic skills to applied practice. Students who complete the work and course requirements earn one academic credit that counts toward the Georgetown degree and a notation on the official Georgetown transcript.
Job & Internship Links
Handshake – An online portal for Georgetown students and alumni to find jobs and internships, covering both the U.S. and Qatar.
How to create your Handshake profile:
Log in to Handshake
If you are a current student, click the single sign-on button and log in with your NetID and password
If you are a graduate, visit the Handshake login page and click "Sign up for an account"
Bayt.com is a regional portal to find jobs and internships in the Middle East.
LinkedIn jobs page help you explore and navigate both local and global job markets.
iNet Internship Network – Supplements Handshake with a greater variety of industries and geographical locations in your internship search.
How to register:
Go to iNet. Click the 'register' tab. You must use your Georgetown e-mail address
Verify your e-mail address
Wait 24-48 hours for us to approve your account. You'll get an e-mail with instructions after you register
Passport Career – An online career resource for exploring international opportunities whether you are seeking a job, an internship, volunteer work, or are studying abroad.
How to register:
Click on "Have a Registration Key?" in the upper right corner of the homepage
Enter the following registration key (all lowercase): gtown987
Fill out the brief registration form
Use your Georgetown e-mail address to create your login name and password
Vault Career Insider – Free for GU-Q, includes career guides, employer profiles and rankings, and a job board.
How to register:
Go to the Vault Career Inside login page.
Use your GU-Q e-mail address to create your account.
Click Accept
InternsME.com – Portal dedicated to the youth in the Middle East, providing work experience and employment opportunities to students and graduates, with a focus on undergraduate and recent graduate internships and jobs. Register, upload your CV and search for opportunities.
Idealist – Lists of social impact jobs and internships available worldwide.
Naukrigulf – Job search engine with a focus on jobs in the Gulf. Search for positions, specifying years of experience required.
ZipRecruiter – Uses smart matching technology to offer relevant jobs to students and alumni based on expertise, skills, and area of interest
Dave's ESL Cafe – Comprehensive information on teaching English abroad, including job postings and training opportunities.
The Intern Group – Fee based structured internships available around the world.
Human Rights Careers Portal – specialized in job and internship opportunities around the world in the field of human rights, refugee relations, and global service.
Funding & Negotiating
Unpaid Internship Resources – Resources that offer financial support to may make it possible for you to pursue unpaid internships.