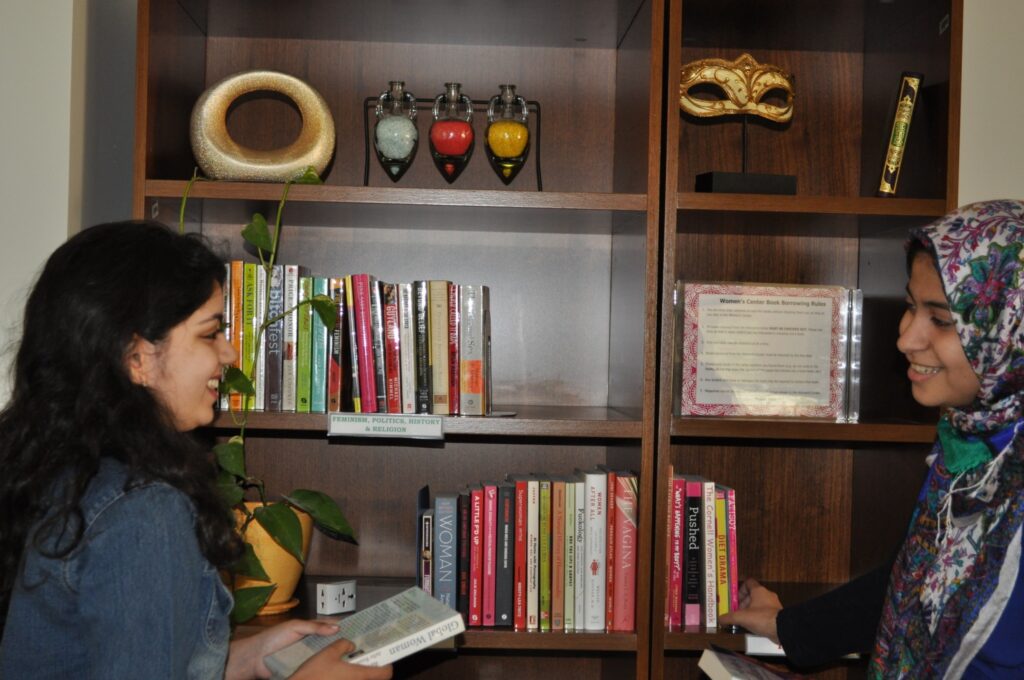 Our shared mission is to support, educate, and empower women of all cultures, races, identities, spirituality, and ages. We celebrate women's achievements and advocate for a climate that promotes social justice, free of all barriers and discrimination.
The GU-Q Women's Center is student focused, but serves the greater community by providing information, facilitating discussions, and hosting activities. The focus of GU-Q Women's Center is to address matters of particular concern to women, such as exploring women's individuality and collective identity through the examination of gender, race, economic status, culture, ability, religion, nationality, and political views, among other topics. The Women's Center fosters inclusion in the community and welcomes men as allies.
Connect with us
Location
Come visit us! The Women's Center is located on the first floor of the GU-Q Humanitarium Building, office 1G11. The space has comfortable seating as well as a small resource library and two computers.
Facebook
Like "GU-Q Women's Center" on Facebook to keep up-to-date on activities and events we are planning, current information and news related to women's rights, women's health, and other women's issues.
Women's Center Programs
Throughout the year, the Women's Center hosts a variety of programs, both on their own as well as in collaboration with other GU-Q departments, student clubs, and the Washington, DC Women's Center.  Below are a sample of some of our programs.
Discussions
Periodically throughout the year we will host discussions, sometimes open to all and other times only for women.  Topics for discussion include current events related to women's issues or general gender-related concerns.
Mentor Tea Series
The Mentor Tea series features women who hold prominent professional roles, talking about their experiences, their role models and mentors, their career path, and how they established a work-life balance. The series helps connect the majority female student body to additional female mentors and role models from their community. We invite you to come hear the inspiring stories of successful career women, and make lasting connections for your own career development.
 Movie Series
Throughout the academic year, movies are presented that focus on a theme of women's issues. This can be both an educational and provocative way to talk about issues that affect women throughout the world. Come learn more about various women's issues while enjoying a movie with some friends. 
Special Educational Programs
Throughout the year we offer educational programs and events on women- or gender- related topics. Some of these special programs will be collaborations with the various units within GU-Q as well as the student clubs, organizations, and sports team.  In the past programs have included R.A.D. self-defense training classes, Domestic Violence Awareness Campaigns, and Breast Cancer awareness activities.
Reading Circle Book Club
During the year, based upon input from students, a book will be chosen that addresses women's issues (e.g., friendships, domestic violence, gender equality, political oppression).  The members of the group come together to discuss the topics that surface, both in general as well as in the context of their own lives.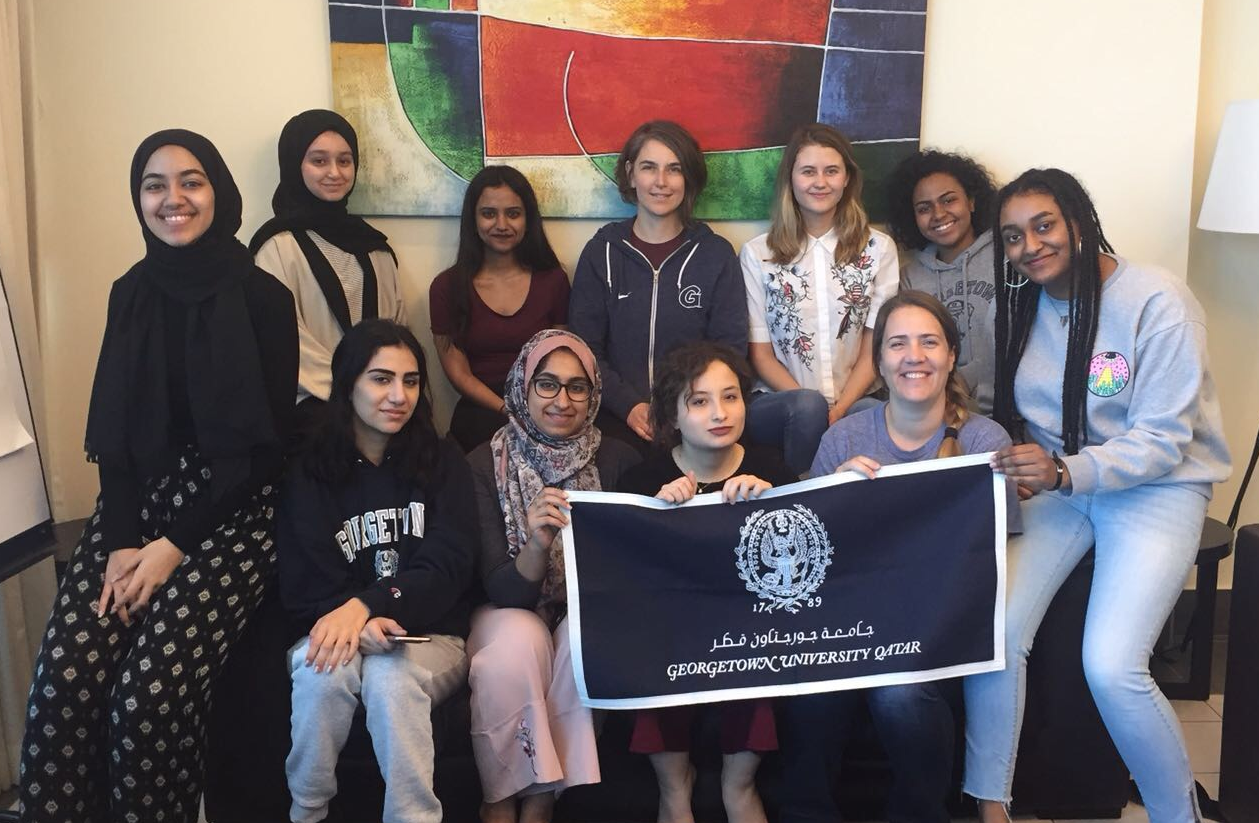 Women's Center Retreat
The women's-only overnight retreat is an opportunity for the members to learn more about their strengths, develop supportive relationships, and plan for a future that meaningfully contributes to all spheres of their lives.  We are grateful to the generous donation of the Biondi Copeland Family Fund and the Main Campus Women's Center who has helped fund this program in the past.
Our Partners
Georgetown Women's Center: The Washington, DC, campus Women's Center opened in 1990 and has been celebrating, honoring, and empowering our campus community since its inception. The Women's Center offers a diverse selection of educational programs, volunteer opportunities, services and resources to engage the Georgetown campus in meaningful ways.
Georgetown Women's Alliance-Qatar (GWA-Q): GWA-Q brings together women and groups from across GU-Q and beyond who share a commitment to fostering an environment in which women in our community learn, grow and thrive. The GWA-Q facilitates sustained conversation, interaction and networking, aggregation and communication about events and programming, and leveraging of resources. Check out Georgetown Women's Alliance Qatar membership website to find out more and join!
Georgetown Women's Alliance (GWA): GWA is GWA-Q's sister on the Washington, DC campus with affiliates from groups that are part of diverse community whose goals include helping women develop personally and professionally and addressing gender justice. They showcase their work, facilitate collaboration, and provide additional opportunities to grow as leaders in the communities. Check out the Georgetown Women's Alliance membership website to find out more and join!