Student Housing
Make yourself at home on campus with Qatar Foundation student housing.
Living at the Qatar Foundation dorms puts you at the epicenter of activity. Student housing is available to all full-time students, and the Qatar Foundation (QF) residence life program helps foster a diverse, enriching experience. The QF Housing and Residence Life staff helps provide a warm and intellectually invigorating environment, collaborating with students to plan educational, social, and recreational activities such as movie nights, intramural sports competitions, potlucks, and guest speakers.
Women's Dorms
Men's Dorms
Housing Options, Costs, and How to Apply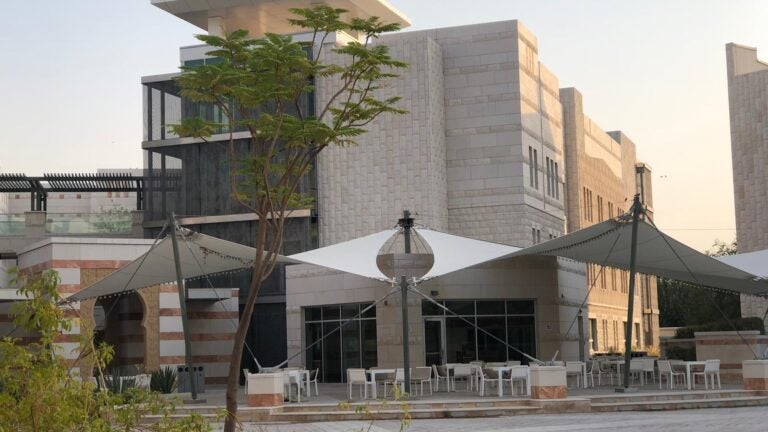 Housing Complex Options
QF residence halls are located within the grounds of Education City. Male and female students live in separate apartment blocks. Each residence hall floor has a community kitchen and laundry rooms with lounges for study and social space.
There are four room options: a residence hall room and three apartment styles. All freshmen will be assigned a "residence hall room" and their rooms will be grouped together. For non-freshmen, apartments consist of studio, one and two-bedroom apartments. Each student will have their own private bedroom (even in a 2 bedroom apartment), bathroom, TV, and refrigerator. Only the apartments have a kitchen in the unit.
Married student housing is also available upon request.
Housing Costs
First time applicants are required to pay a refundable damage deposit of QR. 2,000,which also acts as a reservation fee. The balance is due to Qatar Foundation prior to move-in.
On-Campus Housing Costs 2020-2021:
Security Deposit (Refundable) 2,000 QR.
Annual Housing Fee (10 months) 18,880 to 25,880 QR.
How to Apply for Housing
This is a 2-step process:
If you wish to live in the residence halls you need to let GU-Q know by filling in this form. GU-Q will then verify to QF Housing that you are a student.
Once you are verified, you will receive an email from QF Housing directing you to the StarRez system. Please respond to the instructions sent by the StarRez system.
You can find more information on student housing at Education City in Qatar. Foundation website. Send us an email for further inquiries.
Frequently Asked Questions About Student Housing
Only the 2-bedroom apartment has an option for a roommate, but keep in mind that freshmen are not eligible for an apartment. Please contact QF residence hall staff at studenthousing@qf.org.qa if you have any questions.
Yes. Students should be sure to indicate that on their housing application and may be contacted by Housing and Residence Life for additional information.
Students who require on-campus housing during the break between the semesters and during the summer will pay a weekly rate for housing. If they have a previously assigned room during the school year, they may be able to remain in the room during the winter break. Depending on their housing plans for the following academic year, a student may need to move rooms during summer housing. In order to have housing during these breaks, students must fill out a winter break housing form, or they will need to sign up for summer housing by a certain date. Contact studenthousing@qf.org.qa for more details on break housing.
There are self-service laundry machines in each of the residence halls. There is no paid laundry service. If students wish to arrange for laundry service, they must do so on their own.
The QF residence hall housekeeping staff maintains the cleanliness of common areas but does not clean individual rooms or apartments. If students wish to arrange for housekeeping, they must do so on their own.
It's probably easier to cover a list of what is not permitted. Appliances such as (but not limited to) halogen lights, air conditioners, appliances with exposed heating elements (such as: toaster ovens, grills, hot plates, coffee makers, "George Foreman" grills), microwaves using more than 900 watts, crock pots, portable heaters, and electric blankets are not permitted. A small refrigerator is already provided in each room. If you have questions about a specific appliance you are considering purchasing, please contact your residence hall director directly or Housing and Residence Life at studenthousing@qf.org.qa.
Please use the following information: list the student's full name and student ID number. Indicate the purpose of the transfer (i.e. housing deposit; housing fall fees). Transfer the funds to the following bank and keep a copy of your receipt:
BANK: Qatar National Bank
If paying in Qatari Riyal, use the following information:
ACCOUNT: 0013-024171-001
IBAN: QA19 QNBA 0000 0000 0013 0241 7100 1
If paying in US dollars, use account number: 0013-035555-061 0013-035555-061 free
SWIFT CODE: QNBAQAQA
ACCOUNT NAME: Qatar Foundation
All apartments are fully furnished with a TV and refrigerator.
All furnishings provided by QF housing, including mattresses, bed ends and bed springs, must remain in the room/apartment/common areas unless you have received a medical accommodation recommendation. Please contact the QF Housing and Residence Life office for a medical accommodation sheet which must be completed by an attending physician.