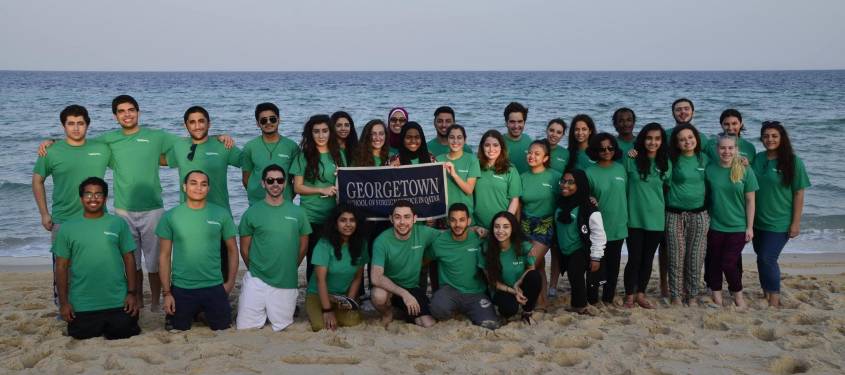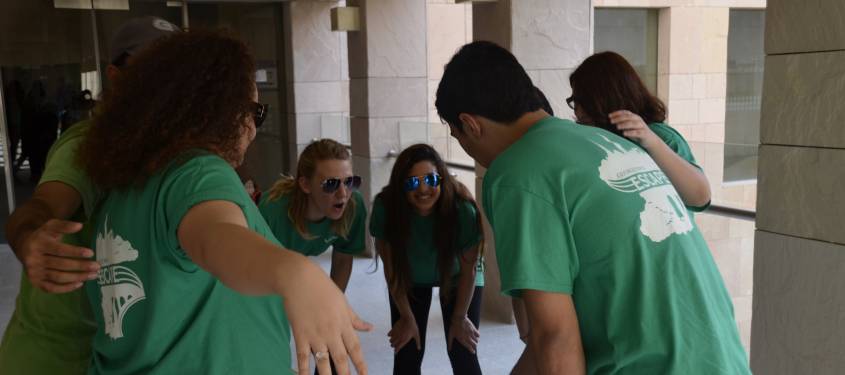 ESCAPE Overview
ESCAPE is Georgetown's first-year, non-religious retreat program. Open only to first-year students and exchange students, ESCAPE is an opportunity for students to get away from campus, reflect on their transition to Georgetown, and get to know their peers. ESCAPE is run by the Office of Student Life and by a student team of sophomores, juniors, and seniors, many of whom are themselves alumni of the program!
History of ESCAPE
ESCAPE was established in 1991 in response to a need articulated by students and staff to provide more opportunities for student retreats and reflection. Endowed through the generosity of the Calcagnini family (Arthur C'54 & Nancy), ESCAPE is one of the longest running and highly attended student programs offered by Georgetown over the past two decades. While ESCAPE does not profess any one faith tradition, it is based in the values and spirituality of the Jesuits. The importance of cultivating an interior life and the practice of discernment is the basis for the reflective aspects of ESCAPE, encouraging students beginning their journey at Georgetown to ask themselves, "Who am I today?," "What or whose values have shaped and influenced my life?," and "What do I want to do and who do I want to become in this time ahead of me?" These questions are rooted in the Ignatian principle of discernment.
Building a sense of community, rooted in mutual respect, is a result of the ESCAPE experience and hopefully contributes to a campus environment where students feel they have developed meaningful relationships with one another. The model of reflection and finding balance in life is what has sustained ESCAPE for its first twenty years and continues on with each new class of Hoyas.
ESCAPE at GU-Q
ESCAPE arrived at GU-Q in 2010. Leaders of the retreat have sought to adapt the traditions from the DC campus to create a unique ESCAPE experience that is relevant and meaningful to the diverse GU-Q student body. Since the first ESCAPE in Qatar, it has rapidly evolved into a true GU-Q tradition. Past ESCAPE retreats were held at Sealine Beach Resort and Al Sultan Beach Resort. In 2014, ESCAPE was moved to be held in a desert camp, which the ESCAPE participants had to themselves for a more intimate reflection experience.
Impacts of ESCAPE
The primary goals of the ESCAPE program are threefold:
Students get away from campus – literally, they "escape."
Students get to know a small group of their peers.
Students reflect on the transition to college.
Want to learn more about the ESCAPE tradition? Check out our main campus ESCAPE website!