The athletics program at the Georgetown University in Qatar plays an important role in the education of our students and the creation of a healthy campus community. Our students take advantage of the extensive athletic facilities and programs offered at the intercollegiate, intramural and instructional levels.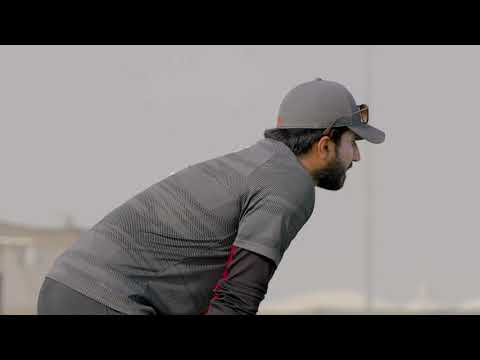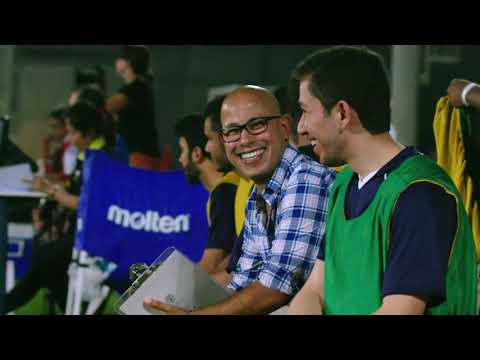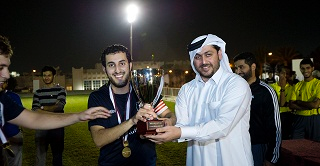 Team Competitions
GU-Q teams compete in Qatar Foundation intercollegiate leagues, facing competitors from the other branch campuses in Education City and beyond. If you are interested in joining any of these sports teams, please send an email to Student Life.
Current GU-Q Teams
Men's Football
Women's Football
Men's Basketball
Mixed Volleyball
Athletic Facilites for Every Level
Hoya student-athletes train and practice in Education City, utilizing outdoor and indoor playing fields, an Olympic-size swimming pool, and state-of-the-art weight rooms. In addition to joining club sports teams, Georgetown students can take advantage of opportunities available at the Qatar Foundation Recreation Center, including yoga classes, golf tournaments, and tennis competitions. Qatar Foundation also provides a full-time weight room instructor and a swim coach to help students achieve athletic and fitness goals.
Student Center Facilities
Education City's Student Center is an impressive building with some impressively entertaining features. Some the many amenities provided at the HBKU Student Center are:
Indoor basketball and volleyball courts
Indoor Football Courts
Table tennis
Male and Female gym
Bowling Alley
Recreation Center
The Recreation Center offers a wide variety of classes to students, faculty, and staff. It also hosts informal athletic tournaments and weekly social events for soccer, tennis, basketball, squash, golf, and water polo. The Recreation Center's facilities include the following:
multipurpose gym
weight and fitness room
women's only fitness room
tennis and squash courts
outdoor basketball court
soccer field
running track
Olympic-sized swimming pool
training/splash pool