Jesuit Heritage Celebrations
Shaped by centuries of Jesuit education around the globe, our culture at GU-Q embraces the changing times while staying true to core values – engaging your intellect, helping you grow ethically and spiritually, exchanging ideas freely and building a more just world. One of the ways that we embody our Jesuit heritage is by making a home for all faith traditions. Whether you're religious, nonreligious or searching for a spiritual home, we accompany you on your journey and help you lead a life of deeper meaning, belonging and purpose.
How Do We Celebrate Jesuit Heritage in Qatar?
To help support spiritual growth and development, throughout the year GU-Q engages with its heritage, values and identity by engaging in interfaith dialogue, talks, and activities. Based on an ongoing tradition from the Washington, DC campus, celebrations in Qatar provide the opportunity to explore the Georgetown values and identity in the context of our Middle East location and engage our uniquely diverse student body in open dialogue about justice, ethics, and universal values.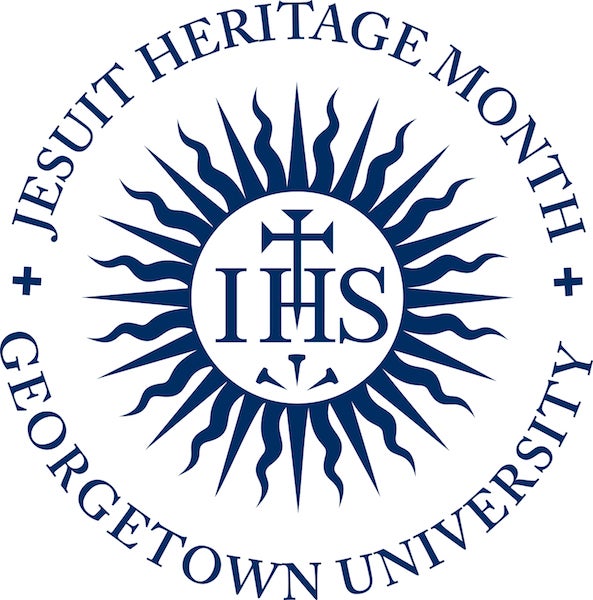 Jesuit Heritage Month in DC
The month of November is marked as Jesuit Heritage Month for the Washington, DC campus, which becomes the venue for a host of special events and programming that explore and celebrate Georgetown's Jesuit history and traditions. Jesuit Heritage Month brings together distinguished faculty and special guests in events and activities focused on the work of the Jesuits, both around the world and on the Hilltop. Programs focus on spirituality, social justice, the arts, and education, and include opportunities for meeting and becoming acquainted with individual Jesuits.
Past Jesuit Heritage Events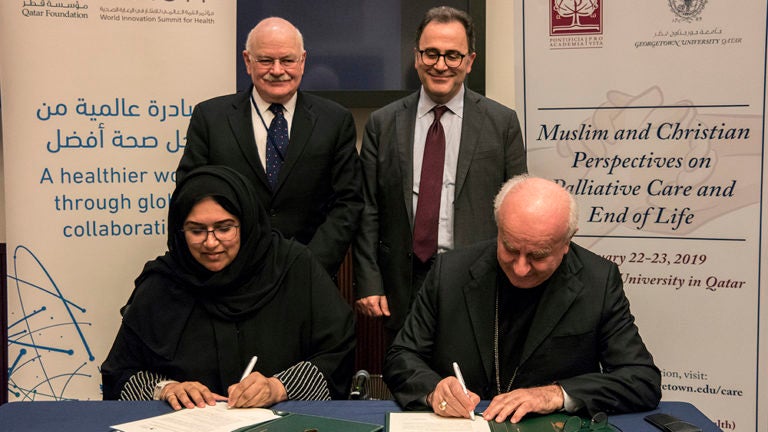 Signing of Agreement with Pontifical Academy for Life
At the recent conclusion of the "Muslim and Christian Perspectives in Palliative Care and End of Life" conference at Georgetown University in Qatar (GU-Q), world renowned experts in bioethics and healthcare stressed the importance of developing this branch of medical specialization through training for key stakeholders, investment in research, and sharing best practices across cultures and faiths through future joint initiatives. The conference was co-organized by GU-Q and the Vatican's Pontifical Academy for Life, with the support of WISH, the World Innovation Summit for Health.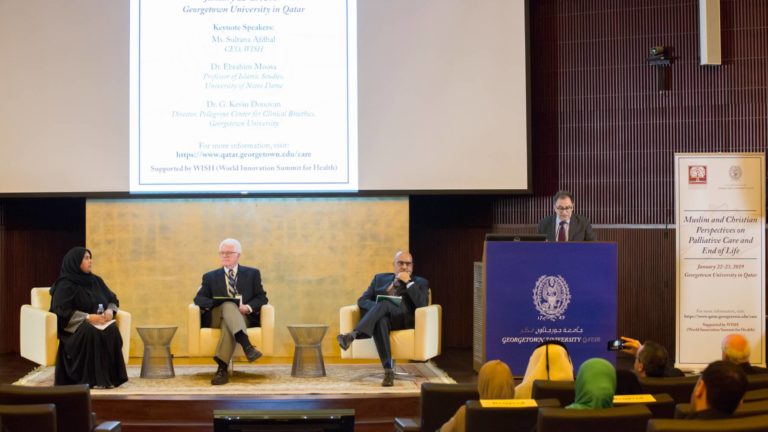 Christian and Muslim Perspectives on Palliative Care Conference
World renowned experts on ethics, Islam, Christianity, and medicine gathered on January 22-23 at Georgetown University in Qatar (GU-Q) in Education City to discuss the bioethics of caring for those with life threatening illnesses or those who are facing death. The two-day conference, titled "Christian and Muslim Perspectives on Palliative Care and End of Life", was jointly organized by GU-Q and the Vatican's Pontifical Academy for Life (PAL), and with the support of the World Innovation Summit for Health (WISH).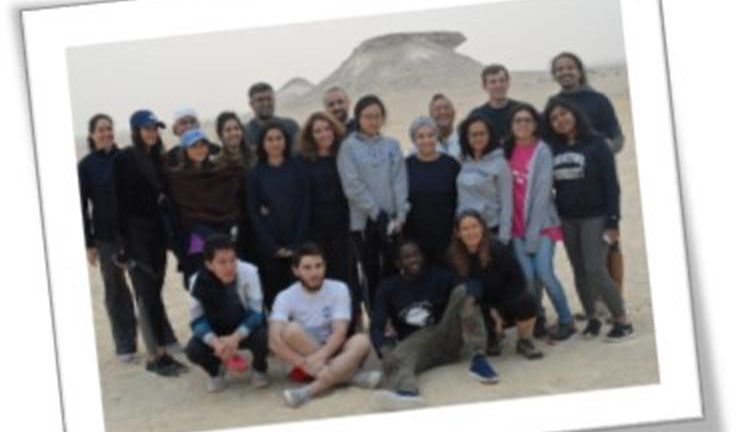 Celebrations 2017
Georgetown University in Qatar (GU-Q) hosted its annual Jesuit Heritage celebration, which aimed to provide members of the Georgetown community with a greater understanding of the University's history and founding values. Events included an outdoor education abseiling session Zekreet, a lunch-and-learn session with Jesuit Priest Father Noah Vasquez, and a film screening of award-winning documentary The Imam and the Pastor. There was also a discussion on the challenges and obstacles to interfaith dialogue in Qatar, which featured speakers from the Qatar Faculty of Islamic Studies and Archbishop Makarios from the Greek Orthodox Church in Qatar.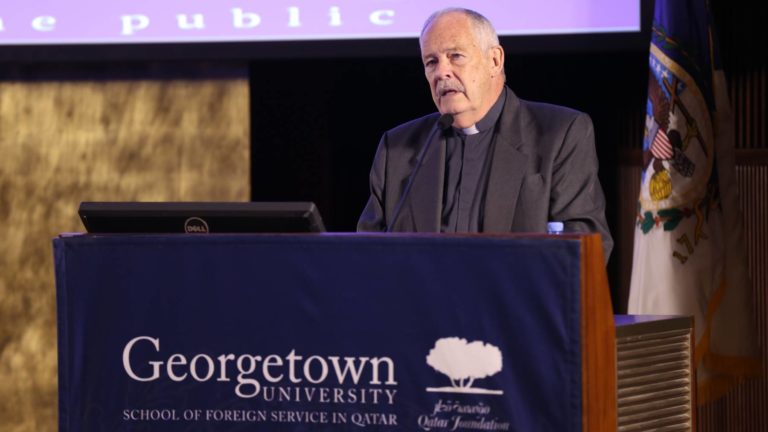 Celebrations 2016
A packed schedule of events marked Georgetown University in Qatar's Jesuit Heritage Celebrations, an annual tradition where the campus community explores and celebrates the university's Jesuit heritage, values, and identity. This year's celebrations included a wide variety of activities hosted by different student clubs and groups to encourage the campus community to delve into the values that underscore the Jesuit commitment to community-based service and an ethical responsibility to human development.