26 songs for the class of 2026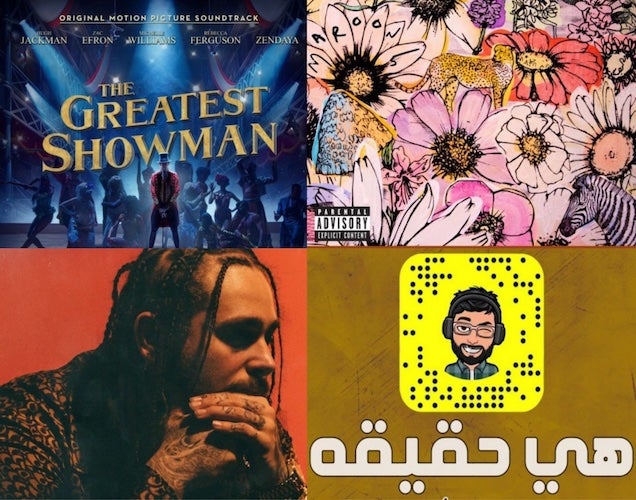 Hello Friends!
First and foremost, congratulations to the class of 2026 on being admitted into Georgetown University in Qatar. I know firsthand that the college application process is challenging. The period between submitting your application and receiving your decision can make you very anxious. But you made it! Take this moment to give yourself a tap on the shoulder.
It feels like yesterday when I received my acceptance letter to Georgetown. I was so nervous about opening the email. But I could not bear the uncertainty of not knowing the decision. I had my friend, who has been my buddy through high school come over. She also applied to Georgetown. And there we were, crowded in my small room with friends and family who joined for moral support. We closed our eyes, said a little prayer, and clicked on the decisions. When we opened our eyes, we both saw confetti on our screens. I jumped to hug my friend and shouted: "…We both got in". I reached for my speaker and blasted my favorite dance playlist. We had a little party in my room, dancing, singing and celebrating.
So to celebrate your acceptance to Georgetown, a few first-year students and I put together a congratulatory playlist for you. We picked some of our favorite songs to celebrate all your achievements. As an Afrobeats fan, the first song I thought about was Calm Down by Rema. This song is a banger! I love it because it is impossible not to dance to it. It does not matter where you are or how you are feeling, when it blasts, you know it's time to dance! I recently did a choreography for this song with my friends in Education City to perform at the African Cultural Night. I shared some snippets for it on the desert hoya instagram!
Now friends, enjoy your musical journey curated by GU-Q students!
Hola,
"A big congratulations to you for getting admitted to GUQ! I can imagine the excitement and joy that you, your friends, and your family are feeling. I am going to recommend Vivir Mi Vida by Marc Anthony. My friends and I played this song on the night I received my acceptance letter. Vivir Mi Vida is an invitation to celebrate the beauty of the now. To enjoy the smile, laughter, and joy of the moment. I hope you enjoy it and cherish the honor of getting accepted to this prestigious university. I look forward to seeing you next fall!"
Santiago GU-Q'25 from Colombia
Merhaba!
"I chose Ya Saad by Omar Alabdallat because it brings back so many memories from high school. It is a popular song in Jordan and other parts of the Arab world. It is a celebratory anthem at weddings, family gatherings, and ceremonies. I hope it inspires you to celebrate your hard work! We are proud to have you in our incoming class. "
Hala GU-Q'25 from Jordan
Hi!
"Welcome to the Hoya Family! I hope you are excited to join a community of passionate and diverse individuals. I chose Buddhu Sa Mann by Amaal and Armaan Malik because it pushes you to rediscover the lost child within you. It asks you to stop worrying, sit back and relax for a minute! This song embodies the one piece of advice that I often share with my friends, and now I will share it with you: Take it easy and find joy in everything! "
Arnav GU-Q'25 from India
Hello soon-to-be first years!
"Congratulations on getting accepted to Georgetown. Being a Hoya is a huge accomplishment. I hope you are as excited to come here as we are to welcome you. The song that I dedicate to you is Auf uns by Andreas Bourani. I love this song because it is uplifting and inspirational. It celebrates past achievements and urges you to look forward to the accomplishments ahead. I think it is a perfect song for you as you cherish your success, but also look to the future. I hope to see you in the fall. Hoya Saxa!"
Alex GU-Q'25 from Germany
Hello,
Congrats on being admitted to GUQ! I hope this acceptance serves as a reminder that you are dedicated and incredible. I picked Boy in Luv by BTS. I chose this song firstly because I am a die-hard BTS fan! But also because it was one of the first songs by a K-pop boy band to hit the billboards. It is upbeat and cheerful. It reminds me of karaoke with my friends in Tokyo. I hope you enjoy it as much as I do!
Tayoung Chung GU-Q'25 from Japan
There you have it, music as diverse as our students. So, go ahead, put your headphones on, shut the door and throw a party in your room. Or you could connect to a speaker, call a few friends or family, and dance to the playlist we have put together for you.
---
"The posts and comments on this blog are the views and opinions of the author(s). Posts and comments are the sole responsibility of the authors. They are not approved or endorsed by Georgetown University in Qatar, or Georgetown University and do not represent the views, opinions or policies of the University. "