Hello again! How are you?
For my second blog post, I wanted to wrap up my semester with you! I believe I will be speaking on behalf of many GU-Q students when I say, it has been a very busy term. From navigating in-person classes for the first time since 2020 to welcoming the class of 2025, the past three months have been full of changes and adjustments for the entire student body (thank God for our university support systems – special shoutout to Student Development!). For members of the class of 2025, we have had to get out of our comfort zone and make our first semester in college meaningful. As a first-year student, a new resident of Doha and this being my first time in the Middle East, broadening my horizon has been the most exciting aspect of my transition to college but also the most challenging one. Simple things like the weather in Doha, life in the dorms, the friends I made, clubs I joined, and classes I took all helped me spread my wings.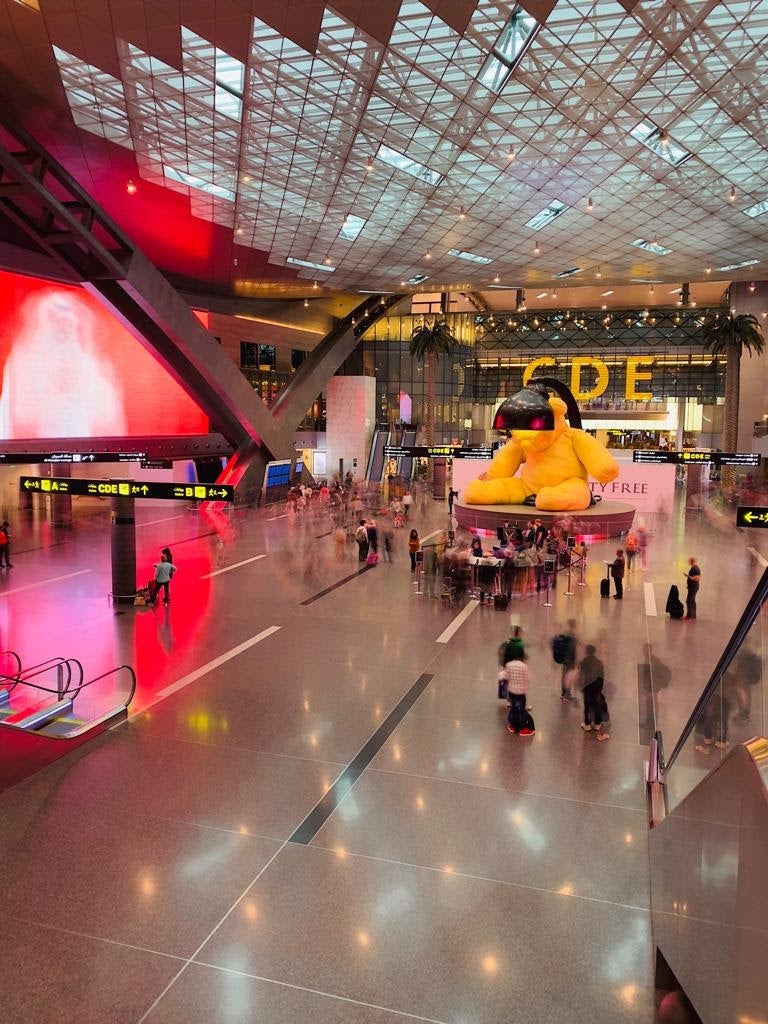 From the moment I stepped out of the bustling but perfectly cool Hamad International Airport on Saturday, the 4th of August, at 3:00 AM, I realized that I was outside of my comfort zone… over 6,200 km and a world away from my closest comfort zone to be precise (that's just over 3,800 miles for the non-metric among us). As I arrived, I was met by a strange wave of heat welcoming me to my new home. Yes, Doha is very hot. Certainly not the kind of heat I have experienced growing up in South Africa. But over the past 4 months, I have learned to adjust to the weather in Doha, embraced the heat and the humidity and learned to live like a Doha resident. I had to be aware that, like the climate elsewhere, the weather here has its own ups and downs. And I came to realize that the morning and evening hours are my favorite. Trust me, from November onwards, you will love the weather here.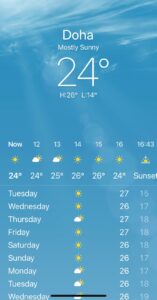 Another unexpected way I expanded my reach was through food. Anyone who knows me knows that I am a foodie! And fortunately, Doha is the perfect city for foodies like myself. With endless cuisines to choose from, I have indulged in East Asian noodles, South American steaks, as well as Arab and European pastries. While I did come to Doha accustomed to African and Soul food flavors, I saw an opportunity to dive into the unknown and experiment with flavors I am not used to.
One afternoon, my friend and I visited a sushi restaurant and in the spirit of trying new things, I took in a tablespoon full of wasabi. That was a bad idea! Thinking that it would taste like herbs or mint, I got the shock of my life when tears started rolling down my cheeks and I felt a sharp burn in my mouth, nostrils, and right at the top of my head. I froze and could not speak for a couple of minutes as I took in the burning and enlivening flavor of wasabi. While that ended with me taking 3 glasses of water to calm my taste buds, the experience encouraged me to embrace new things. That was a mistake I will never repeat but will laugh about for a long time to come.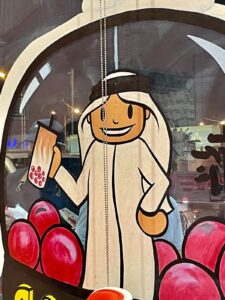 It was the bravery of getting my mouth scorched by wasabi that made me bold and more accepting to change. In my classes and my social circles, I seek to expand my reach and try new approaches. I recently worked with a team of researchers to offer a presentation to students and professors on climate change and developments in the latest United Nations Climate Change Conference, COP26. I got to work with people from so many new countries. My team members were from India, Qatar, Italy, the US, and Kazakhstan, just to name a few (FYI: GU-Q has over 60 nationalities in its student body!). I'll be honest, at first, it was very uncomfortable to be the new person on board, to be the one asking questions that were obvious to the rest of the team, and to have to do some extra reading on the side to supplement my understanding. But the team was supportive and, looking back, it was not always easy, but it was rewarding.
This semester the entirety of the GU-Q community has had to push beyond limits. Many first-year students had to navigate new courses like the Problem of God or Microeconomics (which is dreaded by a number of first year students). Classes at GU-Q can be hard work, but the intellectual growth pays off. I have also met second-year students who have declared international politics as a major and then pivoted to international economics after consulting with their dean and faculty mentors. Many third-year students spread their wings and flew to our Washington D.C campus to study abroad. And for some seniors, breaking boundaries is still ongoing as they think about what their lives will look like after university.
Pushing boundaries is an endeavor and it may not always be pleasant (think of the wasabi), but it is the only way we learn new things and have meaningful experiences. If you learned anything from this blog post, let it be that you will gain more from taking a challenge than you would if you do not. As the semester winds down, think about ways in which you have pushed yourself? What change have you undergone? What did you learn from those experiences?
Let me know what your high school term or college semester was like on the blog's Instagram!
---
"The posts and comments on this blog are the views and opinions of the author(s). Posts and comments are the sole responsibility of the authors. They are not approved or endorsed by Georgetown University in Qatar, or Georgetown University and do not represent the views, opinions or policies of the University. "