A Letter from a Georgetown Senior
Dear class of 2026,
Congratulations once again on your acceptance to Georgetown University in Qatar! My name is Armina and I am a senior and a proud CULPIE (Culture and Politics major). I am from Iran but I have lived in Qatar since I was 3 months old (I know that's a long time!) I have also been working in the Office of Admissions as a student assistant since my first year at Georgetown. So there is a chance that you have either seen me or spoke to me in person or over the phone.  A fun fact about me: I won the title of 'shortest girl' in my high school. And not to be a cliche, but I would not be a true resident of Doha if I did not say that I LOVE drinking Karak and cannot start my day without it (and trust me all GU-Q students need that morning kick).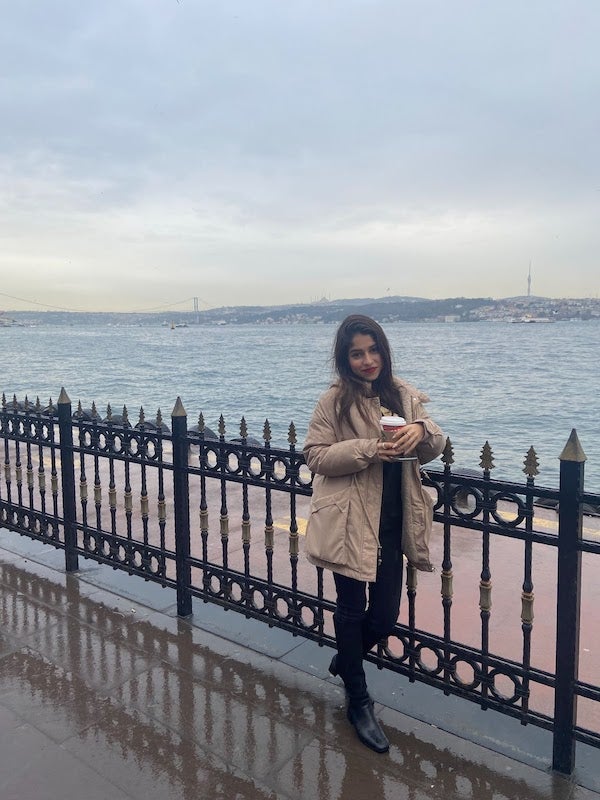 I am writing this letter to you now with less than 30 days before I am an alumnus and I am thrilled to go out into the real world as a GU-Q graduate. I am excited to apply the world-class education and professional preparation that I have gained during my time at university. But before I transition into this new stage of my life, I wanted to reflect on the last four years and share some wisdom with you as you are about to embark on this journey.
Now, everyone has an idea of what university is or what college is supposed to be. For me, college is a journey of discovering yourself. Coming into Georgetown, I had set my mind on business and economics. I thought that I would be an international economics major. From a young age, I had envisioned my life within those boundaries, and I was determined to follow through on that path. In my first year, I had to take core classes that were outside of my comfort zone. Among those classes were theology and political and social thought. Despite feeling an inner passion that was drawing me toward the humanities, I was still unwilling to spread my wings. I resisted the desire that I felt for tackling social issues. Ironically, the more I resisted my interest in Culture and Politics, the more I found myself embroiled in discussions about complex social subjects. I joined the Model United Nations team and debate clubs which inspired me to engage with current affairs. Soon enough, I realized that I could not continue deceiving myself. I loved the humanities. That was a new and scary interest that I had never envisioned myself having, but it is now part of me. It ignited my intellectual curiosity and it excited me. Fortunately, being a Georgetown student means that I had an abundance of resources such as the Office of Academic Services and Advisory Deans available to me. That eased my transition from an International Economics major to a Culture and Politics major, which focuses on humanity and how our differences shape our current world and times.
As a CULP major, I have learned so much about politics, religion, gender, and race. And I got to explore the relationship between these topics in the Middle East. I have had the opportunity to meet new people and create meaningful connections that will benefit my career. A few weeks ago I even had the incredible opportunity to meet a Nobel Prize Laureate like Malala Yousafzai and engage her thoughts on current socio-political affairs. Looking back, taking that leap of faith and following my intuition was one of the best decisions that I have ever taken. And here I am two years later graduating as a Culture and Politics major!
Now, you might be asking yourself why I am telling you this. I did not share this to try to convince you to declare CULP as your major. You may be an incoming student and have not even thought about your major yet – that is okay. I shared this to help you realize that I discovered myself at GUQ, and you have the opportunity to do that as well. I redefined my interests and tailored my path. And that is what college is all about! Over the next four years, you will meet different versions of yourself. You will get to see yourself grow, not only as your college years increase but also as you form your perception of the world and the way you synthesize ideas and tackle challenges. At Georgetown, you will be in classes that will ignite interests you never knew you had. You will be inspired to embody the values of Georgetown both inside and outside the classroom. Like me, you will question your passions and your dreams or even find newer ones. I encourage you to be open to this growth and these changes. Do not be afraid to try new classes and clubs. To allow yourself to evolve. Trust me, it's worth it!
Now, I don't want you to think that Georgetown is just about academics. Hoyas have fun, and true Hoyas have the most fun! In these next four years, You will meet like-minded individuals who are smart and vibrant. Take that opportunity to make friends. Some of those people may end up being your best friends. Use the next four years to also create unforgettable memories. These are the moments that you will remember most when you are ready to walk across the graduation stage. Memories are what make college worth it, make the most out of them!
Dear future Hoya, enjoy these next four years because they go by very quickly!
Love,
Armina
---
"The posts and comments on this blog are the views and opinions of the author(s). Posts and comments are the sole responsibility of the authors. They are not approved or endorsed by Georgetown University in Qatar, or Georgetown University and do not represent the views, opinions or policies of the University. "