My name is Siya, a first-year student at Georgetown University in Qatar (GU-Q) and a student employee in the office of admissions. I am thrilled to welcome you to our Desert Hoya blog! I will be using this handle to write about the everyday life of GU-Q students and our different experiences in and outside the classroom. Most importantly, the blog will also be a space to connect with eager prospective students such as yourself as I help you imagine being a Hoya.
What is a Desert Hoya you ask? Well, the word Hoya comes from the Georgetown slogan 'Hoya Saxa' which is a combination of Greek and Latin for Stonewalls. It is rumoured that this was inspired by the stonewalls that surround Georgetown's main campus in Washington D.C. That makes GU-Q the desert stonewall! (but you will see there is so much more to Qatar than the desert).
Now let's get personal. Before coming to GU-Q, I was a student at the African Leadership Academy in South Africa and I remember feeling a lot of anxiety in my senior year. I had reached a key milestone in my early adult life and I needed to choose right! My whole life depended on it! The search for the 'right college' was not easy. I scrolled helplessly through college websites and watched countless youtube videos about 'things I should have known before going to college' or 'how to pick the right college?' I did, however, look forward to finding a college that would welcome me and give me the opportunity to explore my academic and leadership potential. After speaking to my college counsellor about some of my concerns and excitement about college, he recommended Georgetown University in Qatar. Honestly, I did not know what to expect. I had heard about the prestigious campus in Washington D.C., but I was not aware it had a branch campus in Qatar. So I searched through the GU-Q website, attended virtual college visits and asked current students about their experience. This painted a very positive image of GU-Q, and I slowly fell in love with the place I now call my academic home.
I started learning more about the Bachelors of Science in Foreign Service degree and the doors it might open for me in the public sector, private sector and in the global and humanitarian field. When I found out that, at GU-Q, I could major in International Politics, explore economics and still keep my love for Africana studies, I was instantly attracted. As an aspiring stateswoman, I pictured myself in the context of a Georgetown education, in line with the many prominent alumni that had made the same journey to GU, and it was as if I had found the missing piece of the puzzle.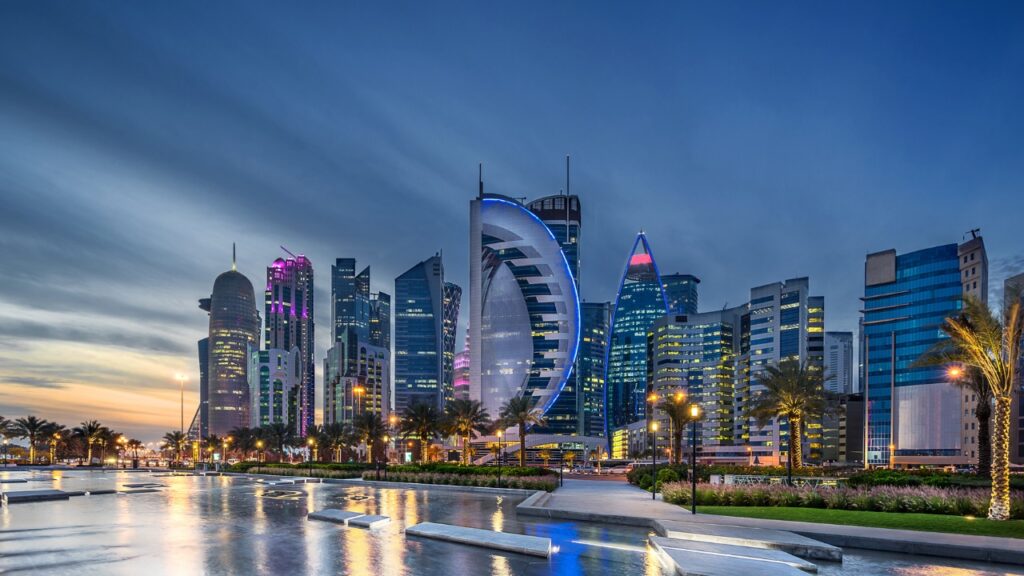 Now let's discuss life in Doha! It's my first semester here and it has been a very lively, spirited and diverse journey. I have enjoyed the various outdoor activities and beautiful beaches and parks all around Doha (told you it's not just desert!). I tend to be adventurous, so I love getting lost exploring the skyscrapers all over Doha in the evenings. Traditional souks and modern malls have also been a lovely place for me to bond with friends and immerse myself in the rich culture and modernity of Qatar. I also cannot wait for the FIFA 2022 World cup that will occur in Doha! I am a huge soccer fan, and the fact that one World Cup stadium is located in Education City, in close proximity to our campus, makes it all the more thrilling!
GU-Q, being in the Middle East, gave me an opportunity to have a view that many don't usually get, a view from the middle. I find myself viewing the world from every angle. My internal compass pointed me to the Middle East. And I think I chose well. I have been a Desert Hoya ever since! That's it for now and I will talk to you soon. Don't forget to follow my Instagram page!

If you enjoyed this post and want to learn more about being a GU-Q student then please visit our admissions page.
---
"The posts and comments on this blog are the views and opinions of the author(s). Posts and comments are the sole responsibility of the authors. They are not approved or endorsed by Georgetown University in Qatar, or Georgetown University and do not represent the views, opinions or policies of the University. "