Hello there!
I trust you are all doing well. I have really been enjoying interacting with you on our Insta. I hope you all loved the Spotify playlist that we put together for you. If you haven't listened to it already, you are missing out on all the fun! Be sure to check it out.
The month of April is the last month of my first year in college (wow it flew by!). And boy, what a year it has been! I have transitioned from being a high school student in South Africa to being an international college student in Qatar within 8 months. It has been a thrill, but most of all, it has been one of the best decisions I have made in my early adulthood.
My first year has been about immersing myself in all the life and vibrance that Qatar has to offer. I have thrown myself in the deep literally and figuratively. Firstly, by learning how to swim for the first time in Doha. I am still working on my backstrokes, but I am making good progress. Figuratively by making friends from just about every continent, having all-nighters with friends at the beach, and singing and dancing to Karaoke on a boat at the Corniche.
But my journey at GUQ and in Doha has not been without miss-steps. I often laugh about when I circled the same building five times in Msheireb trying to figure out the entrance to one of the coffee shops. By the time I had figured it out, my friends were already paying the bill. Even worse, I forgot to check the weather prediction on the evening of New Year's Eve. As I was out with my friends celebrating at a beach, I soon found myself soaking in rain without shoes or umbrellas with the nearest shelter miles away. Embarrassing as these moments were, I would not trade them for anything.
I am grateful that I had the opportunity to travel around the country and appreciate art, music, fashion, and food. Some of you might already know that the FIFA World Cup 2022 is happening here. But besides the World Cup, Doha has hosted many events such as the FIFA Arab Cup, international food festivals, and legendary fashion exhibitions. I have had the amazing opportunity to attend some of these events and I wanted to share them with you. Have a look:
FIFA Arab Cup
Those of you who have been following this blog for some time would know that I am a soccer fan and I like watching soccer games (I know some of you call it football but bear with me). In December 2021, I got the chance to watch the FIFA Arab Cup 2021 final between Algeria and Tunisia. What was mind-blowing about this experience was being in a state of art stadium hosting over 60,000 people. I was entertained by fans cheering for their teams, and I even joined in on the chants. If the Arab Cup was that awesome, how epic would the World Cup be?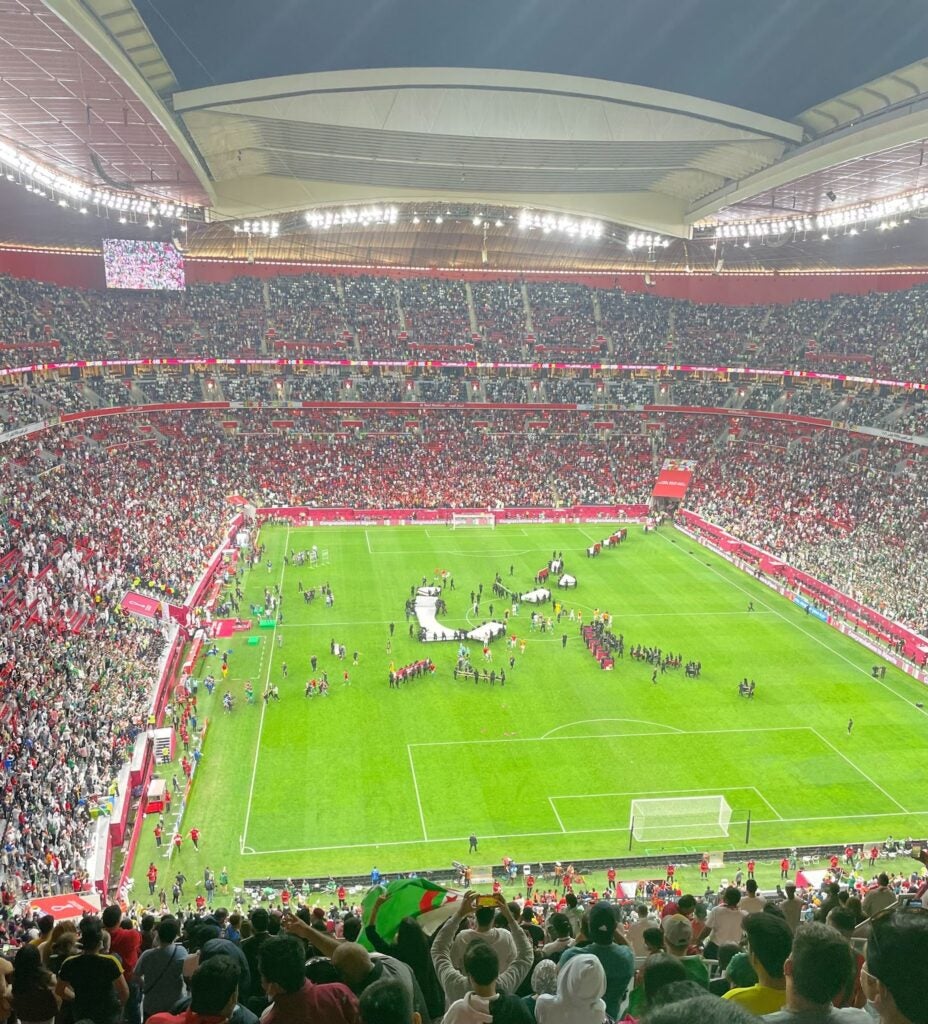 Bustle in the Souq
One of my favorite things about Qatar is its rich culture. And there is no better place to immerse yourself in Qatari culture, than at Souq Waqif. Fun fact: Souq Waqif means the standing Souq in Arabic. Its name couldn't be more fitting! Upon entering the Souq, you get into the rush of shopkeepers selling traditional garments, spices, and handicrafts. The Souq is where I buy my favorite Arabic pastries to satisfy my sweet tooth. It is also where I had my first little chat with a speaking parrot! At night, the Souq looks like a fun maze because of its traditional architecture. I get lost each time I go there but I always find my way. It is a great place to hang out with friends after a busy week to catch a breather. Here's a feel of the bustle in Souq in the evening: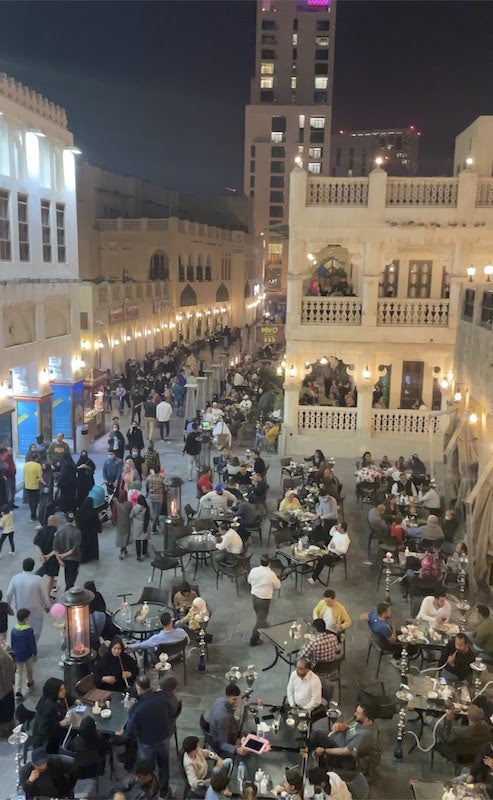 Virgil Was Here!
Qatar is a great place for fashion and art lovers. I have appreciated visiting exhibitions and museums that celebrate all the creativity that Doha has to offer. I started following the late Virgil Abloh and the Off-White brand as a teenager in South Africa. I appreciated how he took the fashion industry by storm and his pieces were all over fashion runways. His designs were worn by Naomi Campbell and Kanye West. Now imagine my excitement when I got to visit his exhibition at the Fire Station Museum in Doha. I was able to see some of his unique designs and sketches on display. Virgil's work is so meaningful to me because it speaks volumes about the realities of our world today. If you are interested in majoring in Culture and Politics at Georgetown, this would be an interesting exhibition for you. Here are some of the key pieces that I liked: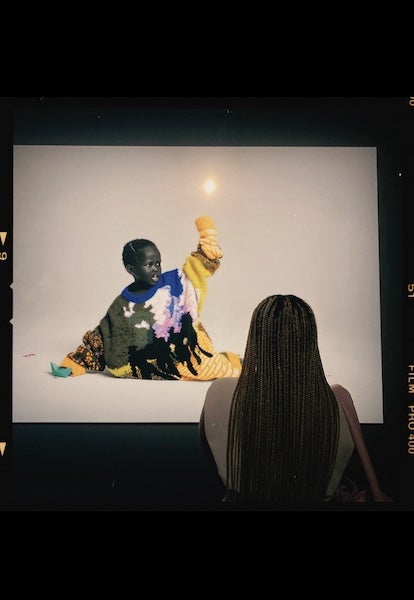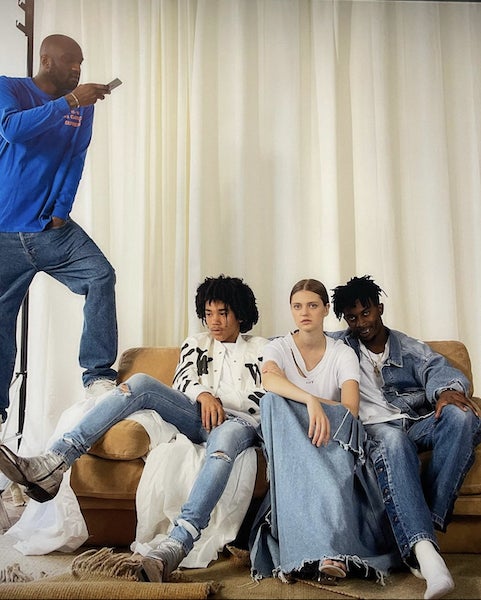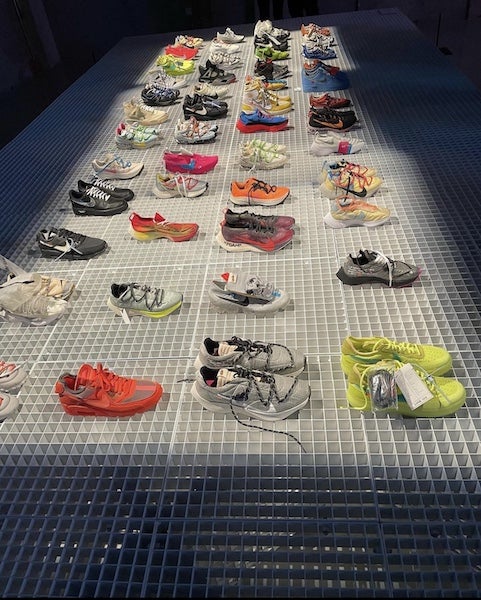 Tasty Food Street
I always talk about how great food is in Doha. I have indulged in a lot of cafes, restaurants, and food stations around the city. I still have many more to visit! But my most exciting experience was visiting Tasty Street in Katara Cultural Village. Luckily, I did not eat a spoonful of Wasabi this time (refer to the previous blog, it is a funny story! ). The whole street was full of food stations, people, and illuminations. There was everything from tacos to mochi, and I was spoiled for choice. The lights looked like GIFs and cool Instagram emojis. Take a look for yourself: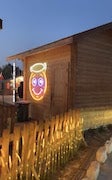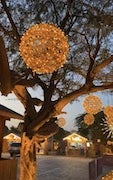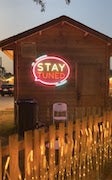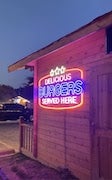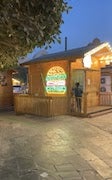 Well, there you have it folks! This has been a golden year for me. I have had so many wonderful experiences and incredible memories. I am grateful to have witnessed Qatar's rich culture, diversity, and modernity. As I close off the first chapter of my college story, I look forward to the adventures that await me. I want to see more of the beautiful landscapes, cherish more friendships, take more fascinating courses, and experience all the beauty that Qatar has to offer.
And that's a wrap!
---
"The posts and comments on this blog are the views and opinions of the author(s). Posts and comments are the sole responsibility of the authors. They are not approved or endorsed by Georgetown University in Qatar, or Georgetown University and do not represent the views, opinions or policies of the University. "