Al Sadd's Little Yemen: Yamani House
Jessica Choi
August 20, 2021
This series of posts, titled "Consuming Doha," seeks to take readers on a voyage of discovery. We visit old favorites and places unseen in the city, telling the stories behind each of them and the rich associations they conjure up for us. We write about food, but also the people that feed and serve us. We talk about places, but the invisible social dynamics that make them possible at all. Above all, we stay clear of the posh and the prim, the bougie and brash, the fine and not-so-fining dining options in a city of and by migrants.
If there is anything that looks out of place on Al Kinana Street, it is the Yamani House restaurant. Perhaps that is exactly the intention of the place. When you see the palace-like building structure sandwiched between a hospital clinic and Iranian ice cream shop, you can't help but wonder what the place has to offer.
Yamani House is in a family-friendly neighborhood of Al Sadd. Across the street is a popular Korean restaurant and grocery store. It is five minutes walk away from the Joaan station, but many come here by car.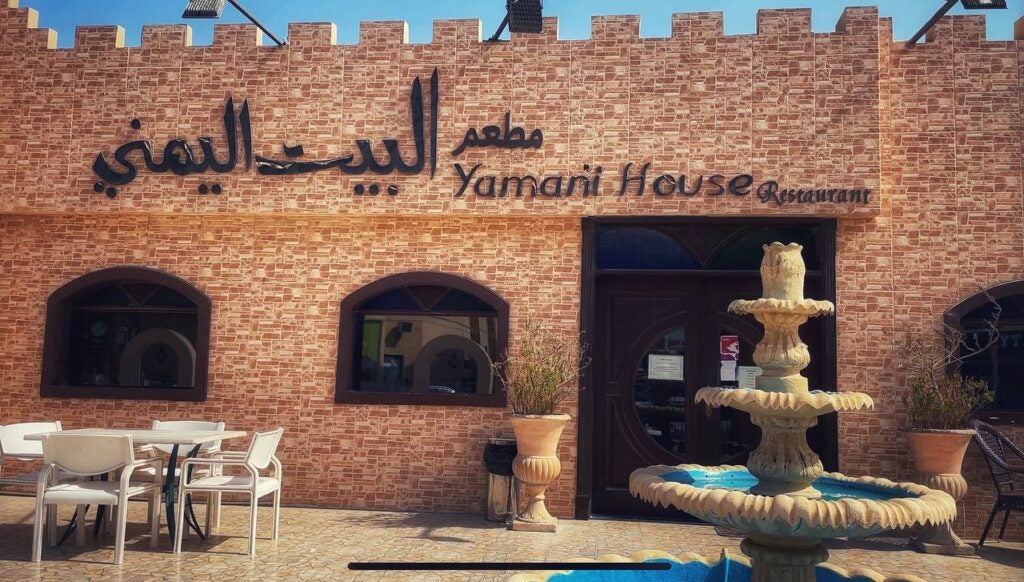 Beyond the exterior structure that mimics the traditional Yemeni architecture, the interior is dressed in a fusion of traditional and modern styles. While Yemen's iconic stained glass windows decorate the walls, their design is rather simple.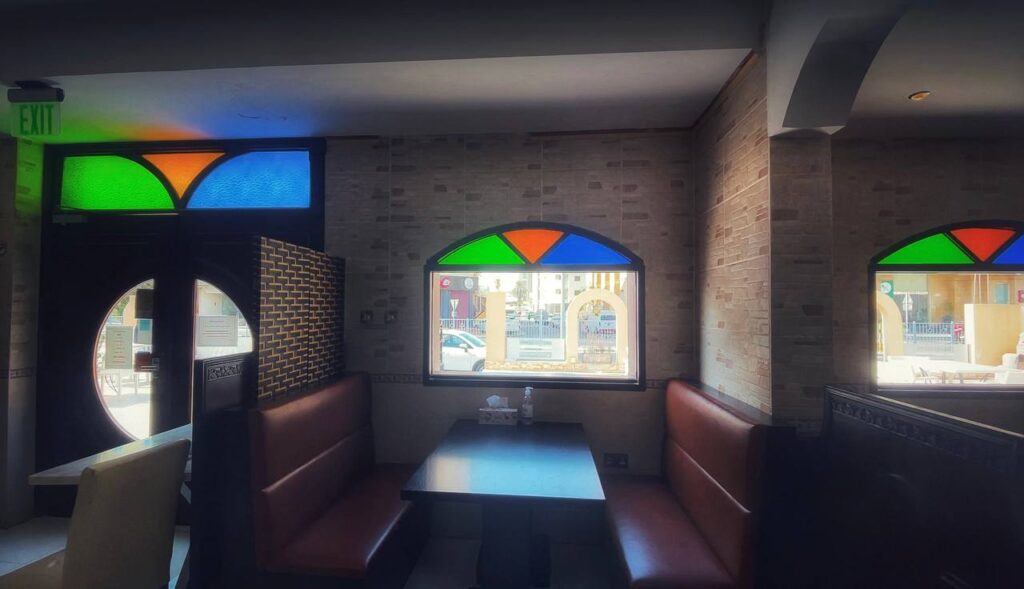 But what stands out are the small sections in the restaurant reserved for those who want to dine on the floor. Divided by the partitions and filled with rugs and cushions, customers can dine comfortably. Traditionally, in Yemen, people eat on the floor. Some believe that doing so is closer to the dining practices of Prophet Muhammad's times, and others say that eating on the floor promotes better digestion.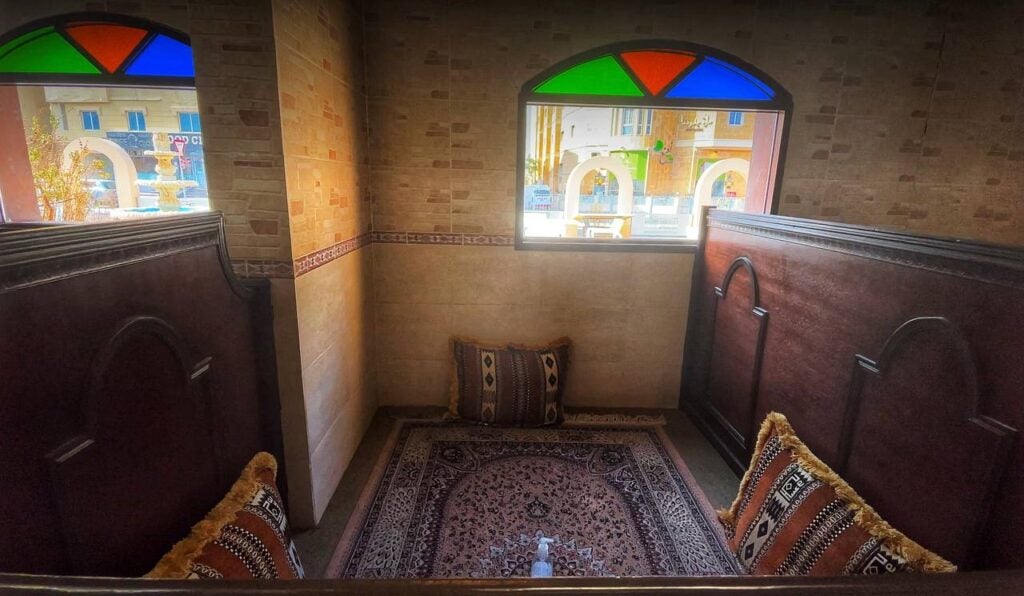 Since its opening in 2014, the restaurant has been expanding its menu. Either by recruiting new chefs who have an expertise in a new dish or experimenting with cooking new dishes, Yamani House is working on catering to a wider customer base. At the moment, their goal is to attract more customers who are not Arabs and are unfamiliar with Yemeni food. Currently, the restaurant is working on expanding their dessert menu. Recently, they added Sabaya as a new item. Formally known as Bint al-Sahn which translates to "the plate's daughter," Sabaya is a traditional Yemeni honey cake served with honey and ghee.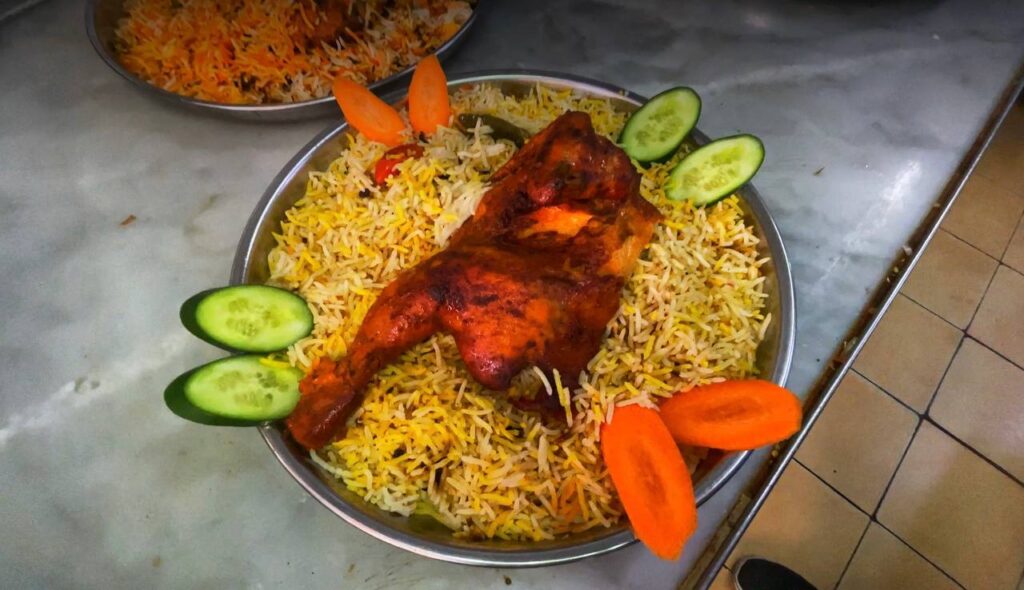 Every customer has their own go-to dishes. In Doha, given the diversity of the population, the preference may vary depending on the nationality of the customers. At the Yamani House, Haneeth, a roasted lamb dish prepared with rice, is popular among Egyptian customers. On the other hand, Qatari customers usually go for Mandi meat, which is also a rice-based dish but with a stronger Arabic fragrance and tender meat.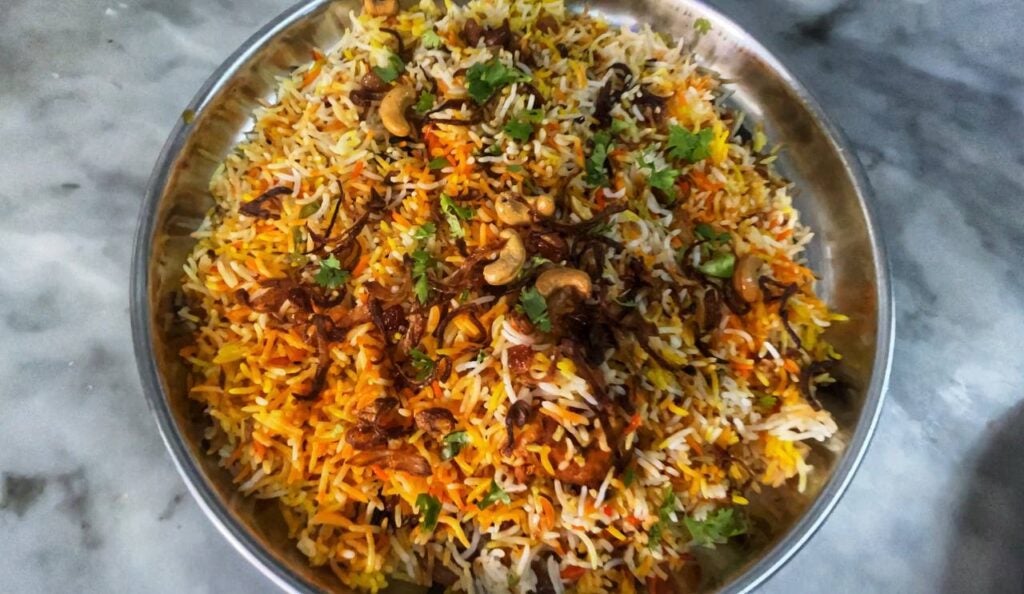 But overall, Yemeni food is popular in Qatar. Given its historical importance as a trading point between South Asia, the Gulf, and Africa, Yemeni food received influence from its neighboring regions. To many, its spices, mandi rice, and even smell are familiar yet different. The Yamani House also provides biryani rice cooked specifically by an Indian chef to cater to South Asian customers.
In the restaurant, the most visible customers are groups of male Arab customers. Yamani House, however, is frequently visited by families who eat in private tables hidden behind the curtains.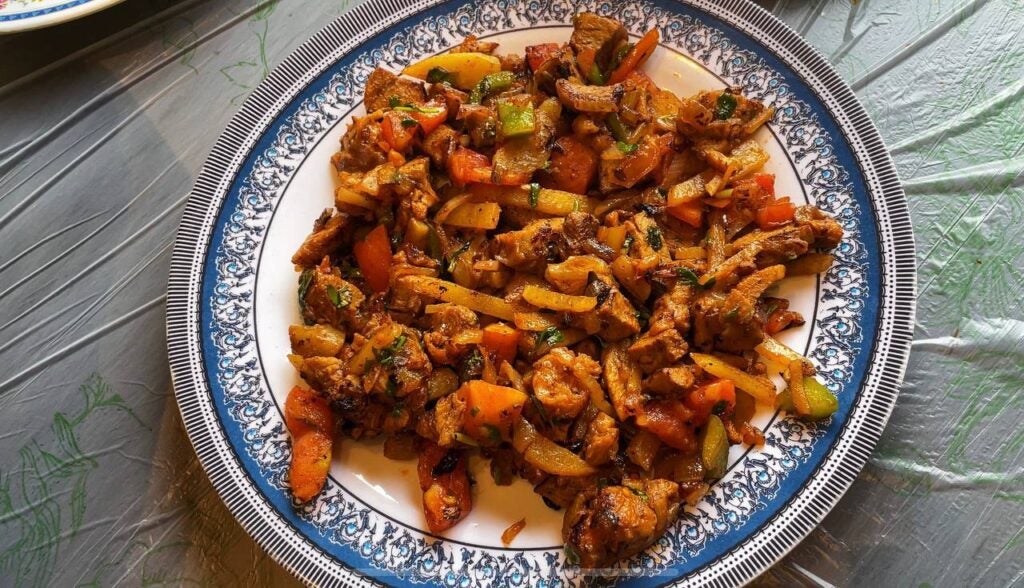 Dishes that are popular regardless of where the customers are from are Mugalgal, Fahsa, and Goat liver. Here, they make Mugalgal with chopped lamb meat, and it is stir-fried with fresh vegetables. While many other dishes including Haneeth and Mandi are precooked by the chef from early morning, these dishes cannot be precooked.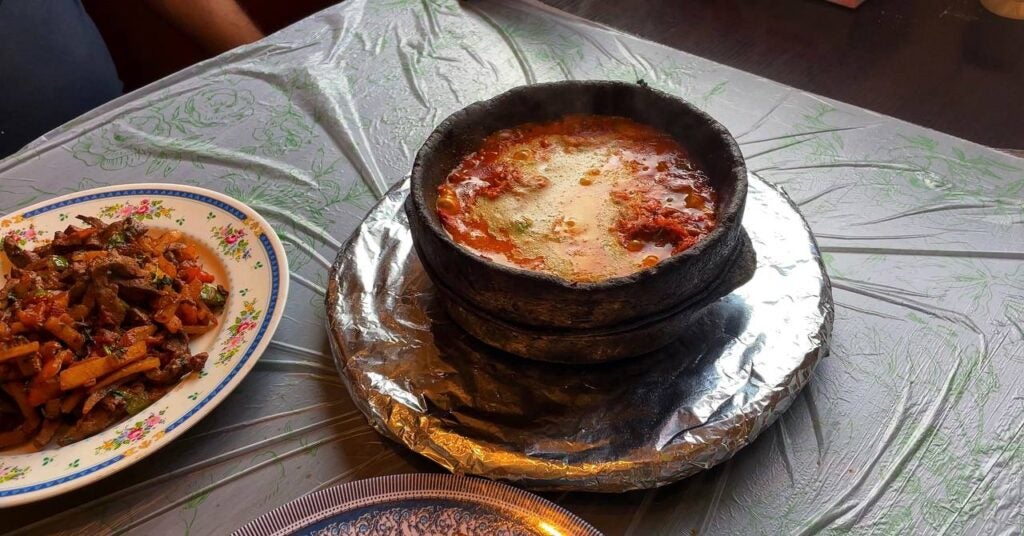 Fahsa is a stew, consisting of lamb chunks and broth. It is cooked and served in a madra that keeps the dish warm for a long time. Madra is a traditional stone bowl often used to preserve the food's heat. Back in Yemen, the stone bowls are often carved out with hands. Heat spread slowly through stone, allowing the dish to continue sizzling for another half an hour.
For anyone who has not tried eating animal liver before, you may resist eating the stir-fried goat liver. However, the liver's tenderness is unlike any parts of the meat. To make a liver dish, only fresh and young goat liver is used. Veins are also removed in order to maximize the tenderness. When the meat is cooked in butter and oil, mixed with fresh vegetables, it creates a nutritious dish that is rich in its taste.
All of these dishes go with the Yemeni bread or Malawah. It comes in layers that are baked with ghee and butter inside. The Yemeni bread is enormously large, about ten times the size of an average human face. Its largeness allows everyone to share the same bread, providing an intimate dining experience. Khubz is baked inside a vertical brick oven. Baking in a traditional way requires so much heat that Aiman built a separate bakery outside the main kitchen. "Before, it was in the kitchen. But [the bakery] was too hot," shared Aiman. The bread at Yamani House is so popular that some order just the bread on delivery apps to eat it with their home-cooked food.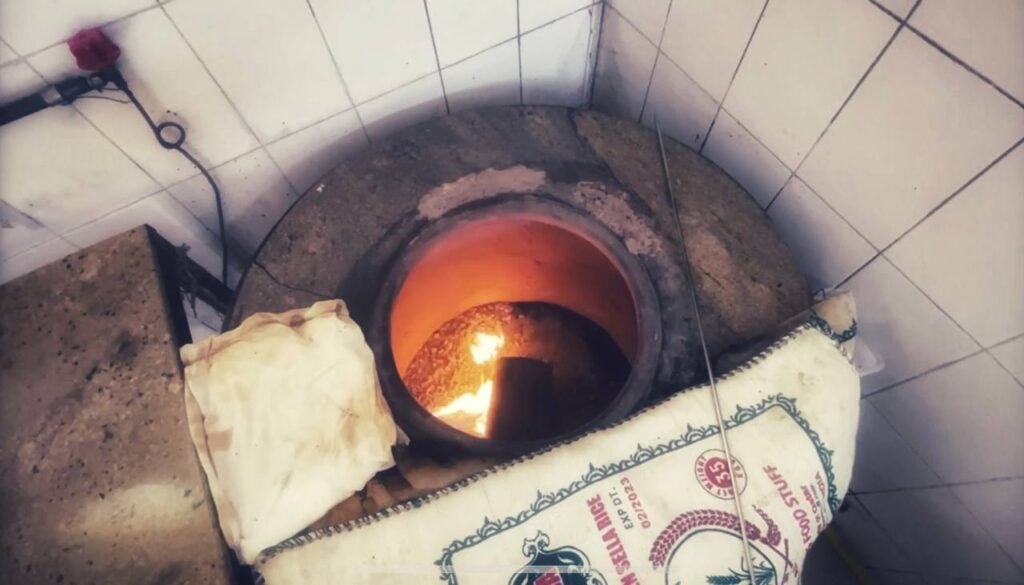 Yamani House is an interesting case of a restaurant run by migrants in Doha. Aiman is a Palestinian, and the Yamani House is his first restaurant business. Initially unfamiliar with the cuisine, Aiman was hesitant about starting it. He did not know a lot about Yemeni food, let alone running a Yemeni food business. To get a taste of Yemeni cuisine, he traveled to Dubai with a friend for Yemeni restaurant-hopping. Satisfied with his experience, Aiman and his partner launched the Yamani House. Since the 2017 Gulf Crisis when an economic blockade was imposed on Qatar by the neighboring GCC countries, Aiman has been running the restaurant alone.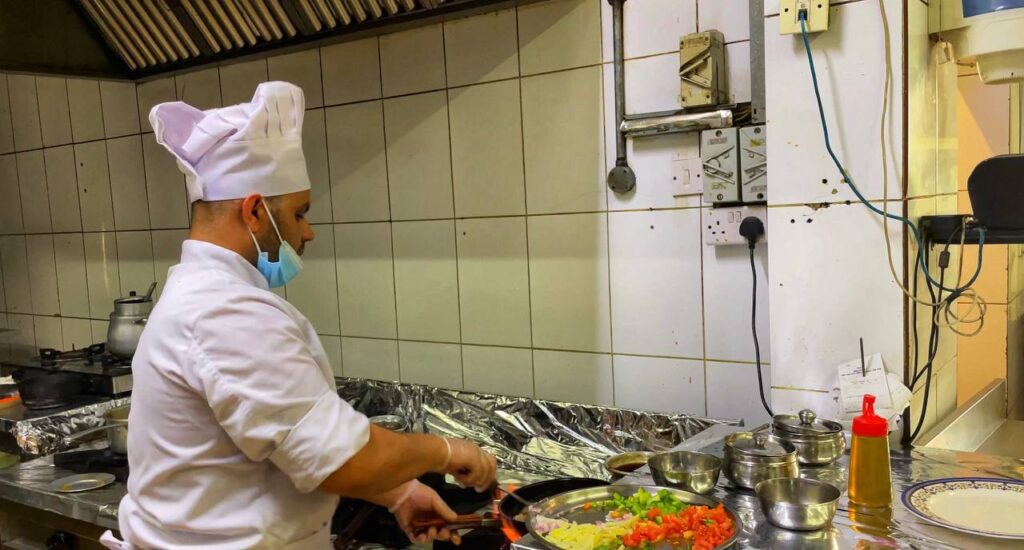 All the chefs are from Yemen. To recruit staff, he posts hiring advertisements on official social media accounts. But there are restrictions on how many Yemeni staff he can recruit. Qatar only grants the Yamani House five visas for Yemenis. Thus, the servers of the restaurant are from other countries. The receptionist is a Phillippino lady, and the waiters are mostly South Asian. "People ask me why they don't see Yemeni waiters. I tell them why would I use the visa on the waiters? I use them on the chefs," Aiman said. This shows that for a business with legal constraints in Doha, each nationality is designated a specific functionality. At the Yamani House, the Yemenis cook while the South Asian migrants serve.
To meet Qatar's requirements, Aiman sometimes recruits chefs who are ethnically Yemenis but with foreign citizenships. For example, Chef Ali (pseudonym) has an Ecuadorian passport and has cooked Yemeni food in Ecuador. This chef specializes in a wide array of dishes with both rice and bread. It includes: Mandi, Haneeth, Madfun, Madbi, Madghot, Kabsa, Biryani; as well as Fahsa, Salta, Mugalgal, Liver, Lentil Beans, Shakshuka, and Borma.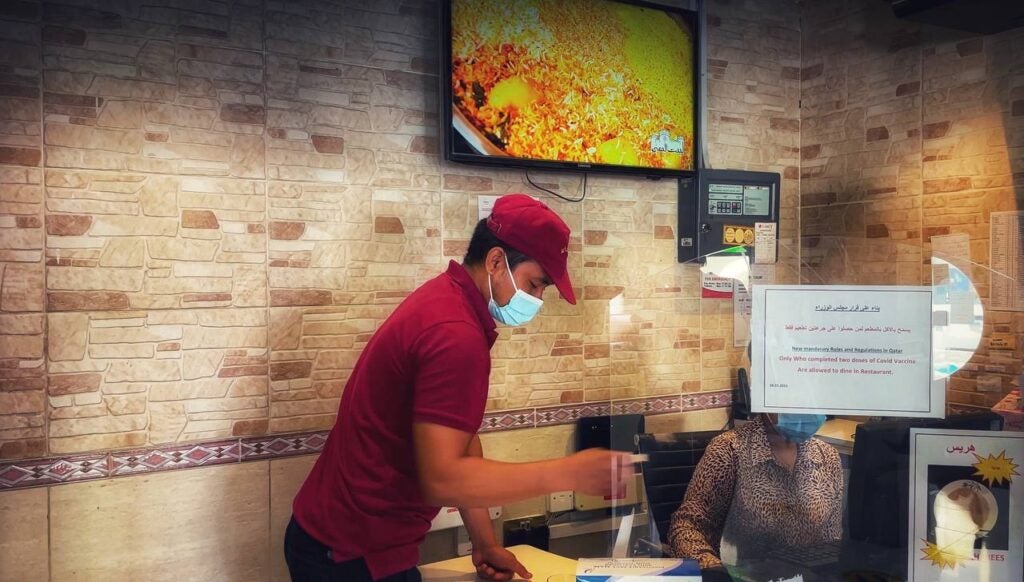 Both waiters and chefs live together in a nearby villa. Aiman provides the house and assigns rooms based on nationality. While this is a common practice in labor camps in Qatar, Aiman also employs the practice to avoid cultural conflicts within the staff housing. "But all of them become very close after some time," he said. Aiman does not recruit candidates based in Qatar, meaning all staff are brought from outside. They remain each other's closest connections in Doha.
While Aiman himself is a foreigner, he identifies Qatar as his home. He migrated to Doha when he was a child with his parents in the 1980s, and he now has a family of his own here. "I don't know anywhere else," he muttered. "Sometimes I travel to Lebanon just to visit, but I get homesick again and come back." He has seen Qatar's economy grow, lived through the recent Gulf crisis, and is now anticipating Doha to become an even more diverse city. His goal for the Yamani House is to now attract more "non-Arab foreign customers."
On the other hand, his loyal customer base is also pushing for Aiman to grow his business northwest of Al Sadd in neighborhoods like Gharrafat Al Rayyan. "Many Qatari customers keep asking us to open new branches," Aiman shared. "They don't really like the traffic here, so we are thinking about opening a new restaurant in the North."
Yamani House has grown from one of the handful Yemeni restaurants in Doha to a restaurant that is continually expanding in its menu, branch, and customer base.
---
"The posts and comments on this blog are the views and opinions of the author(s). Posts and comments are the sole responsibility of the authors. They are not approved or endorsed by Georgetown University in Qatar, or Georgetown University and do not represent the views, opinions or policies of the University."