Major Events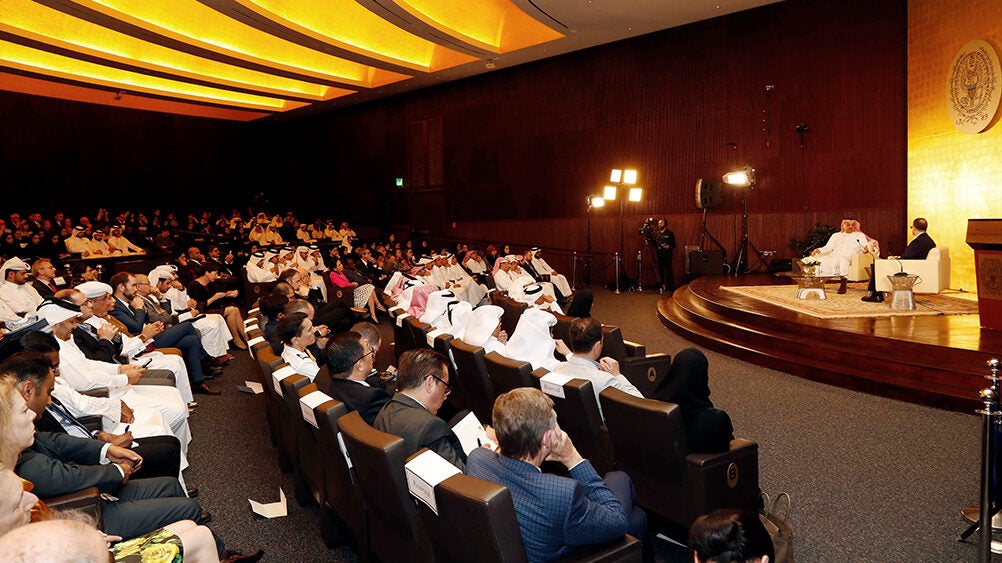 H.E. Dr. Khalid bin Mohamed Al Attiyah, Deputy Prime Minister and Minister of State for Defense Affairs Marks 1,000th Day of Blockade at Georgetown, 2020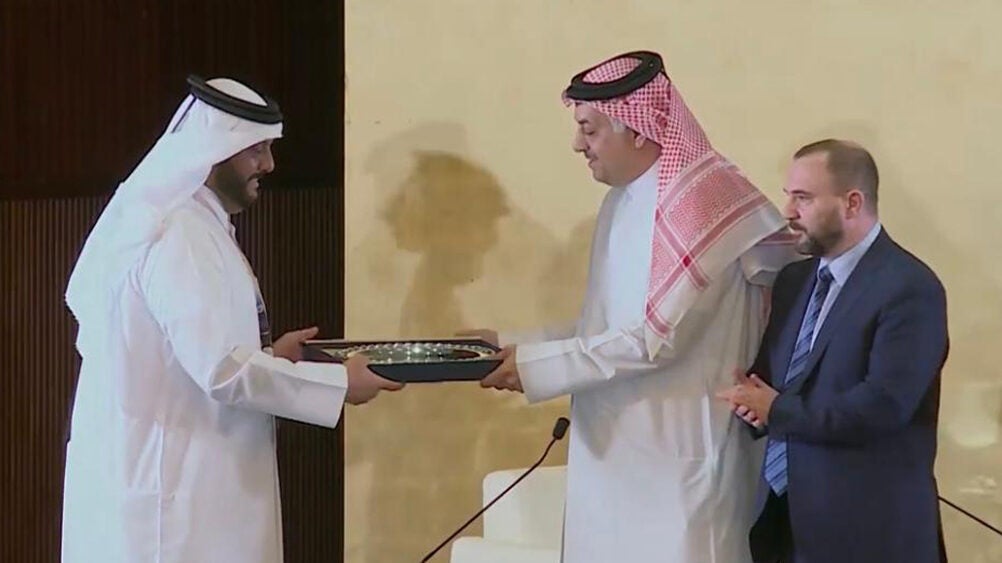 H.E. Dr. Khalid bin Mohamed Al Attiyah with Rory Miller and Fahad Al-Marri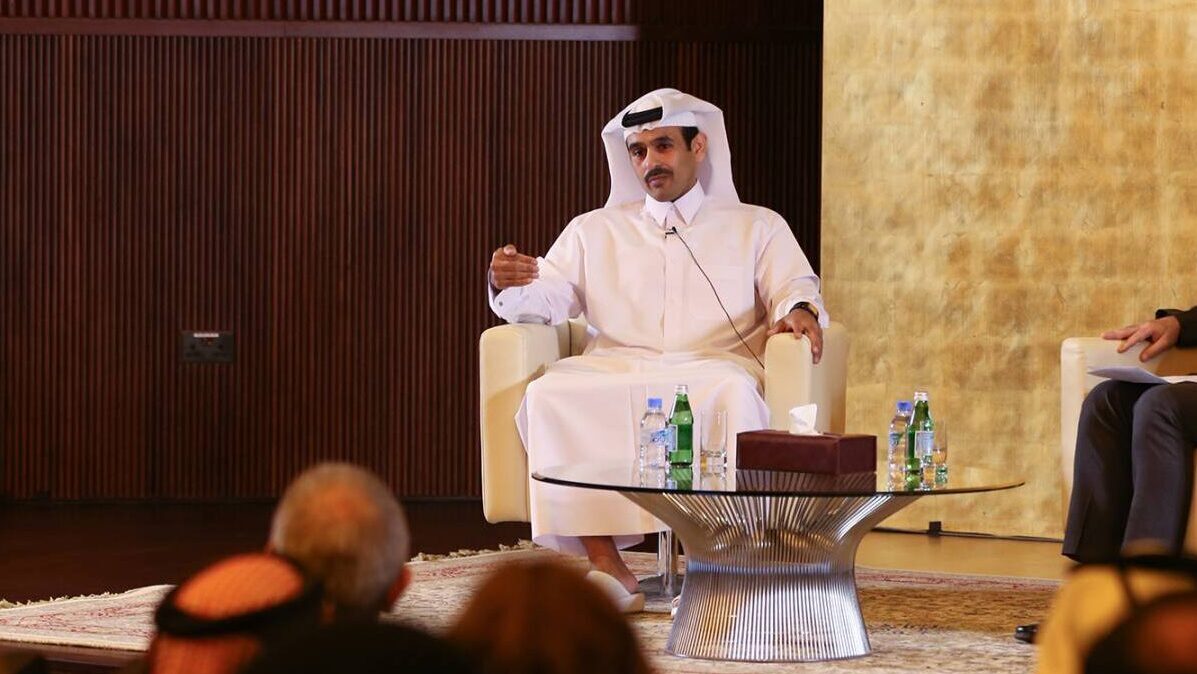 H.E. Mr. Saad Sherida Al-Kaabi, Minister of State for Energy Affairs and President and CEO of Qatar Petroleum speaks at GU-Q on Qatar's Energy Future, 2019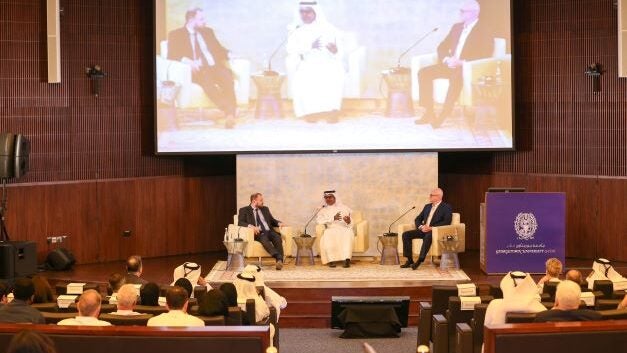 Small States Cyber Security event with Community College in Qatar, Sponsored by Commercial Bank, 2020
Executive Master's in Diplomacy and International Affairs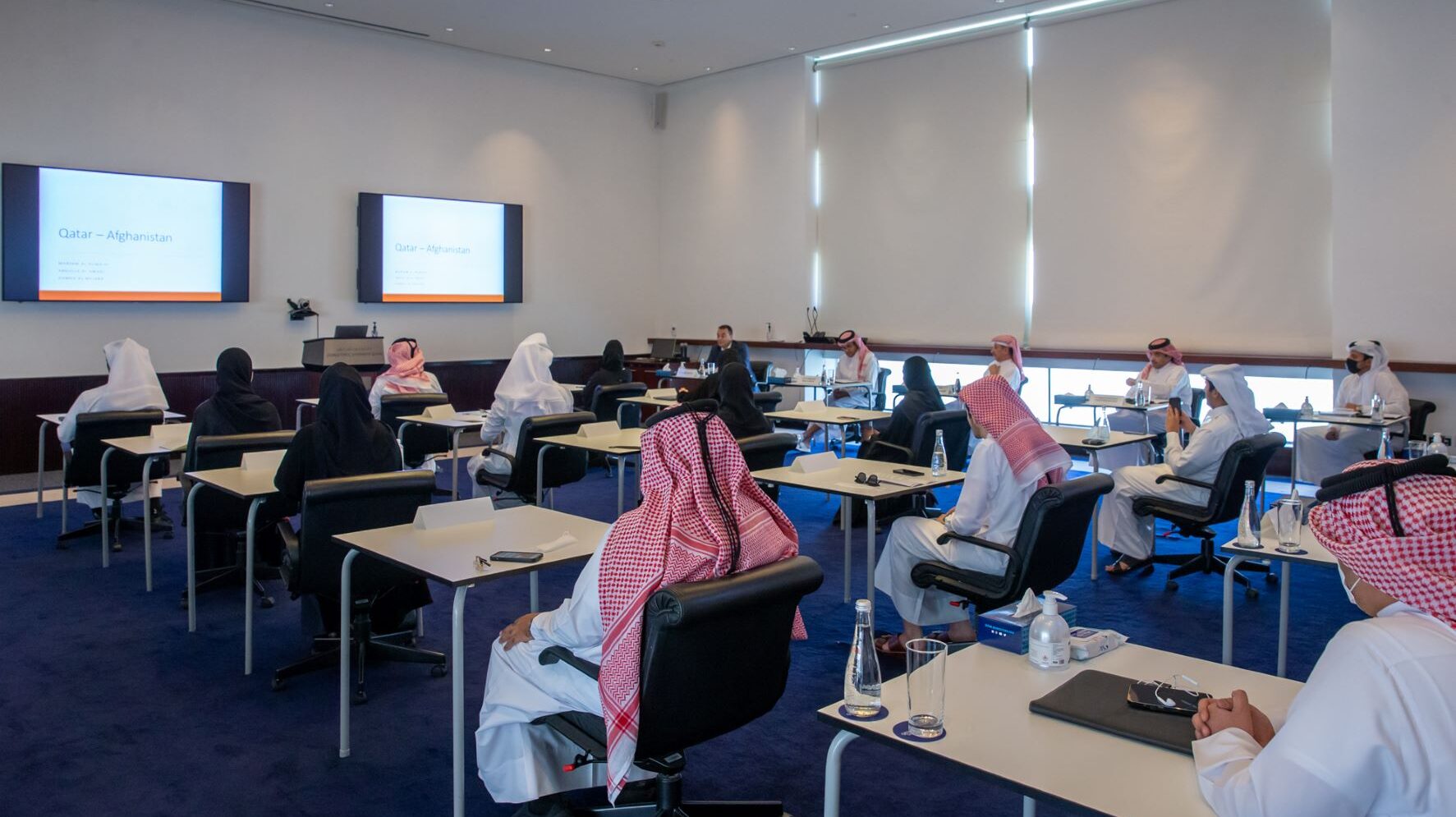 EMDIA classroom visit from Ministry of Foreign Affairs representatives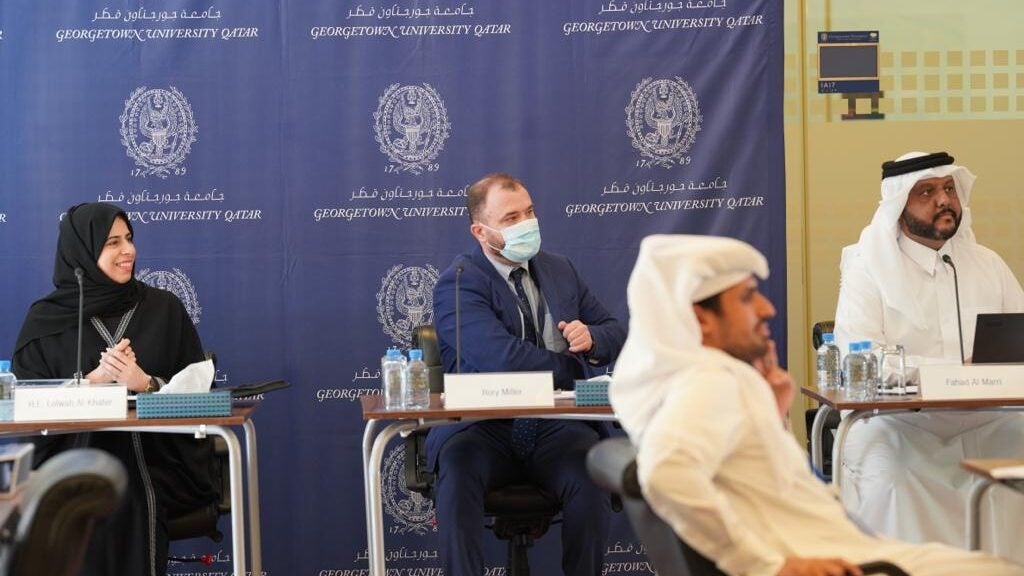 H.E. Lolwah Al Khater, Assistant Minister of Foreign Affairs visits EMDIA class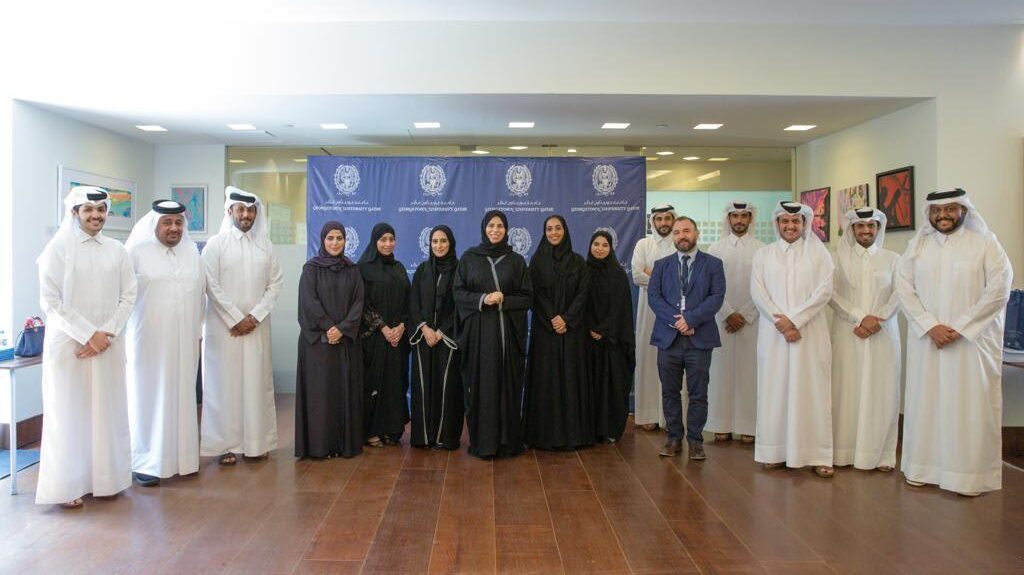 H.E. Lolwah Al Khater with EMDIA teachers and students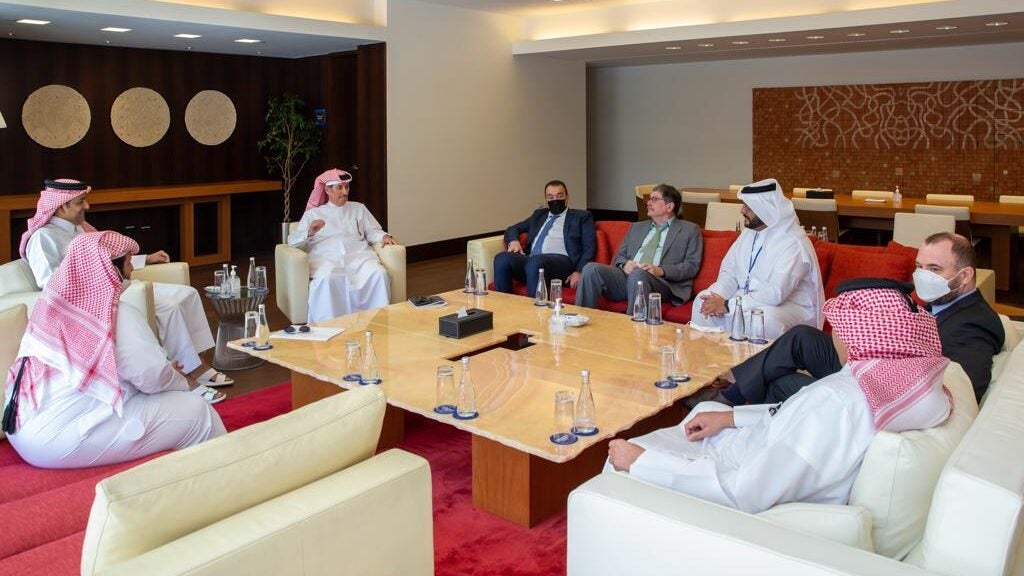 Senior officials participating in the EMDIA class meet with course leaders Drs Miller and Al-Marri, Interim Dean Wilcox and Rodolph Boughaba, Associate Dean for Executive Education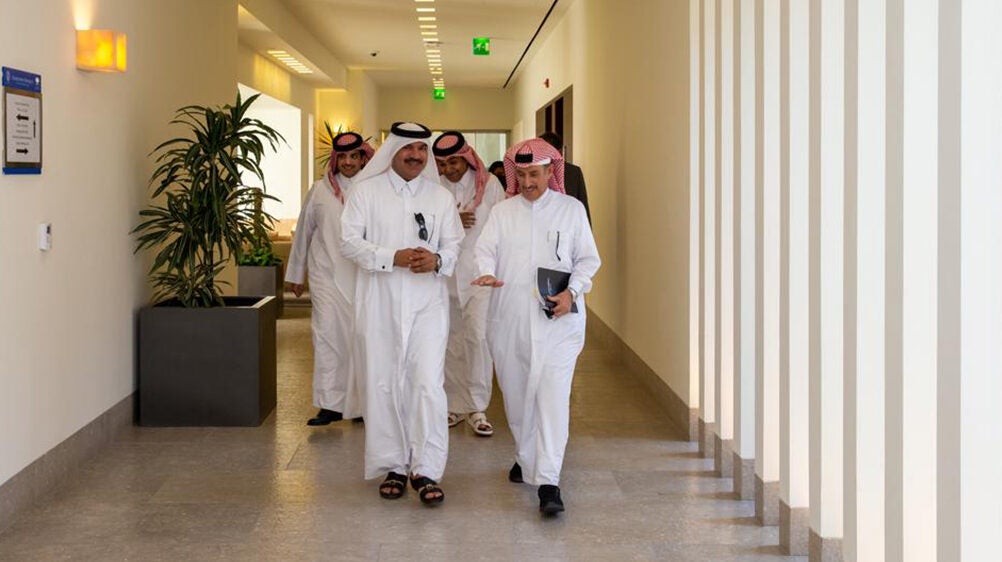 Senior officials visit for a EMDIA executive education class offered by the Small States Research Program 
Small States Dialogue and Course Visits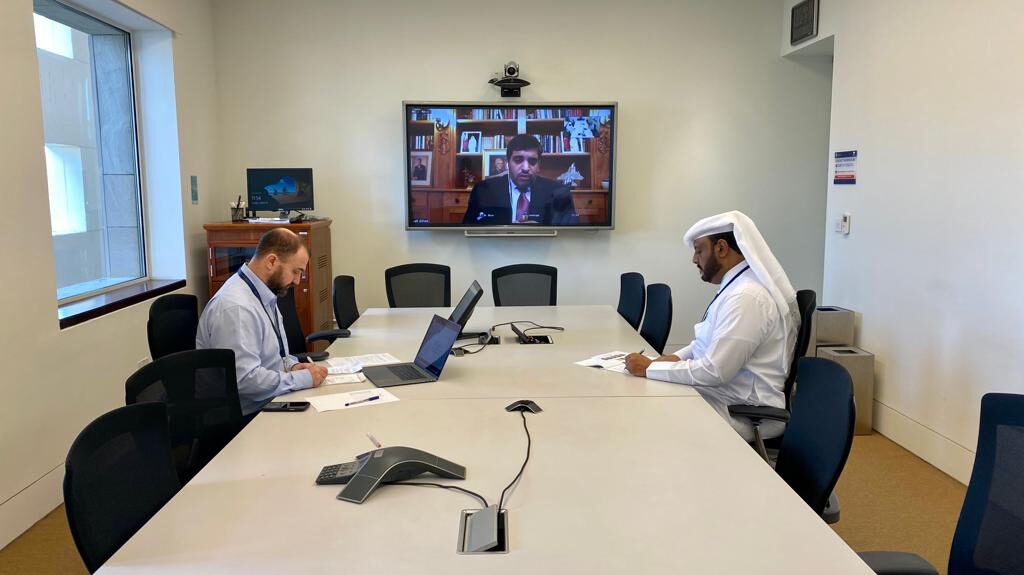 Online presentation by Brigadier General Nawaf bin Mubarak Al-Thani, Senior Defense Official and former Defense Attache to the United States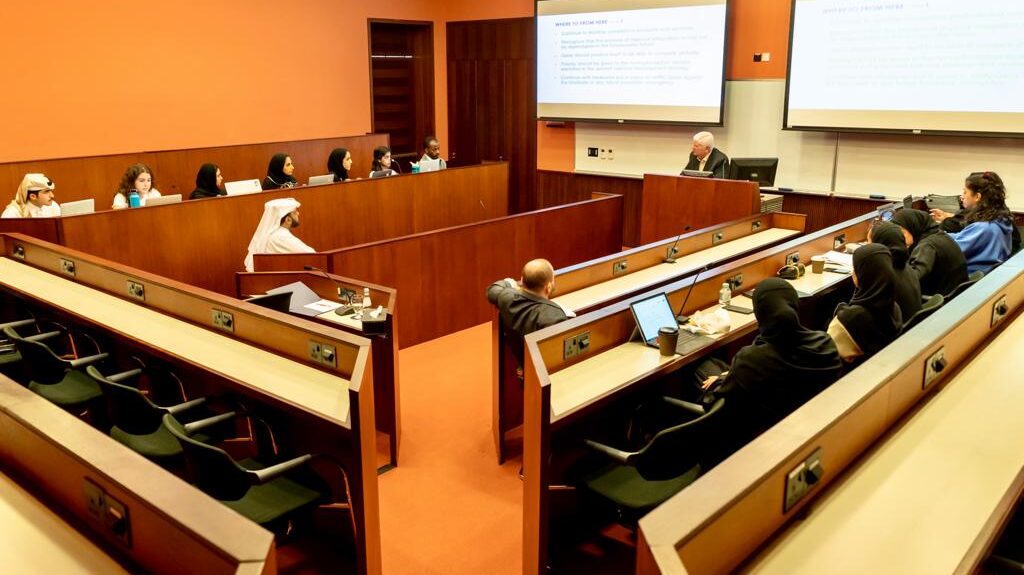 Dr. Ibrahim Ibrahim, Vice Chairman of Abdullah bin Hamad Al-Attiyah International Foundation and Former Economic Advisor to the Amiri Diwan, Former Secretary General of Development Planning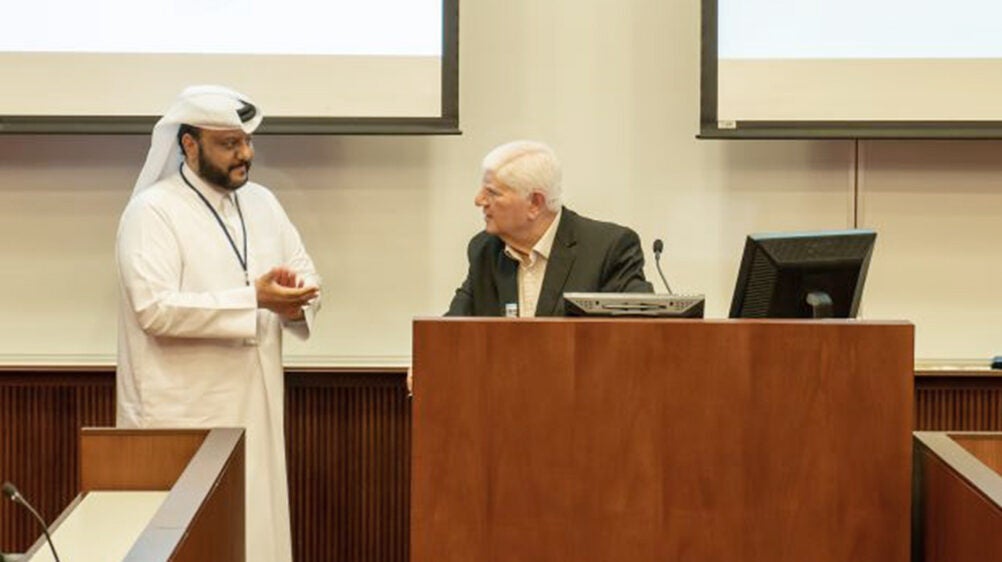 Dr. Ibrahim Ibrahim and Dr. Fahad Al-Marri at Small States Course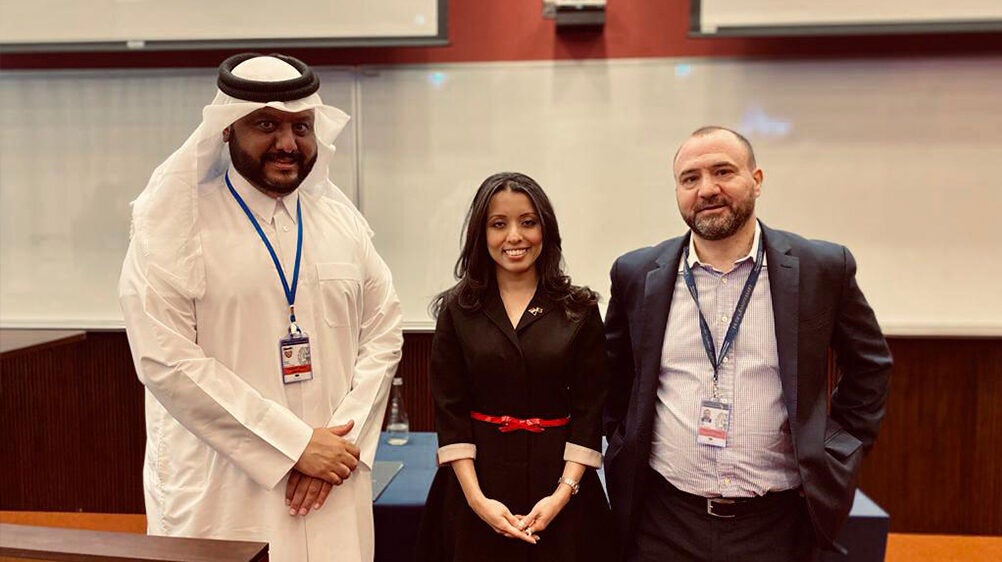 H.E. Sumaya Baqavi, Deputy Chief of Mission & Counsellor, Embassy of Singapore to Qatar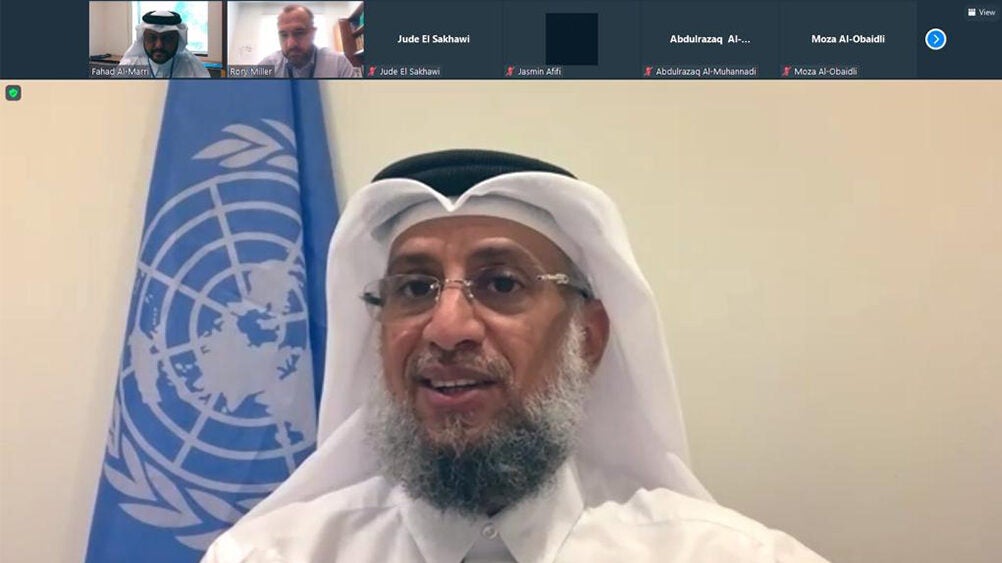 Dr. Ahmed bin Mohammed Al Muraikhi, Special Advisor to the UN Secretary-General, Chair of the Global Humanitarian Action Executive Alliance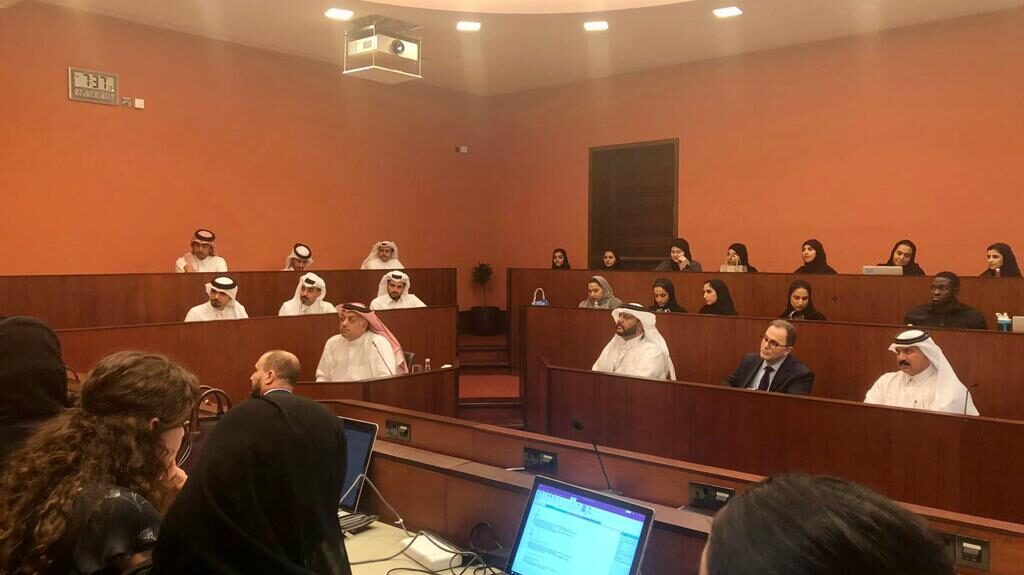 H.E.  Dr. Khalid bin Mohamed Al-Attiyah, Deputy Prime Minister and Minister of State for Defense Affairs leads a class with students in the Small State Security Dialogue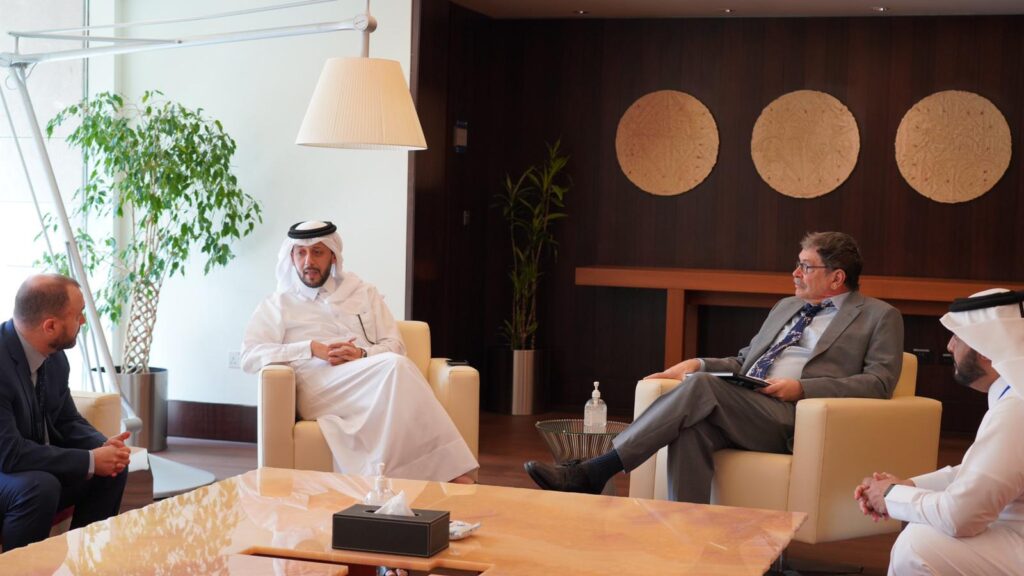 Visit to the Small State class by H.E. Mr. Mansoor bin Ebrahim Al-Mahmoud, Chief Executive Officer,Qatar Investment Authority.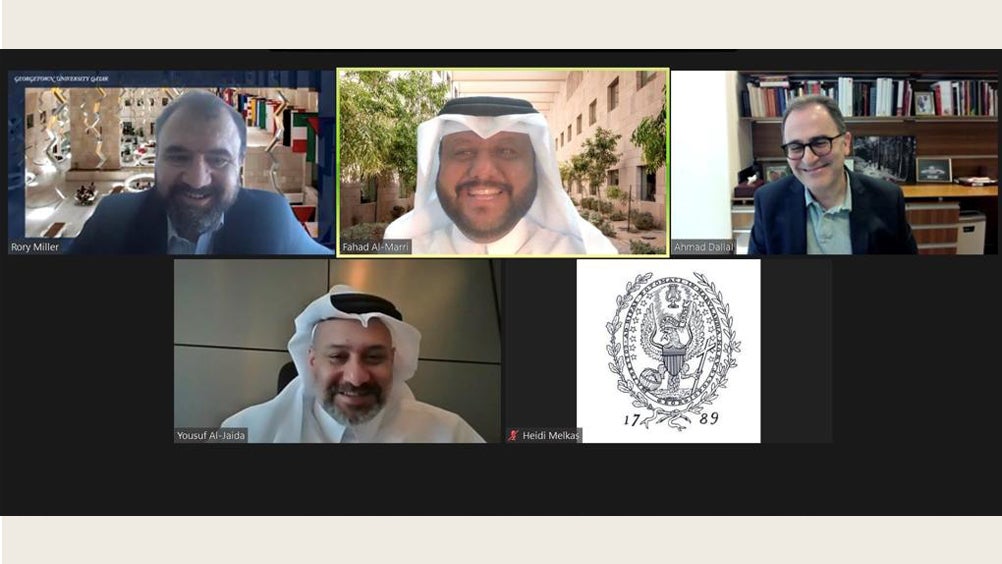 H.E. Yousuf bin Mohamed Al-Jaida, Chief Executive Officer, Qatar Financial Center "The Role of the Financial Services Sector in Small State Development: The Case of Qatar"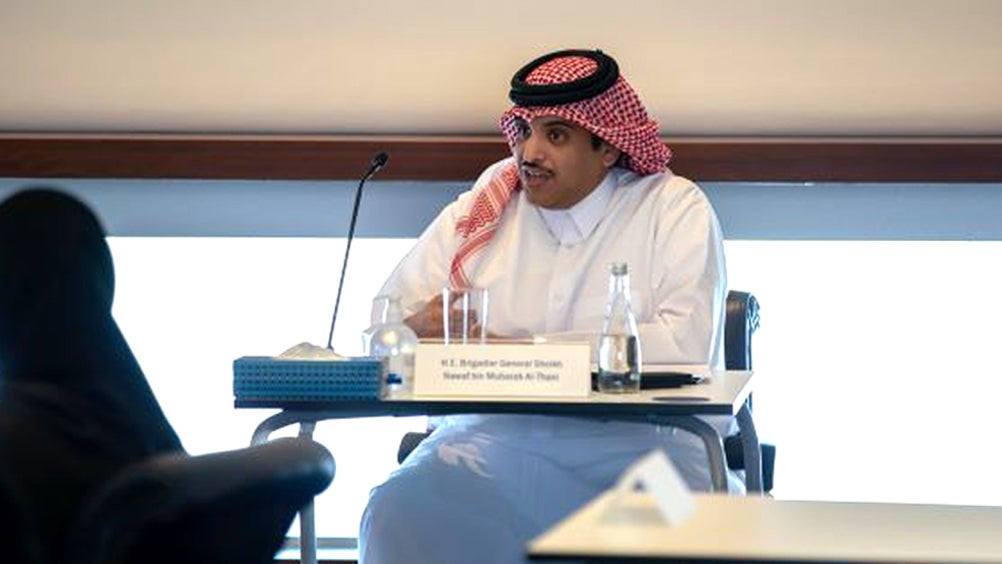 Brigadier General Nawaf bin Mubarak Al-Thani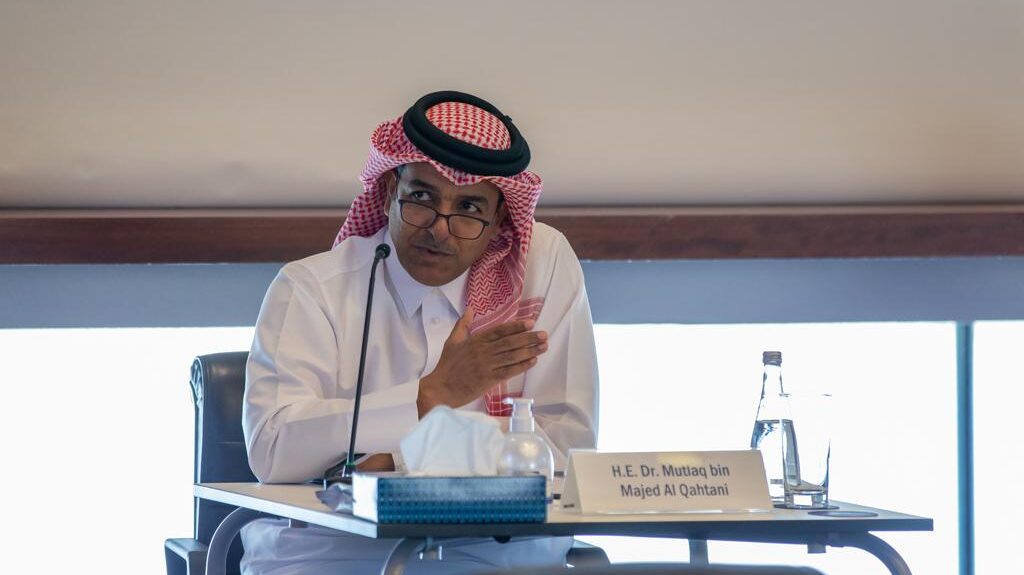 H.E. Dr. Mutlaq bin Majed Al-Qahtani, Special Envoy of the Minister of Foreign Affairs for
Counterterrorism and Mediation in Conflict Resolution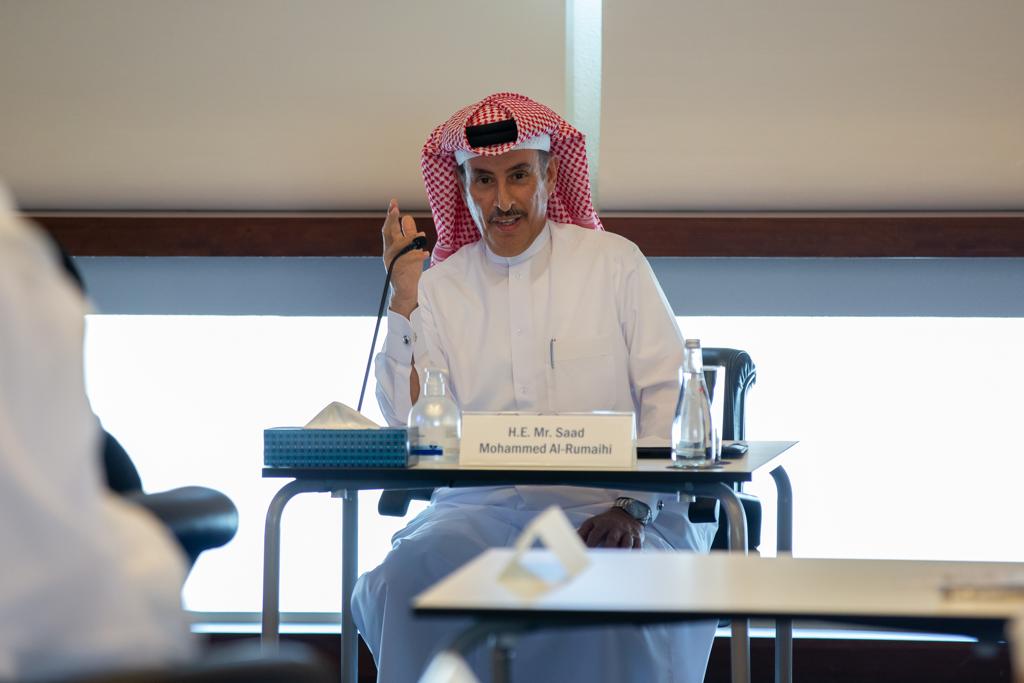 H.E. Saad Mohammed Al-Rumaihi, Former Secretary of the Emir for Follow-up Affairs
Talks and Panels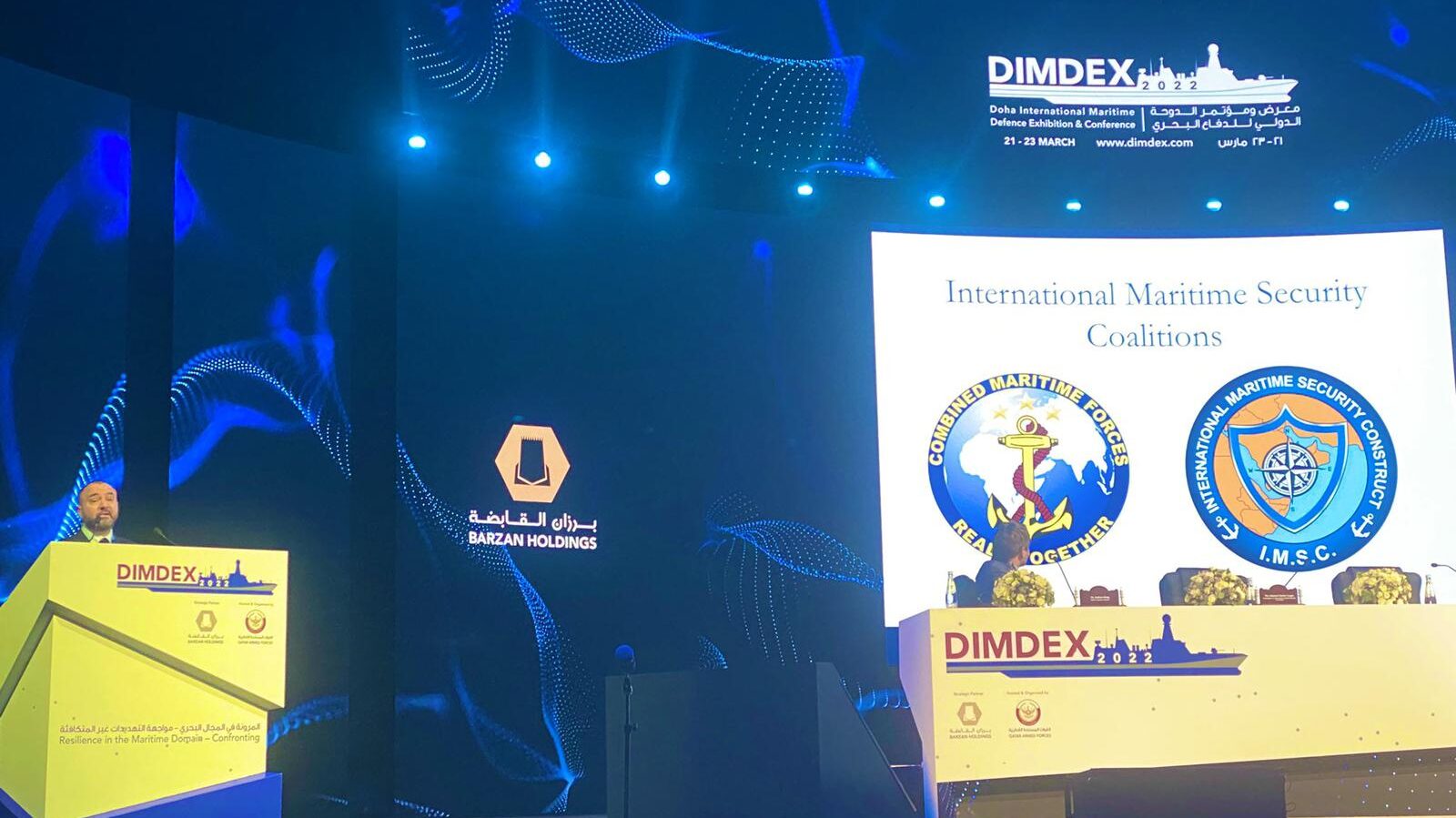 Rory Miller lectures on "'Overcoming Smallness: Gulf State Approaches to the Maritime Domain" at the Middle East Naval Commanders Conference during DIMDEX 2022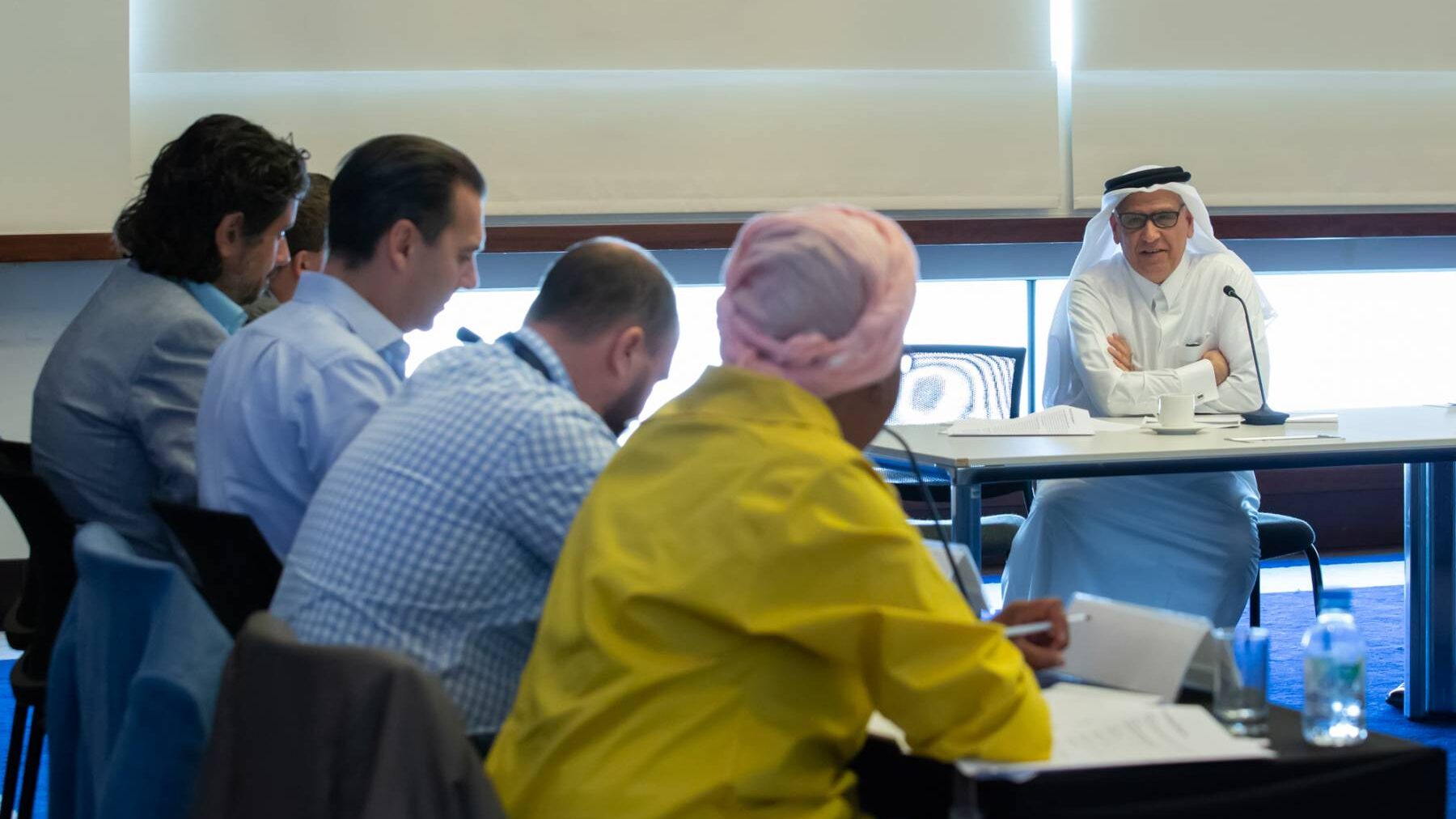 Launch of Cambridge University Press book series on Intelligence and National Security in Africa and the Middle East. The series is co-edited by Rory Miller of the Small States Research Program.
Contact Us
We are interested in engaging with other researchers, businesses, non-profits, and government entities around the interests of Small States. If you would like to learn more about our work, propose a research area, participate in a project, or plan an event with our experts, please contact us.