Consuming Thai in Doha: On Thai Snack
July 13, 2021
Uday Chandra and Jessica Choi
In our global village, everyday acts of consumption define who we are (or not), where we belong (or don't belong), and the sociocultural worlds we actively co-create with others (or in opposition to others). Consumption IS politics: it blends cosmopolitanism and localism, encompasses migration and citizenship, and takes us through journeys into myriad pasts of colonial conquest, long-lost jewels, and the postmodern politics of heritage.
This series of posts, titled "Consuming Doha," seeks to take readers on a voyage of discovery. We visit old favorites and places unseen in the city, telling the stories behind each of them and the rich associations they conjure up for us. We write about food, but also the people that feed and serve us. We talk about places, but the invisible social dynamics that make them possible at all. Above all, we stay clear of the posh and the prim, the bougie and brash, the fine and not-so-fining dining options in a city of and by migrants.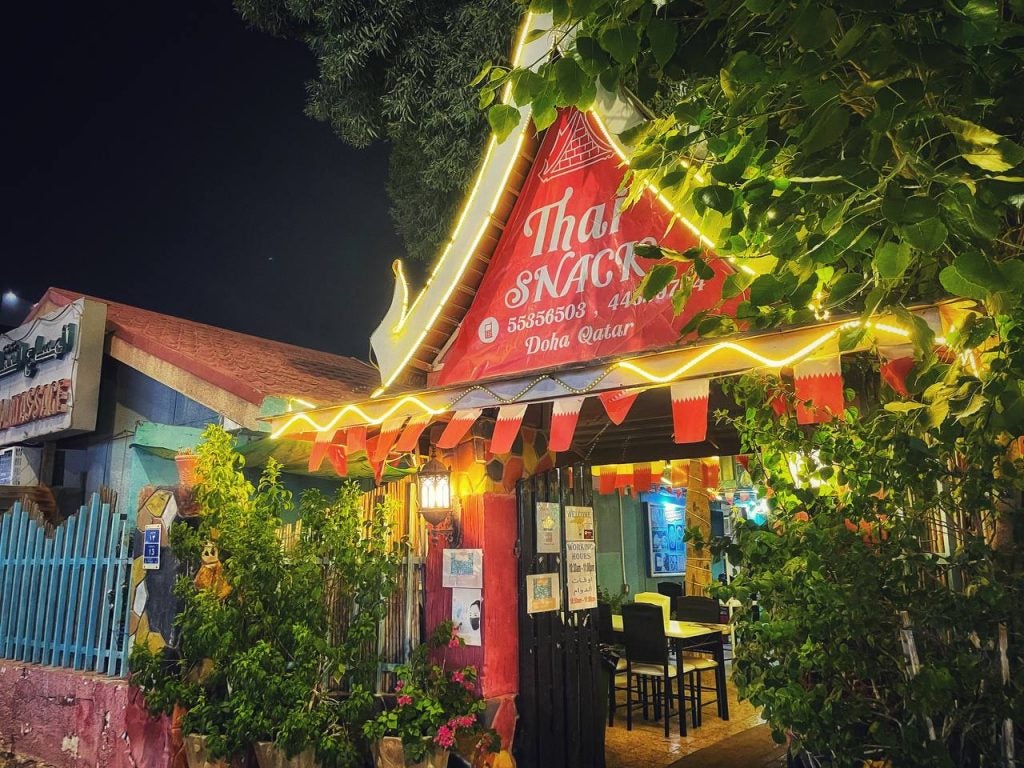 Every time someone goes to Bangkok or Phuket in search of "authentic Thai cuisine," they return disappointed. "It was too spicy," said one. "Much too sweet," texted another. Come to Doha, we say, for an altogether different experience.
Thai restaurants are neither new nor rare in Doha. That taste of cilantro, green chillies, galangal, and coconut milk with the sweetness of sticky rice melting on your tongue is irresistible to many here. However, it is rare to find a Thai restaurant that transports you instantly to Southeast Asia as soon as you enter it.
Thai Snack is a five-minute walk from Mirqab Mall in Al Sadd. The Al Mirqab Al Jadeed Street offers a wide variety of food options, from a Lebanese bakery to an Iranian grill house. But it is Thai Snack's leafy exterior that most captures the attention of passersby.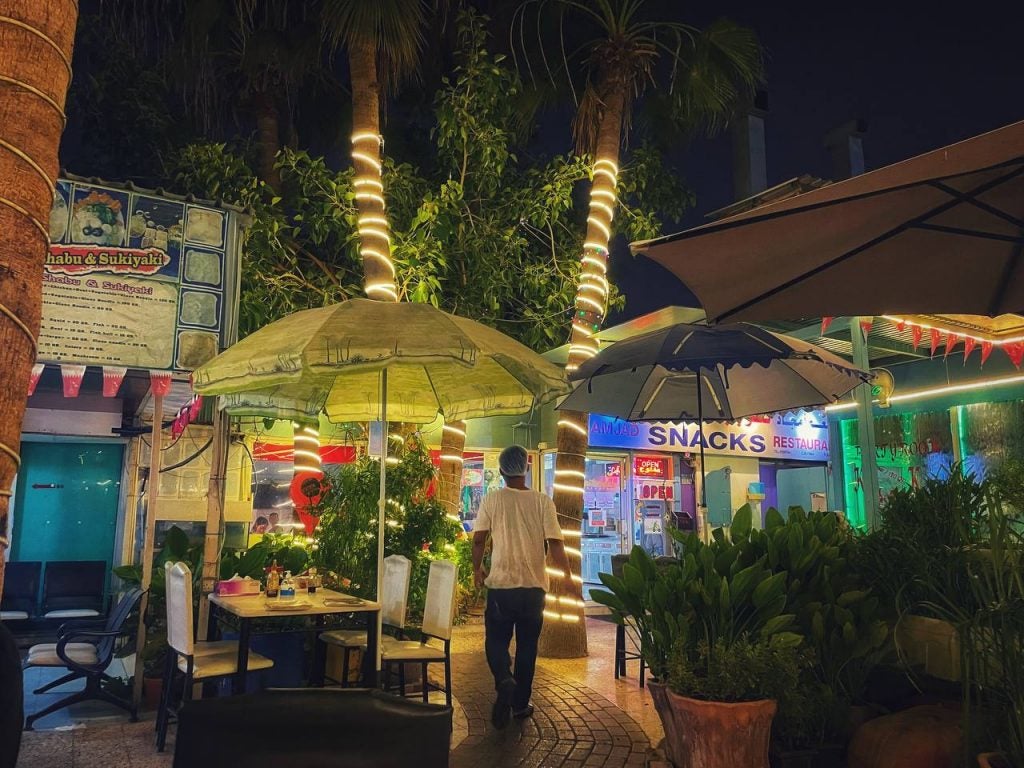 When you step in, Thai Snack's cool green ambience welcomes you. Nestled under two shady palm trees and surrounded by bamboo and lily plants, the courtyard of this restaurant is a physical meeting ground between arid Qatar and tropical Thailand.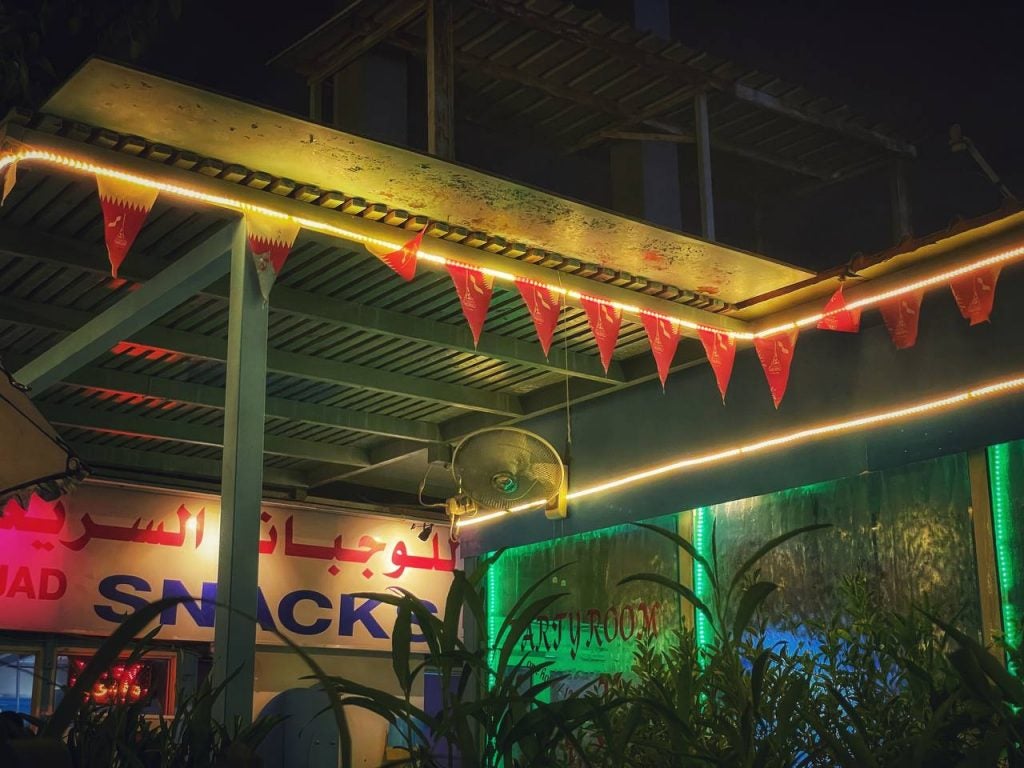 Red Buddhist prayer flags hang below the roof. Umbrellas watch over customers and tables. Bright green, red, and blue lights create a psychedelic effect.
En route to the toilets, you encounter neo-traditional wooden figures of a woman with two children, tucked away from plain sight lest someone mistook it as idolatry.
The restaurant itself is sandwiched between a karaoke bar and a massage studio. The latter is no longer in operation due to COVID-19 restrictions on flying in skilled masseurs from Thailand.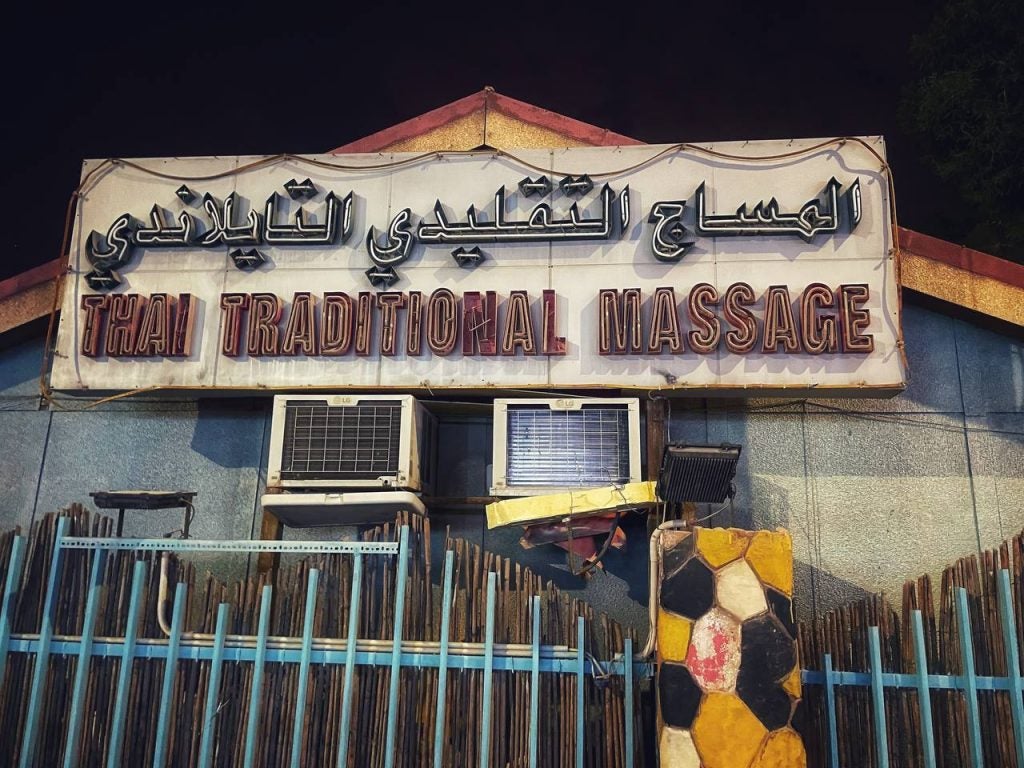 Thai Snack is owned by a Qatari sheikh named Amjad. It has been managed by an elderly Turkish man for the past 21 years. Our Nepali waiter Rajan has been working there since 2009. The restaurant belongs to the era of Doha's urban history before the ongoing boom leading up to the 2022 soccer World Cup. Despite the pandemic, the restaurant boasts a loyal customer base, which has, in fact, grown due to new boutique delivery apps such as WishBox and Snoonu.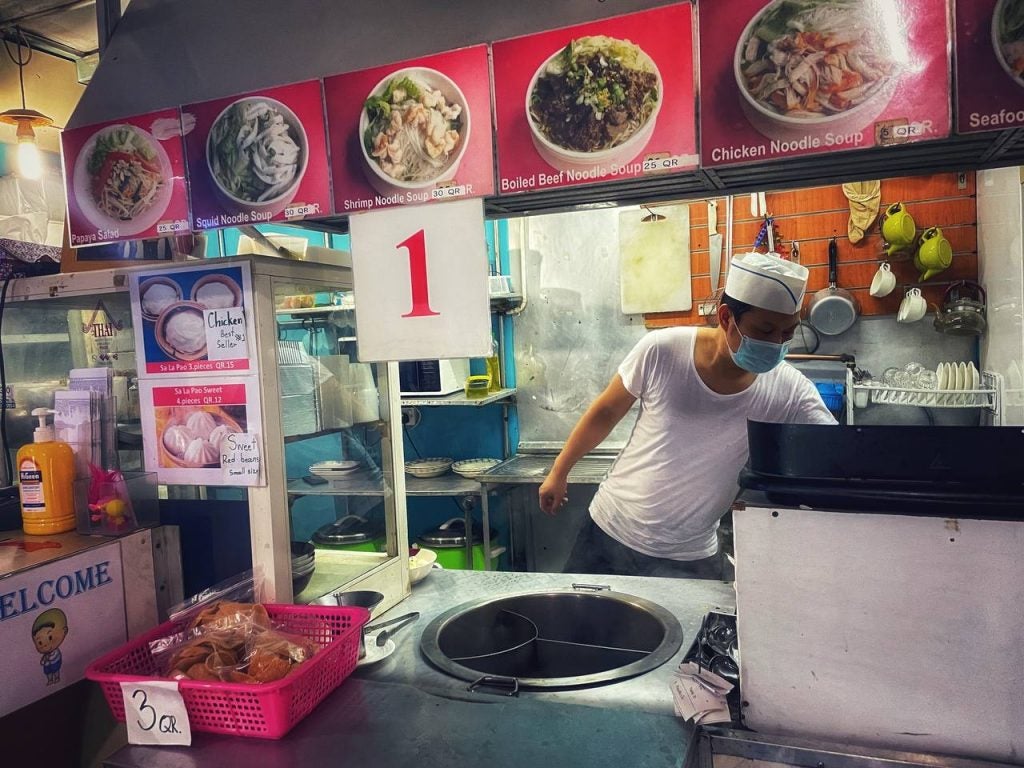 The restaurant menu offers a wide range of Thai specialties from classic Pad Thai noodles to red bean dumplings. The thick flavorful curries are a delight, eye-wateringly so. Thai iced tea and coffee are always at hand as accompaniments.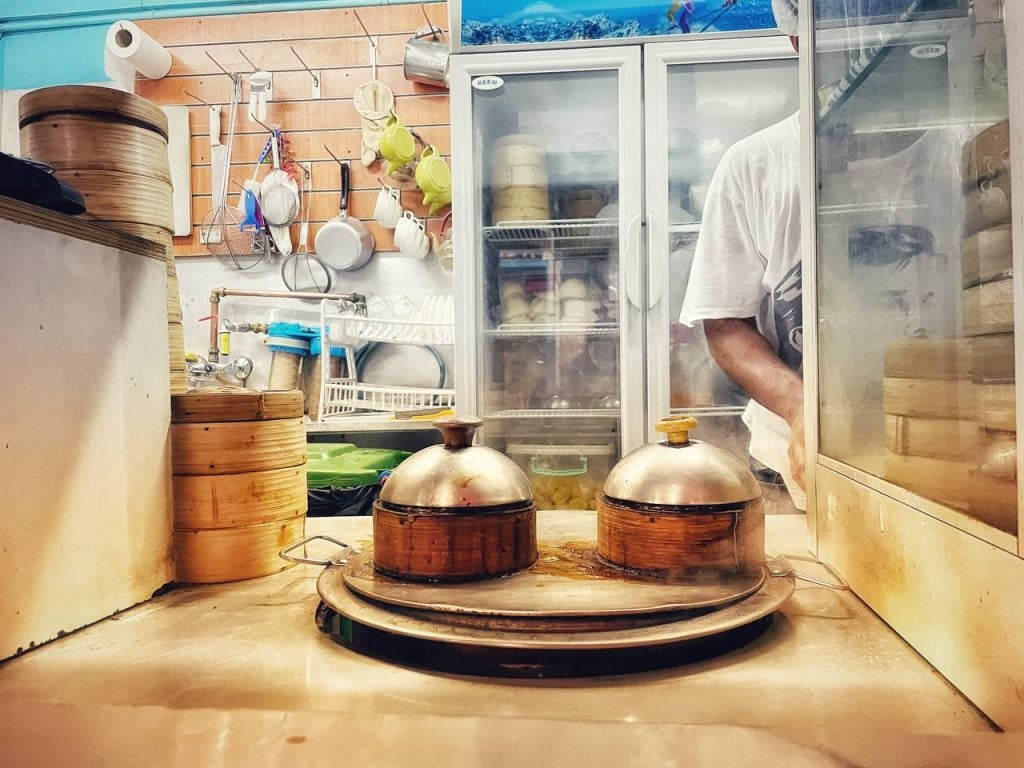 Thai Snack is equipped with 3-5 chefs. The kitchen is open to full view, scrupulously clean and always busy. Indoors, laminated and framed photographs of the Thai king and queen, along with those of the Qatari Emir and his father, look benignly at passing visitors and staff. There is a small air-conditioned seating area opposite the kitchen, but nothing beats an outdoor table in a verdant garden that reminds you of night markets in Bangkok.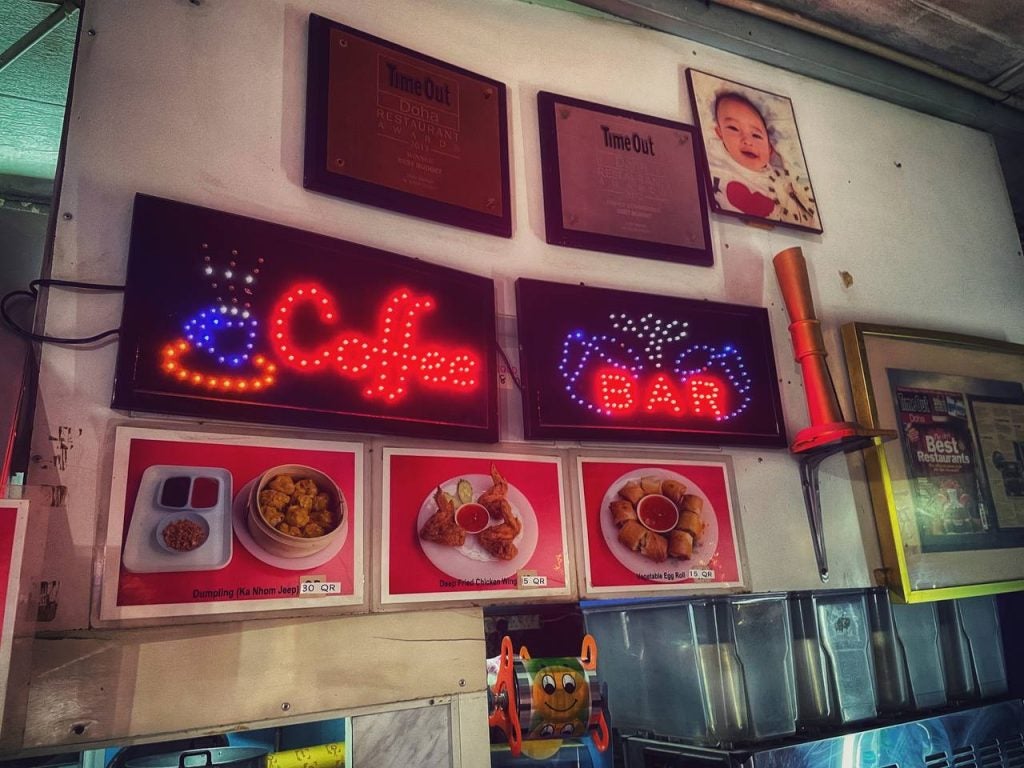 Following Ranjan's recommendations, we ordered a spicy papaya salad with seafood, a chicken panang curry, and a basket of chicken dumplings.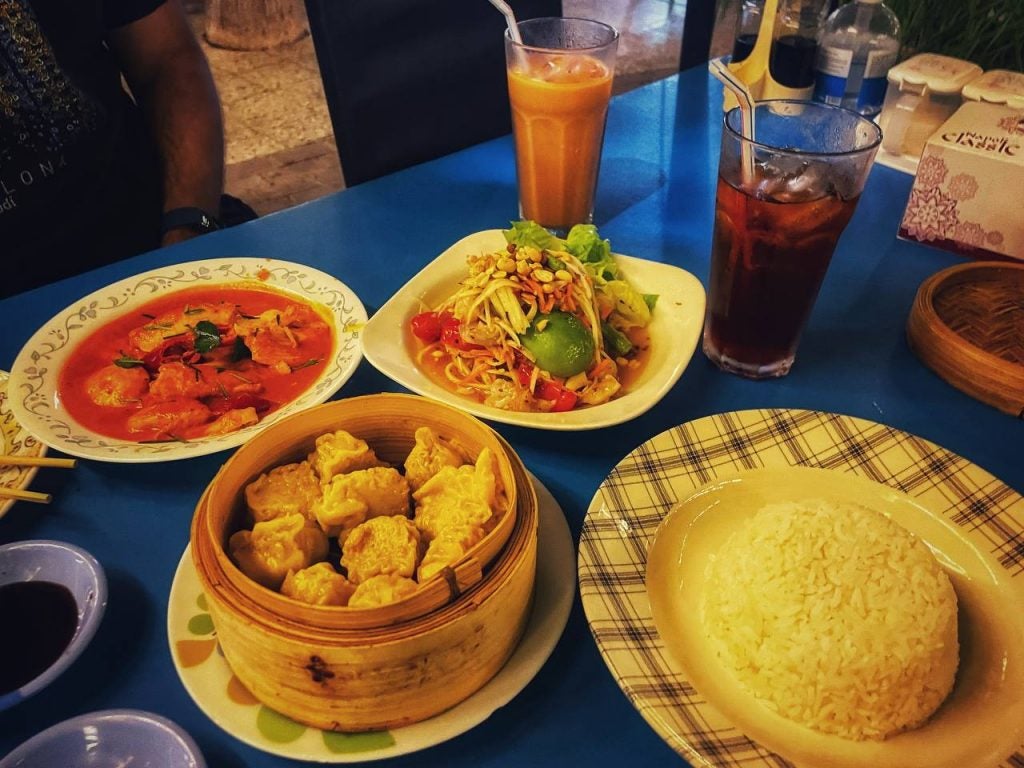 The panang curry with chicken breast strips carried an earthy flavor with subtle undertones of fish sauce blended with coconut milk. The thickness of curry paired nicely with the refreshing lime juice and red chilli flakes.
We were warned that the papaya salad would be spicy, and indeed it was spicy. Every bite of shredded papaya made me look for a spoon of rice or a dumpling to neutralize the taste. The dumplings were served in a bamboo steamer, hot and juicy straight from the kitchen.
Nothing on the menu cost more than 35 QAR (approx. 10 USD). With iced drinks, a meal for two came up to 110 QAR. Amidst a rapidly gentrifying neighborhood, the restaurant offers inexpensive food options for middle-class families (and students). It is a classic migrant business that is adapting to Doha's new rhythms with the help of both loyal and curious customers.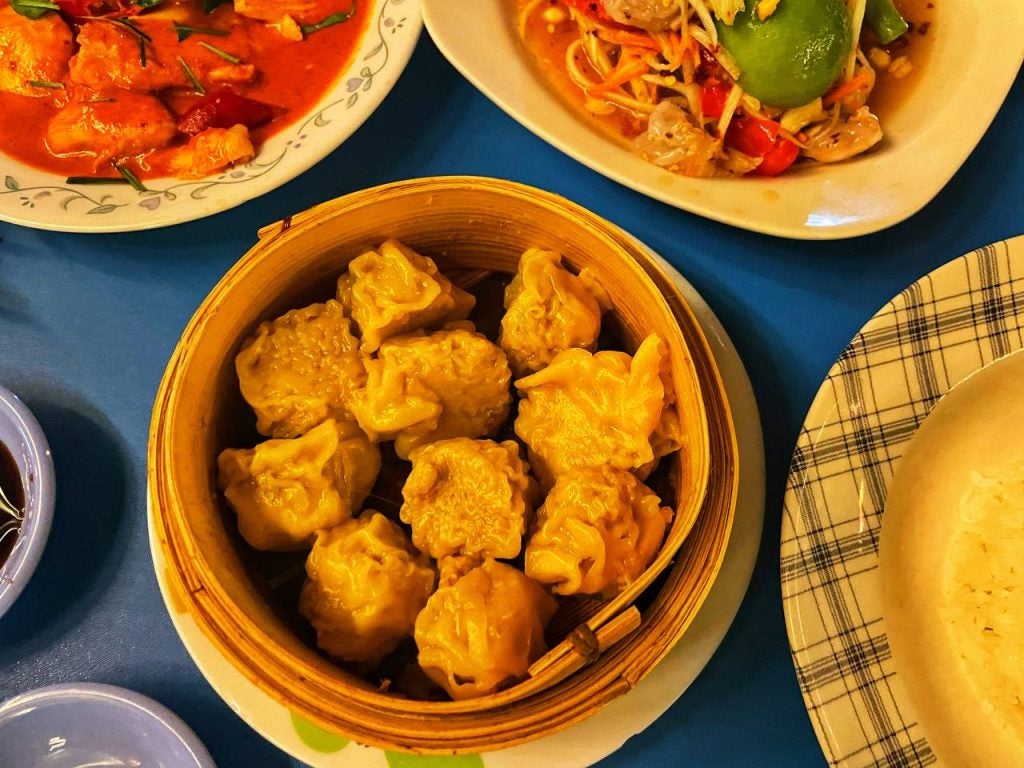 As good as the food is, it is not separable from the broader experience of consumption. We cannot lose sight of the ambience and location, the diversity of the kitchen and serving staff, and the loyal clientele that has kept a speciality restaurant going through a once-in-a-century pandemic.
As we shall see in future posts, consuming Doha is more than merely dining out. It is about experiencing and narrating an incredibly diverse city built by the love and labor of migrants from across the Indian Ocean world.
---
"The posts and comments on this blog are the views and opinions of the author(s). Posts and comments are the sole responsibility of the authors. They are not approved or endorsed by Georgetown University in Qatar, or Georgetown University and do not represent the views, opinions or policies of the University. "