Boba in Doha: Drinking Xuan Tea in Bin Mahmoud
July 31, 2021
Uday Chandra and Jessica Choi
In our global village, everyday acts of consumption define who we are (or not), where we belong (or don't belong), and the sociocultural worlds we actively co-create with others (or in opposition to others). Consumption IS politics: it blends cosmopolitanism and localism, encompasses migration and citizenship, and takes us through journeys into myriad pasts of colonial conquest, long-lost jewels, and the postmodern politics of heritage.
This series of posts, titled "Consuming Doha," seeks to take readers on a voyage of discovery. We visit old favorites and places unseen in the city, telling the stories behind each of them and the rich associations they conjure up for us. We write about food, but also the people that feed and serve us. We talk about places, but the invisible social dynamics that make them possible at all. Above all, we stay clear of the posh and the prim, the bougie and brash, the fine and not-so-fining dining options in a city of and by migrants.
If you haven't heard about it, you probably wouldn't notice it. Nestled amidst the rubble and ruin of Freej Bin Mahmoud, Xuan Tea is, nonetheless, an institution among Doha's growing legions of bubble tea fans.
Xuan markets itself as an authentic Taiwanese cafe that uses real tapioca pearls and makes its own taro and shaved ice. The Chinese characters, alongside their English transliteration, are clearly visible on the signpost as you enter. A life-size neon avatar of a Taiwanese black bear and a map of Taiwan greet you inside.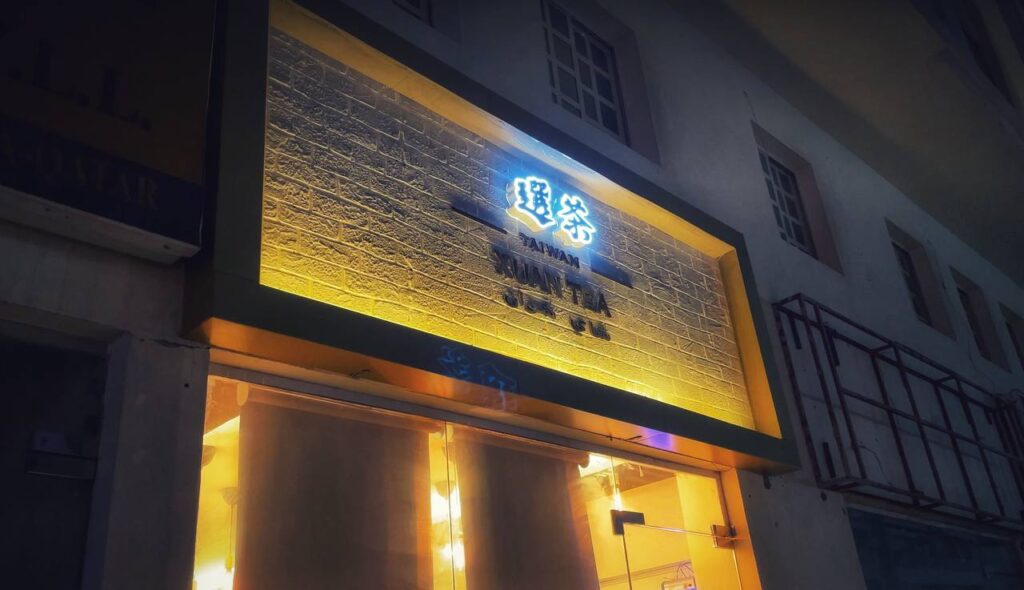 Xuan is, at the same time, a classic migrant business in the city: the owner hails from Singapore, and the kitchen staff are Filipino and Bangladeshi. KPop tunes ring through the air. Bin Mahmoud is among the last neighborhoods to be gentrified before next winter's world cup. It is home to scores of migrant businesses run by Asian and Arab immigrants, many of whom find themselves increasingly squeezed out due to rising rents and urban redevelopment plans.
Bubble tea, much like sushi, is relatively new to Doha. The first shop serving sweet milky tea with chewy tapioca balls in the city opened in 2012. Xuan opened in January 2020, a couple of months before the word "lockdown" gained currency during the COVID-19 pandemic. Today, Xuan prepares around three kilograms of tapioca pearls every day.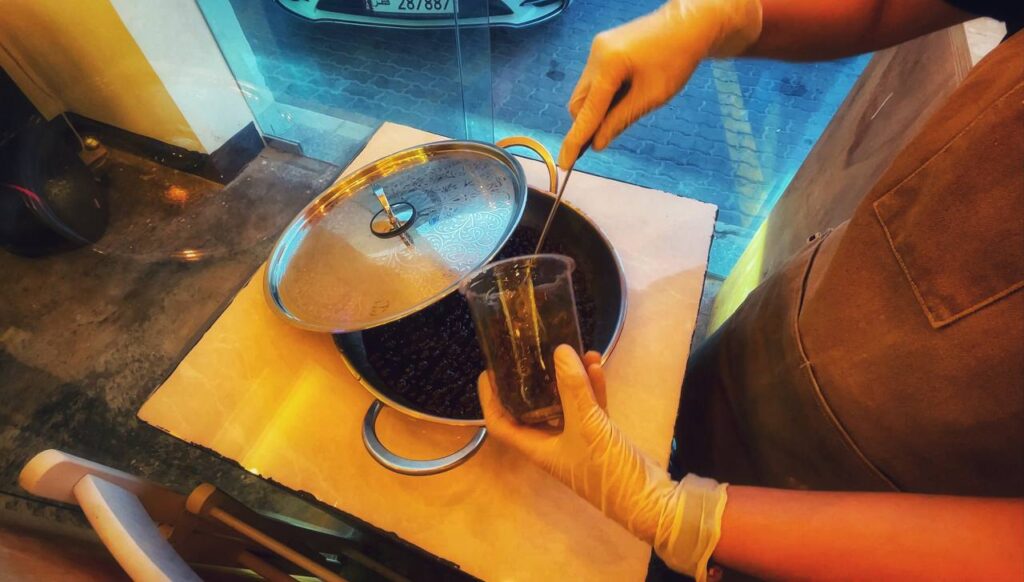 Boba, Chinese slang for breasts, is now all the rage in Doha. As online delivery apps such as Talabat expanded their reach during the pandemic, Xuan grew too. Newer apps such as Snoonu and Wishbox brought in new customers, teaching them about the great variety of bubble tea on offer at Xuan. Weekends are the busiest time of the week, but stressful weeknights seem to bring out the hunger pangs of Doha's night owls.
Everyone has their favorites: classic brown sugar milk tea, Mt. Yang Ming with dalgona, Queen Stone with black tea and caramel, or Dajia with oolong tea and fresh taro. If black or oolong tea doesn't work for you, there's always green tea or matcha. Each cup is vacuum-sealed before serving, whether in-person or for delivery orders.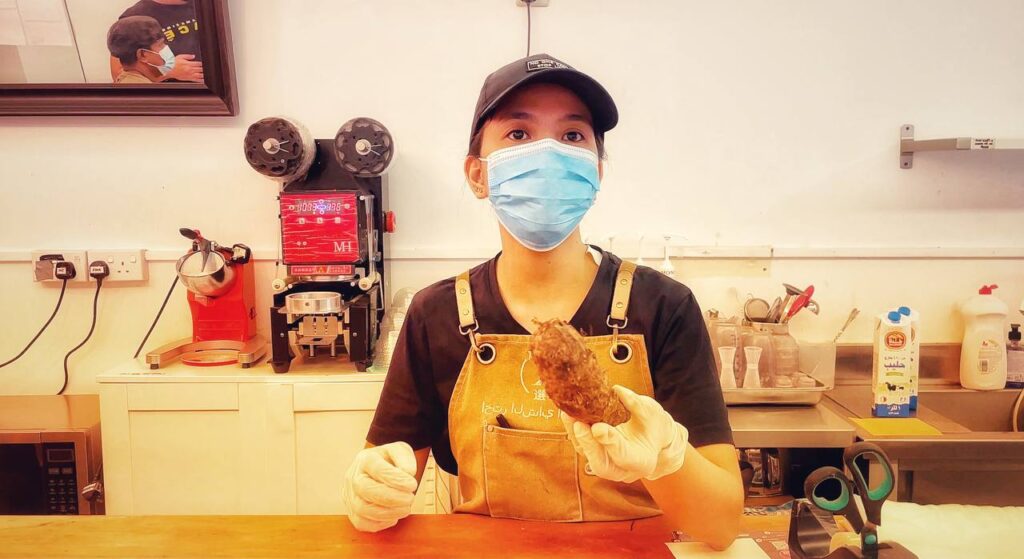 Frances has been working in Xuan Tea throughout the pandemic. She came to Doha to live with her sister, a nurse in Hamad Hospital, whose long work shifts prevent her from taking care of her children during the day. Frances and her sister live in the building adjacent to the space now occupied by Xuan. She applied for a job, and the rest, as they say, is history.
Frances was familiar with bubble tea back in the Philippines. But working at Xuan has taught her the nitty gritty of how to make high-quality bubble tea day after day. As its heart and soul, she brings a cheery professionalism to the everyday life of the shop. Frances trains new employees and manages the ever-growing list of online orders. Between shifts, she checks up on her sister's children. Personal and professional commitments coexist cheek by jowl.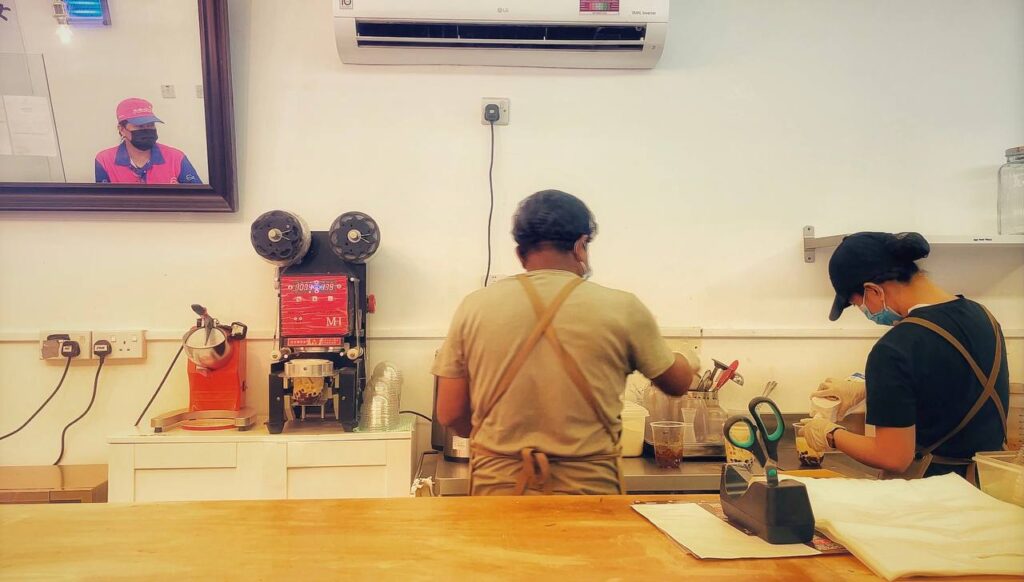 Alongside Frances, Mohammad Abdussalam is learning on the job. A construction worker and a plumber over the past fourteen years in Doha, Abdussalam is also an expert at making his own kind of tea. His specialty is multi-layered tea, each layer consisting of a different mix of tea and spices. Ginger tea sits above black tea and green tea, some layers milky and others spiced with cardamom or mint. He says he can add as many as seven layers in a single cup of tea.
But Abdussalam is new to bubble tea. He grew up in Sylhet, Bangladesh, where tea introduced by British planters is supposed to be hot, sweet, and milky. Tapioca (or cassava) is well-known too, at least since the Portuguese transplanted it from Brazil to Bengal, but it is never mixed with tea of any kind. As he comes to grips with the bubble tea phenomenon, Abdussalam is happy to give up the harsh outdoor work conditions of Doha's construction sites.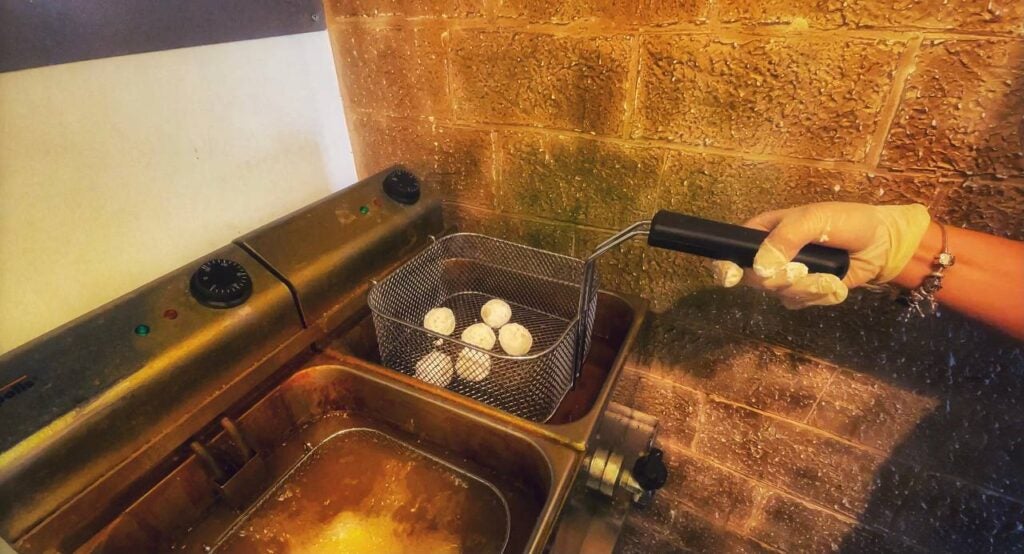 Besides bubble tea, Xuan also specializes in deep-fried snacks, most notably its enormous chicken cutlets and Taiwanese-style omelette pancakes. Customers like both dishes served spicy. Fried taro balls and sweet potato balls are new offerings on Xuan's menu. We tried the former, and as you see in the video, we were not left disappointed.
Abdussalam enjoys preparing these fried snacks, which need to be packed separately from the ice-cold teas and shaved ice cups for delivery orders. We cannot fail to mention that the quality of Xuan's packaging is one of its distinctive features. Frances confirms that she takes special care to ensure that new staff learn to pay attention to these small details that make Xuan so special. As Abdussalam adapts to his new job, he's recognizing how this small shop in Firij Bin Mahmoud has come to be associated with consistently high quality.
Xuan may be Taiwanese, but it is also distinctively Doha. Driven by the love and labor of migrants from the eastern Indian Ocean, this is a cafe that brings tapioca pearls, spicy chicken, and much joy to the city's denizens.
---
"The posts and comments on this blog are the views and opinions of the author(s). Posts and comments are the sole responsibility of the authors. They are not approved or endorsed by Georgetown University in Qatar, or Georgetown University and do not represent the views, opinions or policies of the University."