Welcome to Georgetown Qatar's Model United Nations Program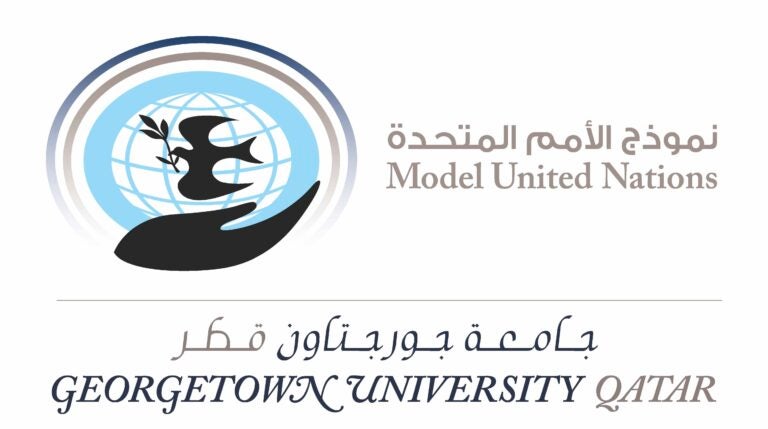 All the information below is pertaining to our previous year. Stay tuned for GMUN 2022 updates. Have you signed up for our Fall MUN conference (Nov 4 – Nov 6, 2021) yet? , please click HERE for more information.

Our GMUN 2021 conference will be VIRTUAL and is scheduled for Mar 11-13, 2021.
APPLICATION LINKS
Schools OUTSIDE Qatar – Application Link: International Schools GMUN Form
Schools WITHIN Qatar – Application Link: Local Schools GMUN Form
The application registration deadline is 31 January 2021. Late applications will not be accepted
Please note that this is the page for the GMUN conference in March 2021. For information on our recently concluded virtual Fall MUN conference (Nov 12 – Nov 14, 2020), please click HERE
Conference Payment:

Considering the conference is virtual, we have reduced the fees and revised our payment structure.
For local schools, each student will be charged QAR150; so the payment for one delegation of 6 students is QAR900.
For international students, each student will be charged USD40; so the payment for one delegation of 6 students is USD240.
Conference Theme: Imagining a Resilient Future: Equality, Safety, and Health
Click HERE to access the conference schedule
General Information
Georgetown University in Qatar's annual Model United Nations (MUN) conference is a forum for engaged high school students to debate current global issues and gain insight into the world of international politics and policy-making. The MUN conference is governed by the MUN Student Board.
Each year we welcome over 350 students from schools around the world to Doha for four days of MUN committee sessions and cultural experiences. Interested schools may apply to bring a team of 6 student delegates to the conference.
What is MUN?
Model United Nations is a student- run simulation of the United Nations, where students assume the roles of foreign diplomats to learn about international politics and diplomacy.
Participants at our MUN are high school students from around the world, who join our MUN as a school team of six students and one or two teachers. Student participants ("delegates") are required to research both the country they will represent at the conference as well as the specific topics to be debated in their assigned committee.
All of our committees are chaired by Georgetown University Qatar students.
Committees and Topics 2020
Georgetown Qatar MUN is dedicated to covering the most pressing issues in international affairs and beyond. Each year our team of students work diligently to come up with a list of intellectual topics that reflect the shifting dynamics of the world.
Click HERE to access the background guides for all committees
DISEC
Topic: Biosecurity and COVID-19
UNHCR
Topic: Combating Xenophobic Violence against Migrants
UNSC
Topic: Addressing Security Challenges in Northern Africa and the Sahel
UNEP
Topic: Water and Food Security in a post COVID-19 world
SOCHUM
Topic: Abolishing Modern Day Slavery
Preparing for the Conference
For help in preparing for our MUN conference, please visit our Getting Started Page!
Contact Us
Please contact us with any questions about our Model United Nations program.